Share:
More changes to the NFT marketplace noted moving to optional creator earnings (0.5% min) for all collections.
NFT marketplace Blur has overtaken OpenSea in terms of weekly transaction volume.
BAYC NFT collection's native token Apecoin (APE), noted a sharp 7% increase in the price value.
While the fight to become the biggest NFT collection has not come to an end, the fight for the biggest NFT marketplace is on the rise. OpenSea is finally facing some challenges in its authority in the NFT market from the recently launched "pro-NFT trading" marketplace Blur.
OpenSea future becomes Blur-ry!
As reported by FXStreet, the weekly transactions processed by these two NFT marketplaces differ greatly in volume. While OpenSea is responsible for almost 23% dominance over the market, processing trades worth a little over $73 million. The brand-new marketplace processed nearly $207 million worth of transactions resulting in the overtake noted in the last few weeks.
Observing this rapid change in investor loyalty, OpenSea decided to take some steps in the direction that would ensure retainment. In the early hours of Saturday, the NFT marketplace announced that it would be reducing its trading fee to 0% for a limited time. In addition to this OpenSea is moving to optional creator earnings (0.5% min) for all collections without on-chain enforcement (old & new).
11/ This is the start of a new era for OpenSea. We're excited to test this model and find the right balance of incentives and motivations for all ecosystem participants – creators, collectors, and power buyers and sellers.

— OpenSea (@opensea) February 17, 2023
This is expected to bring back the recent trades and money OpenSea lost to Blur, which could gain more now that its native token launched. However, the biggest impact was noted by something beyond the confines of the marketplaces.
ApeCoin takes the lead
Amongst the top DeFi tokens is the ApeCoin, the native cryptocurrency of the Bored Ape Yacht Club (BAYC) NFT collection. Considered to be the biggest NFT token as well, APE noted a boost in price soon after OpenSea's announcement.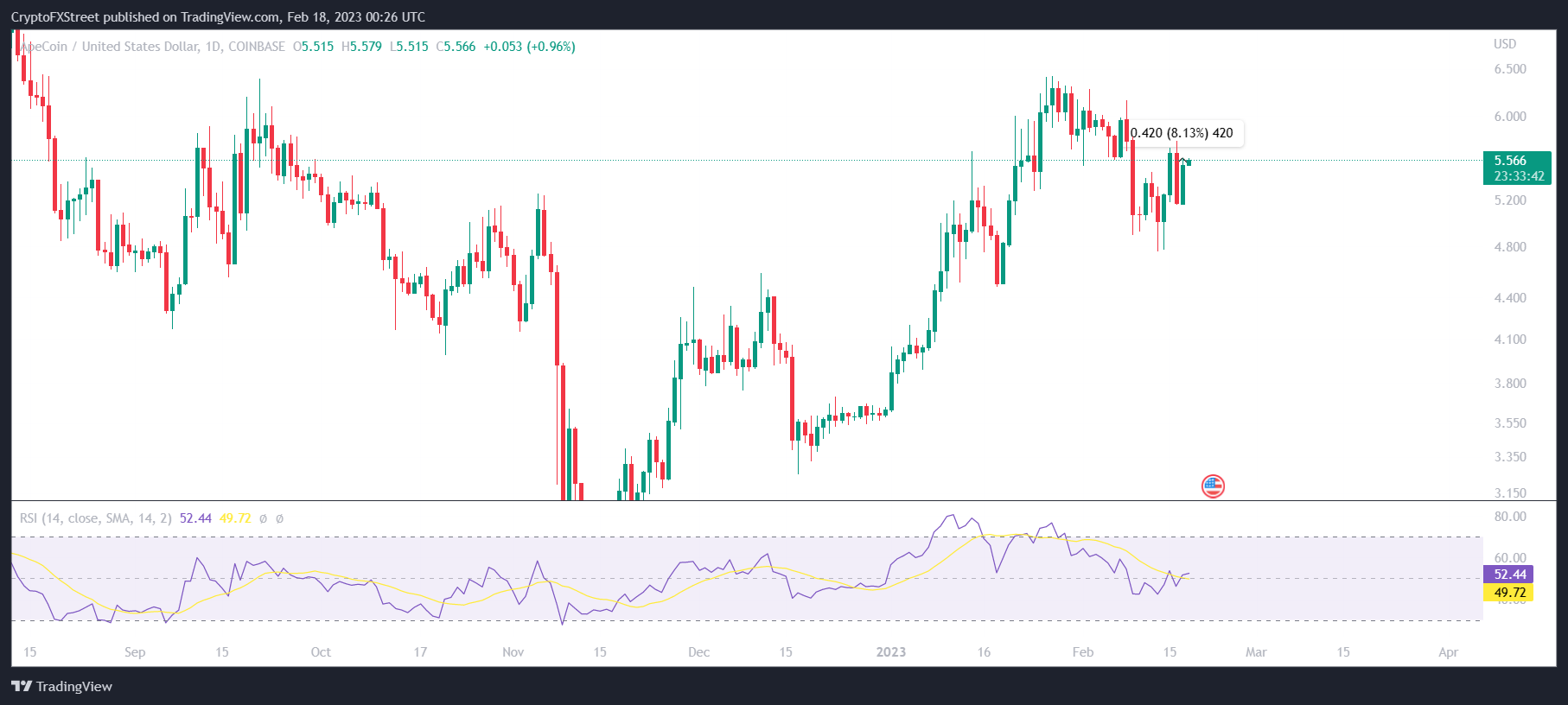 APE/USD 1-day chart
The value of the cryptocurrency shot up by a little more than 8% to bring APE to trade at $5.57, rising from $5.16. Whether the increase in price will sustain over the next few trading sessions is yet to be seen, as the market is currently vulnerable to corrections just as much as it is to a normal momentum.