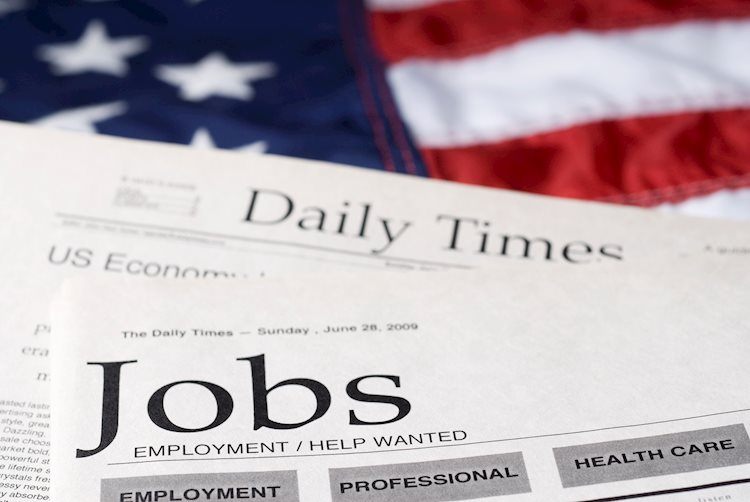 Share:
The US Bureau of Labor Statistics (BLS) will release the May jobs report on Friday, June 2 at 12:30 GMT and as we get closer to the release time, here are the forecasts by the economists and researchers of 10 major banks regarding the upcoming employment data.
Nonfarm Payrolls in the US are forecast to rise by 190K vs. 253K in April. Meanwhile, the unemployment rate is expected to rise a tick to 3.5% and average hourly earnings are seen steady at 4.4% year-on-year.
Commerzbank
Given the fairly stable downward trend in employment growth, we expect 200K new jobs to have been created in May after 253K in April. This would probably keep the unemployment rate at 3.4%. The noticeable weakening of the labor market desired by the US Federal Reserve, which could dampen inflation, would thus not yet be achieved.
Danske Bank
We expect to see another relative upbeat US Jobs Report. So far the signals from leading data have pointed towards healthy employment growth, which could be further supported by a renewed uptick in labor force participation. We think NFP grew by a solid 200K.
TDS
US payrolls likely slowed modestly in May, advancing at a still strong 200K pace for a second consecutive month. We also look for the UE rate to stay unchanged at a historical low of 3.4%, and for wage growth to print 0.3% MoM (4.4% YoY).
NBF
We expect job creation to remain solid in the month. Our call is for a 220K increase. The household survey should allow for a similar gain following April's underperformance. Assuming a one-tick increase in the participation rate to 62.7%, these gains could still translate into a slight increase in the unemployment rate from 3.4% to 3.5%.
SocGen
We believe job growth is moderating, yet the pace remains strong. We predict a 210K advance in May NFP, and the unemployment rate holding at the 3.4% low. On wages, we expect a more modest 0.2% MoM increase.
CIBC
The previously reported jump in initial jobless claims was revised away, and the May payrolls survey reference period now shows a slight improvement in claims. That suggests that hiring was likely still a robust 195K in May, although that represents a deceleration from the recent 3-month average trend, in line with the softening in job openings seen so far this year. The unemployment rate likely ticked up to 3.5%, while wage growth could have slowed, but remained hot, at 0.4%. We're more optimistic than the consensus on hiring and wages, which could lift bond yields.
Credit Suisse
We expect payroll gains to slow to 200K in May. Despite decelerating, the robust pace of job gains this year has largely beaten expectations. We expect the gradual deceleration to continue, underscored by a continued slowing in employment growth in the most cyclical sectors. We expect the unemployment rate to remain at 3.4%. We do not expect April's acceleration in the monthly growth rate of average hourly earnings to be sustained. Instead, we forecast monthly growth of 0.3%, continuing the encouraging slowdown in wage growth that we have observed over the past year. YoY growth in average hourly earnings should fall to 4.3%, slightly above the rate we judge to be consistent with target inflation. Continued robust labor market data will likely keep the Fed hawkish, and biased toward hikes, not cuts.
Citi
We expect a 200K increase in NFP in May, with private payrolls rising by a softer 160K. However, despite strong labor demand, a shrinking pool of available workers to hire could still limit monthly job gains which could see job growth likely to continue to slow. We expect average hourly earnings to rise by a more modest 0.3% MoM in May after having risen a substantial 0.5% MoM in April and the unemployment rate to remain unchanged at 3.4% in May with balanced risks.
Wells Fargo
Our expectation is that NFP increased by 200K in May. We believe it is important to keep a close eye on wage growth and the labor force participation numbers. The labor force has grown at a healthy pace over the past year, and a further deceleration in wages alongside expanding supply would be an encouraging sign in the Federal Reserve's fight to get inflation back to 2%.
Deutsche Bank
We expect 200K on payrolls.