Share:
Optimism price touched the high of $1.64 during the intra-day rally but fell back down to trade at $1.45.
The price rise resulted in the breach of the demand wall of 670.56 million OP at $1.62 but failed to sustain it.
The altcoin is close to reaching the danger zone, which generally results in a trend reversal.
Optimism price made a lot of its investors happy on Friday after registering an impressive rally. Sadly the altcoin could not keep up with the bullishness resulting in a price reversal. This left many optimistic OP holders unhappy as they gained and lost profits within a matter of hours.
Optimism price dips significantly
Optimism price trading at $1.445 shot up by nearly 20% on Friday following the broader market bullish cues before coming back down. At the time of writing, the altcoin noted an increase of just 6%, but it managed to stay above the 50-day Exponential Moving Average (EMA) marked at $1.378.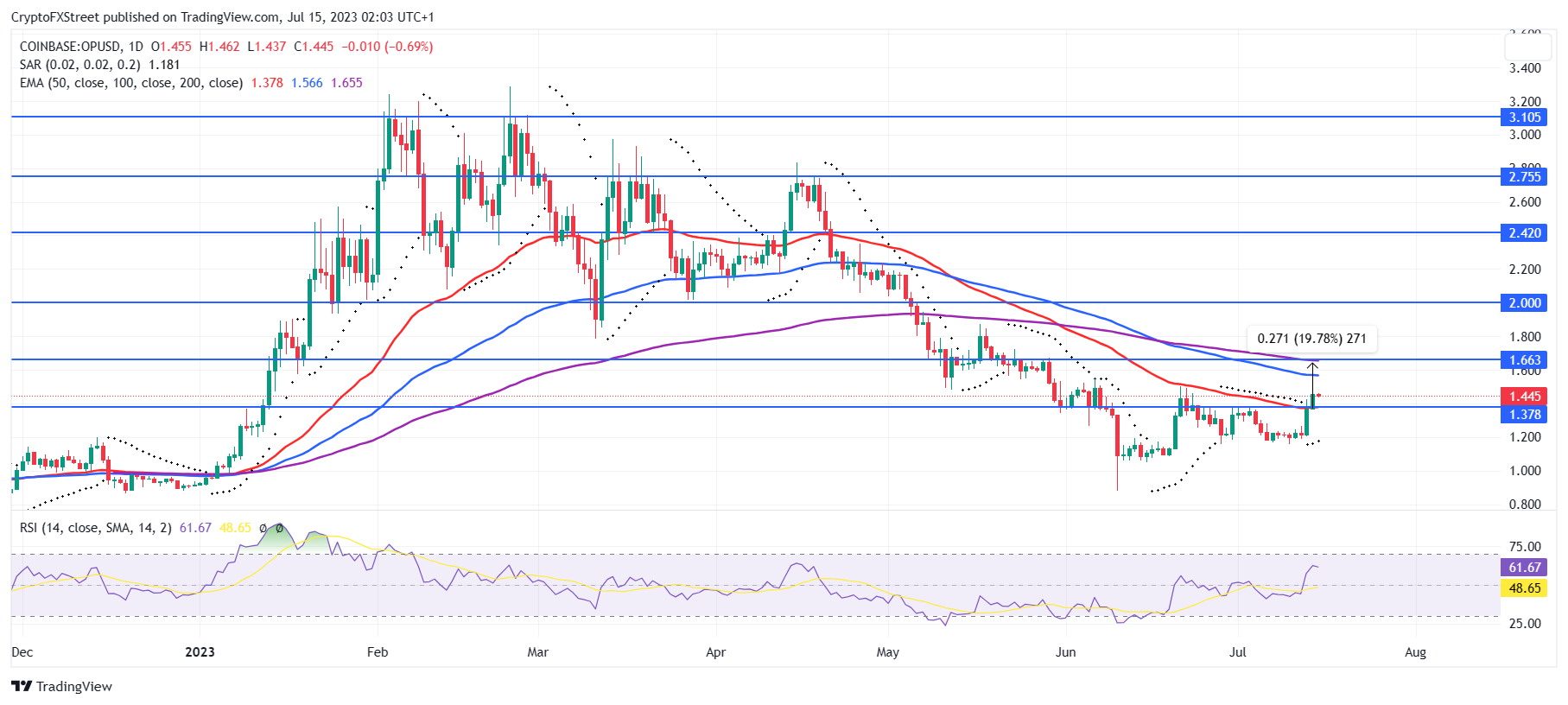 OP/USD 1-day chart
Even though the trading session ended in the green, the resulting candlestick left more than 71k investors unhappy as they lost their shot at making profits. These addresses collectively bought over 670 million OP tokens worth close to $1 billion that were at one point bearing profits for the investors.
However, just as quickly as they gained, they lost their profitability too when Optimism price scaled back down. Bought at an average of $1.62, this demand wall remained unbreached for the sixth straight week, potentially testing investors' patience at this point.

Optimism GIOM
Besides, even if Optimism price was to rise from here on, it may not be able to sustain the rally as it is pretty vulnerable to a trend reversal. The Market Value to Realized Value (MVRV) ratio is inching closer to the threshold of 10%, beyond which Optimism would be in the "Danger Zone."
This area is affiliated with trend reversal since, historically, the price has corrected every time it reaches this zone. Investors tend to initiate profit-taking at this point which shifts the demand pressure resulting in a price drop.

Optimism MVRV ratio
Thus Optimism price has a few barriers it needs to overcome before achieving sustainable profitability and motivating its investors to lean further into the altcoin.