Share:
PEPE coin's official Twitter account issued a statement addressing the transfer of 16 trillion tokens to crypto exchanges.
The statement explains how three bad actors, formerly associated with PEPE coin, stole 60% of the tokens in the multisig wallet.
PEPE price is making steady recovery from its steep decline to August 25 low of $0.00000082.
PEPE coin suffered a massive decline in its price in response to the sudden transfer and sale of 16 trillion tokens to crypto exchanges. As the community of PEPE holders scrambled for answers, the price of the meme coin nosedived to a low of $0.00000082.
The latest development in the PEPE saga is a statement issued by the official Twitter account of the project. Three former founding team members logged on to the multi-sig wallet and transferred 60% of the wallet's holdings, $15 million in PEPE tokens, to sell them on crypto exchanges.
The team apologized for the events and shared a plan to decentralize PEPE coin, going forward.
Also read: PEPE founder doxxed on Twitter, following suspicious internal transfers, 16% decline in meme coin
PEPE team explains unexpected transactions plans for remaining 10 trillion tokens
PEPE saga unraveled with community members panic selling the meme coin after mass transfers from the multi-sig wallet to crypto exchanges like OKX, Binance, KuCoin and Bybit. The meme coin's community on Twitter suspected a rug pull, similar to the scams on BASE. Early on Saturday, the official twitter account made a community announcement, addressing events of the past two days.
an announcement to the $PEPE community:

Yesterday on August 24th, 2023, a series of unexpected transactions took place from the $PEPE multisig CEX
Wallet in which ~16 Trillion $PEPE tokens (worth roughly $15m USD) were transferred to various crypto exchanges (OKX, Binance,… pic.twitter.com/iZmXV1TAvw

— Pepe (@pepecoineth) August 26, 2023
The unexpected transactions were made by former founding team members, and an insider dispute was raging for months before the incident occurred. Three ex-team members logged into the multi-sig, and stole 60% of the holdings from the wallet, to sell them and generate cash, while dissociating themselves from the project.
PEPE price crashed on exchanges, sending the meme coin to the August 25 low of $0.00000082.
10 trillion PEPE tokens are now left in the multi-sig and the update explains that these tokens will be used to find a new domain for the project, and eventually will be donated or burnt. The remaining founder assures the community that PEPE is now on the path to decentralization.
PEPE whales accumulate the meme coin in anticipation of price recovery
Large wallet investors of PEPE "bought the dip" and scooped up billions of the meme coin's tokens at a discounted price. A PEPE whale spent $529,000 to buy 640 billion PEPE tokens, adding to their holdings.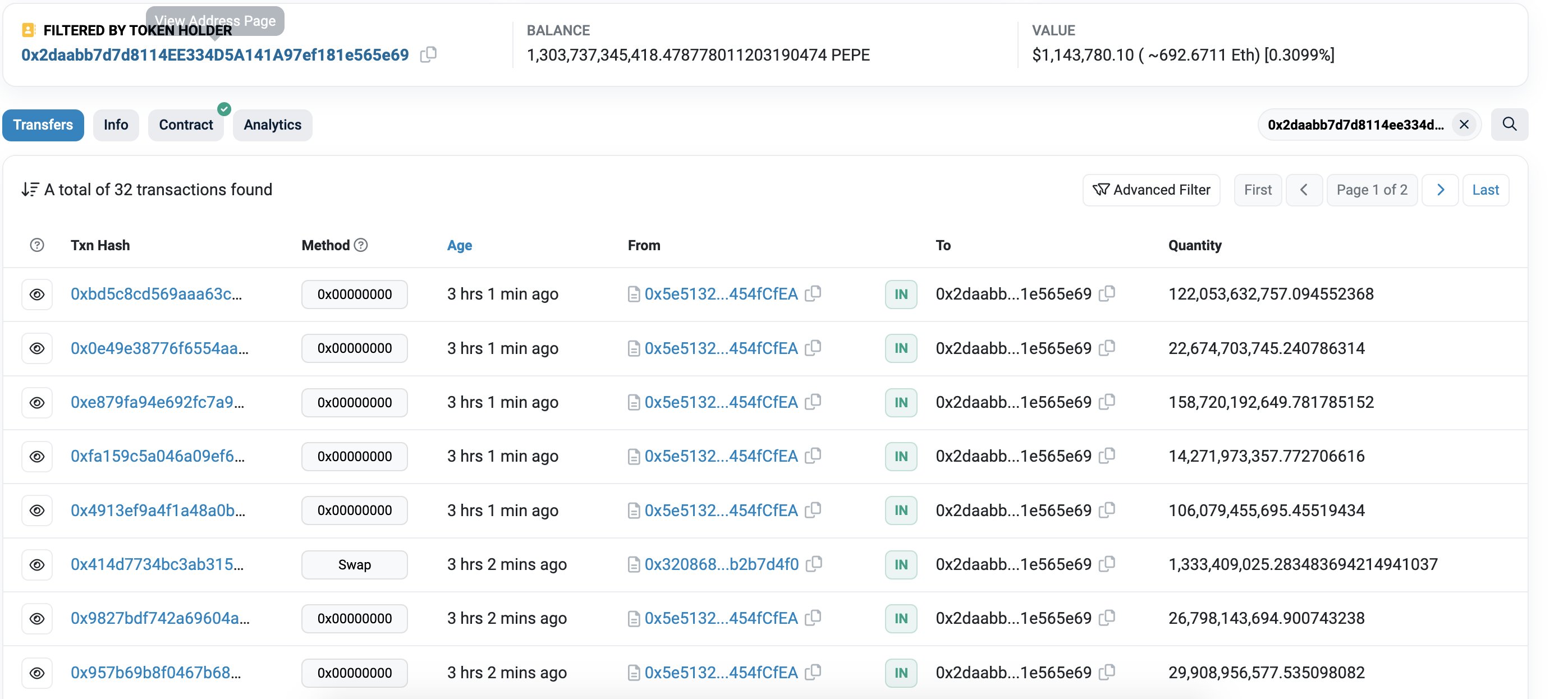 PEPE accumulation by whale, as seen on Etherscan
According to crypto intelligence tracker LookonChain, the investor has been scooping up the meme coin since May 2023, undeterred by the recent developments in the project.
Bitcoin, altcoins, stablecoins FAQs
Bitcoin is the largest cryptocurrency by market capitalization, a virtual currency designed to serve as money. This form of payment cannot be controlled by any one person, group, or entity, which eliminates the need for third-party participation during financial transactions.
Altcoins are any cryptocurrency apart from Bitcoin, but some also regard Ethereum as a non-altcoin because it is from these two cryptocurrencies that forking happens. If this is true, then Litecoin is the first altcoin, forked from the Bitcoin protocol and, therefore, an "improved" version of it.
Stablecoins are cryptocurrencies designed to have a stable price, with their value backed by a reserve of the asset it represents. To achieve this, the value of any one stablecoin is pegged to a commodity or financial instrument, such as the US Dollar (USD), with its supply regulated by an algorithm or demand. The main goal of stablecoins is to provide an on/off-ramp for investors willing to trade and invest in cryptocurrencies. Stablecoins also allow investors to store value since cryptocurrencies, in general, are subject to volatility.
Bitcoin dominance is the ratio of Bitcoin's market capitalization to the total market capitalization of all cryptocurrencies combined. It provides a clear picture of Bitcoin's interest among investors. A high BTC dominance typically happens before and during a bull run, in which investors resort to investing in relatively stable and high market capitalization cryptocurrency like Bitcoin. A drop in BTC dominance usually means that investors are moving their capital and/or profits to altcoins in a quest for higher returns, which usually triggers an explosion of altcoin rallies.
---
Like this article? Help us with some feedback by answering this survey:
---
---
Source