Share:
Pepe price is stuck in a tight bind, moving horizontally with declining trader momentum.
Meanwhile, Shiba Inu and Bone are thriving, recording gains upwards of 10% as prices consolidate along an uptrend line.
The disparity follows a recent announcement by Shiba Inu's marketing specialist Lucie Sasnikova, declaring the Shibarium Beta Bridge rollout for testing.
Pepe coin (PEPE) price shows signs of a desolate market, stuck within a bind as its peers in the meme coin lane continue to show momentum. Following its premiere, the frog-themed meme coin quickly took over to become the meme coin flag bearer with outstanding gains. However, the table appears to have turned following the rollout of the Shibarium beta for the testing phase. Now investors wonder whether the Layer-2 mainnet has terminated the meme season.
Also Read: Shiba Inu price along with BONE rally as Shibarium-Ethereum bridge testnet kicks off.
Pepe price stuck in a bind
Pepe coin (PEPE) price is stuck in a tight bind, oscillating between $0.00000138 and $0.00000129, with momentum indicators suggesting a prolonged downtrend. It remains the poorest performer among the trending memes, Dogecoin (DOGE), Shiba Inu (SHIB), Bone ShibaSwap (BONE), and Pepe coin (PEPE). Considering the remarkable takeoff that PEPE recorded post-launch, the fact that it is now in the rear mirror is concerning.
Meanwhile, Shiba Inu (SHIB) price is up almost 10% in the last three days, towing Bone ShibaSwap with 15% gains over the same timeframe.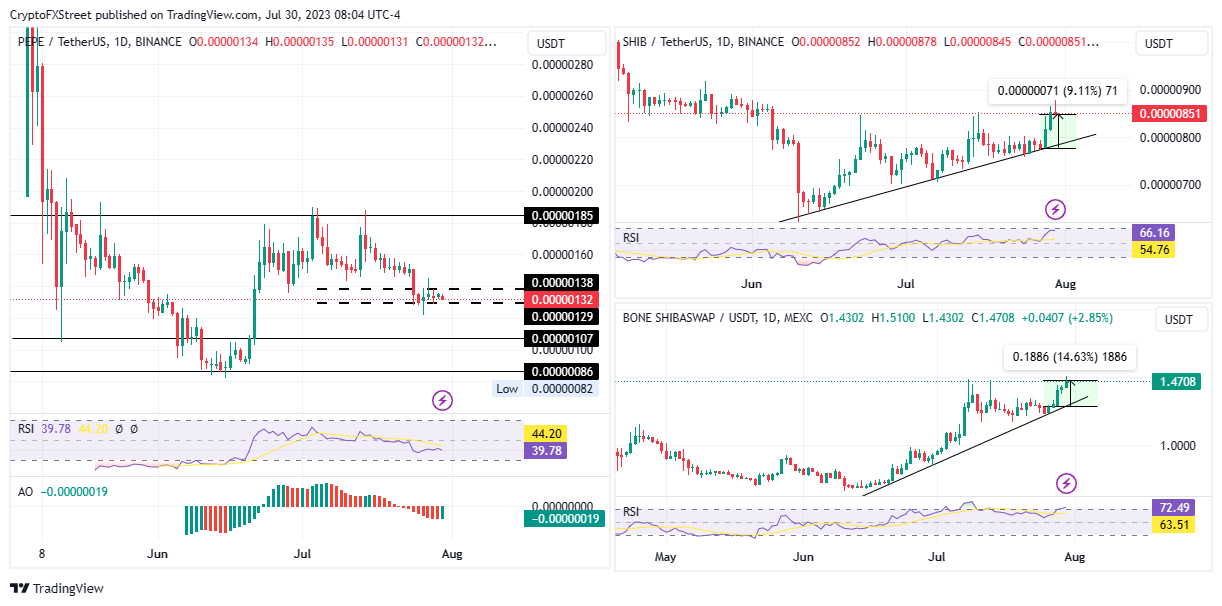 PEPE/USDT 1-Day chart, SHIB/USDT 1-Day chart, BONE/USDT 1-Day chart
As reported, the Shibarium announcement has everything to do with the current rally as SHIB, and BONE community members count the days to the long-awaited cross-chain bridge slated for mid-August. Nevertheless, the bridge is already operational for the beta testing phase, with users being able to move tokens between the Shiba Inu and Ethereum (ETH) networks. Shiba Inu network marketing specialist Lucie Sasnikova announced on July 26.
Shibarium Beta Bridge has gone live for public testing!

Be among the first to try out this revolutionary cross-chain solution.

Remember, always exercise caution and verify authenticity before connecting your wallet to any website.

PLEASE DO NOT USE YOUR REAL ASSETS!… pic.twitter.com/7yfhX8gQc6

— | Summer of Shibarium (@LucieSHIB) July 26, 2023
Notably, investors are asked to use faucets for the beta phase, not their real holdings, while exercising caution and verifying authenticity before connecting their wallets to any website. It is also worth mentioning that, for now, the bridge does not support staking and delegation, with users having to wait between 30 minutes to an hour for swaps. Nevertheless, the community is very optimistic.
Pepe price implication as SHIB and BONE edge north
Pepe price could slide south if bulls fail to act because trending markets do not wait for so long. With almost a week of tight consolidation, the frog-themed coin could break out, with all signs pointing to a downtrend.
The chart above shows that the Relative Strength Index (RSI) is falling, and the Awesome Oscillators (AO) histograms are in the negative zone. This shows that momentum is waning. Santiment data also shows that network growth has been falling over the last month as the price steadily slumped. Similarly, the daily active addresses show waning activity, with a stark drop over the last 24 hours.
With the current trend, PEPE price could break below the consolidation zone, with a possible retest of the June 21 lows around $0.00000107. Such a move would constitute a 20% drop from the current level.
Nevertheless, if sidelined investors buy PEPE at current rates, the ensuing demand could send the meme coin above the upper boundary of the consolidation zone, possibly kickstarting another rally north. Investors should wait for a confirmed breakout, above or below the $0.00000185 and $0.00000105 levels respectively.
Also Read: Can PEPE kill SHIB just as Shiba Inu killed Dogecoin?
---
Like this article? Help us with some feedback by answering this survey:
---
Source