Share:
Polygon-based NFT marketplaces, including Opensea, have noted little to no increase in trading volume in contrast to Solana and Ethereum.
Despite the financialization of NFTs, Non-fungible tokens have lost traction as NFT traders continue to decline.
However, the network has observed considerable growth in terms of new addresses as MATIC profitable transactions dominate recent losses.
Polygon Non-Fungible Tokens (NFTs) failed to take off due to the contagion that the crypto market faced in Q2 and Q4 last year owing to Three Arrows Capital and FTX. But even after the market recovered in the last few months, the conditions did not change for Polygon, even as its competitors witnessed growth.
Polygon loses out to Solana
While the NFT space is said to still be evolving, Polygon NFTs are failing to note any rise in their demand. Initially, this was connected to the larger narrative of minimal use cases that NFTs present, but over the last few months, this has changed. The emergence of the financialization of NFTs has allowed non-fungible token holders to deposit their NFT(s) as collateral for loans, providing liquidity to owners.
This led to an increase in the trading volume of Ethereum and Solana NFT marketplaces. Among these, Blur on Ethereum and TensorSwap on Solana observed the most increase in volume over the last six months. Whereas on Polygon, only Opensea noted minimal growth, with an average volume sitting at $10,000.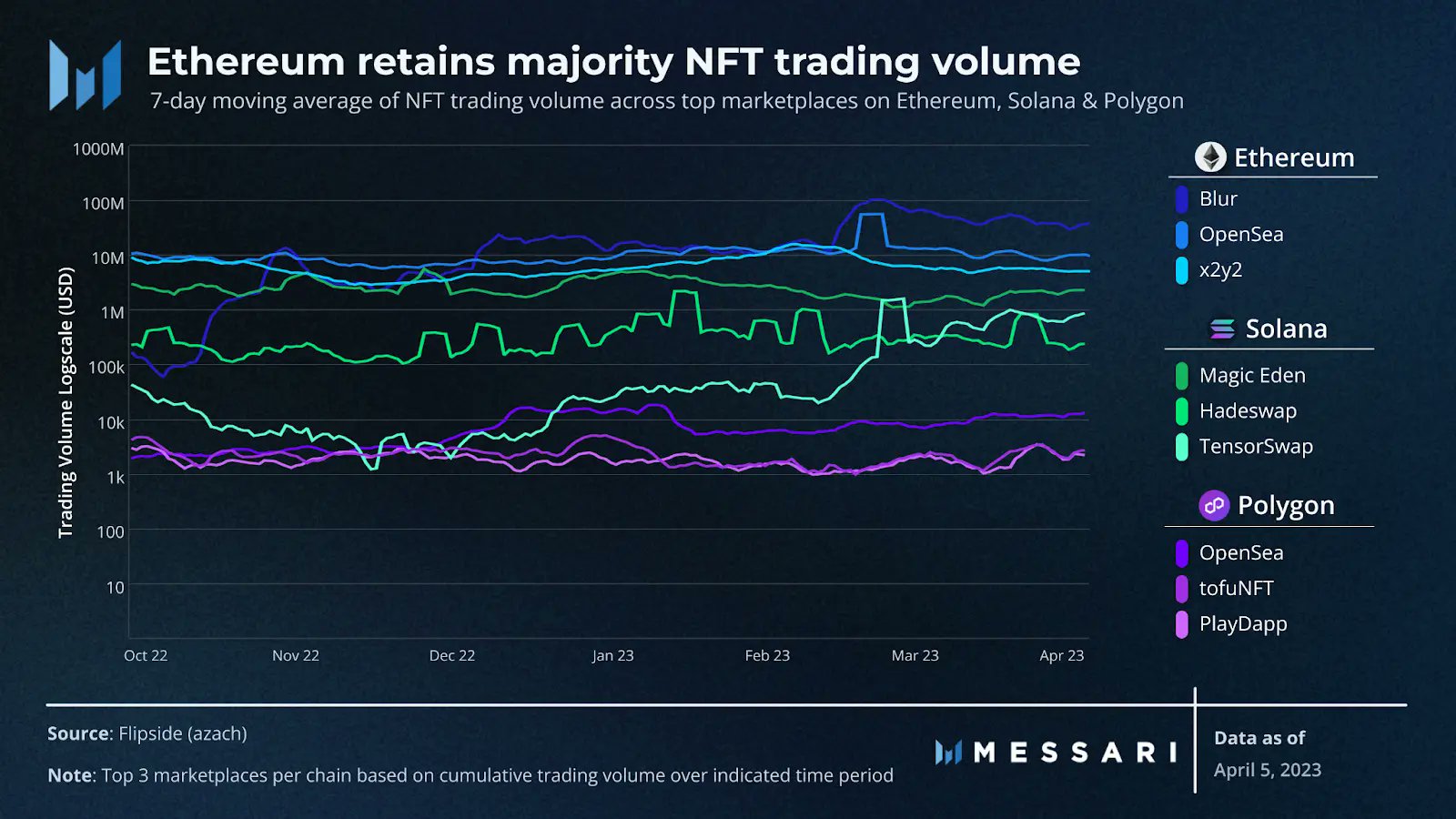 NFT trading volume on Polygon, Solana and Ethereum
This is due to two reasons:
The declining broader crypto market conditions before the rally of January.
The lack of traders on Polygon's NFT marketplace.
The impact of the latter reason ended up suppressing the bullishness noted throughout January and March. But the state of Polygon in terms of MATIC transactions and network usage improved in the same duration, suggesting that the broader market impact had nothing to do with NFT marketplaces remaining subdued.
Over the last three months, the network adoption observed a 337% increase from 23,377 to 101,900. The network adoption refers to the addition of new addresses on-chain, and a rise in the same indicates a rise in the traction of the project.

Polygon network growth
Similarly, the average volume of transactions in profit visibly dominated the average daily volume of transactions in loss, even as the transactions volume on the network dipped significantly between February and April.

Polygon transactions in profit vs. loss
Thus despite the crypto market being in relatively good condition, NFTs on Polygon alone have observed no growth. This would continue going forward until demand spikes or innovative marketplaces like Blur emerge on the network.