Share:
Bitcoin price, despite being stuck under $30,000, is recovering in terms of dominance due to the terrible performance of altcoins.
Analyst Pentoshi is of the opinion that with the stablecoin and altcoin market trending downward, the next flow of money into alts would begin in Q1 2024.
According to the alt season indicator, the market has barely recovered from Bitcoin season and is likely returning to the same soon.
The flow of money is a crucial process in any market, and in the crypto market, it takes place in the form of an alt season. The long-awaited season has not shown its face since September 2022 and not at all until the beginning of 2024.
Alt season to take place next year
Bitcoin price has been hovering under the $30,000 mark for weeks now, and even breaches of the resistance level fail to flip it into a support floor. This slow recovery ignited hopes within altcoin investors of a potential alt season this year, but by the looks of it, that may not happen either.
The altcoins' performance has not been sub-par too as of the top 50 altcoins (excluding stablecoins), barely more than 12 have been able to outperform Bitcoin. An alt season is considered to only be in effect when at least 75% of these 50 altcoins outperform Bitcoin. Since that is far from the case, we have only been observing Bitcoin season for a while now.
Even at the time of writing, despite a lack of recovery in Bitcoin price, Bitcoin dominance has seen an increase from 49.5% to 50.5% in the span of a week. This further ruins the potential of an alt season. This opinion is shared by popular analyst Pentoshi who even provided a potential timeline for the next alt season.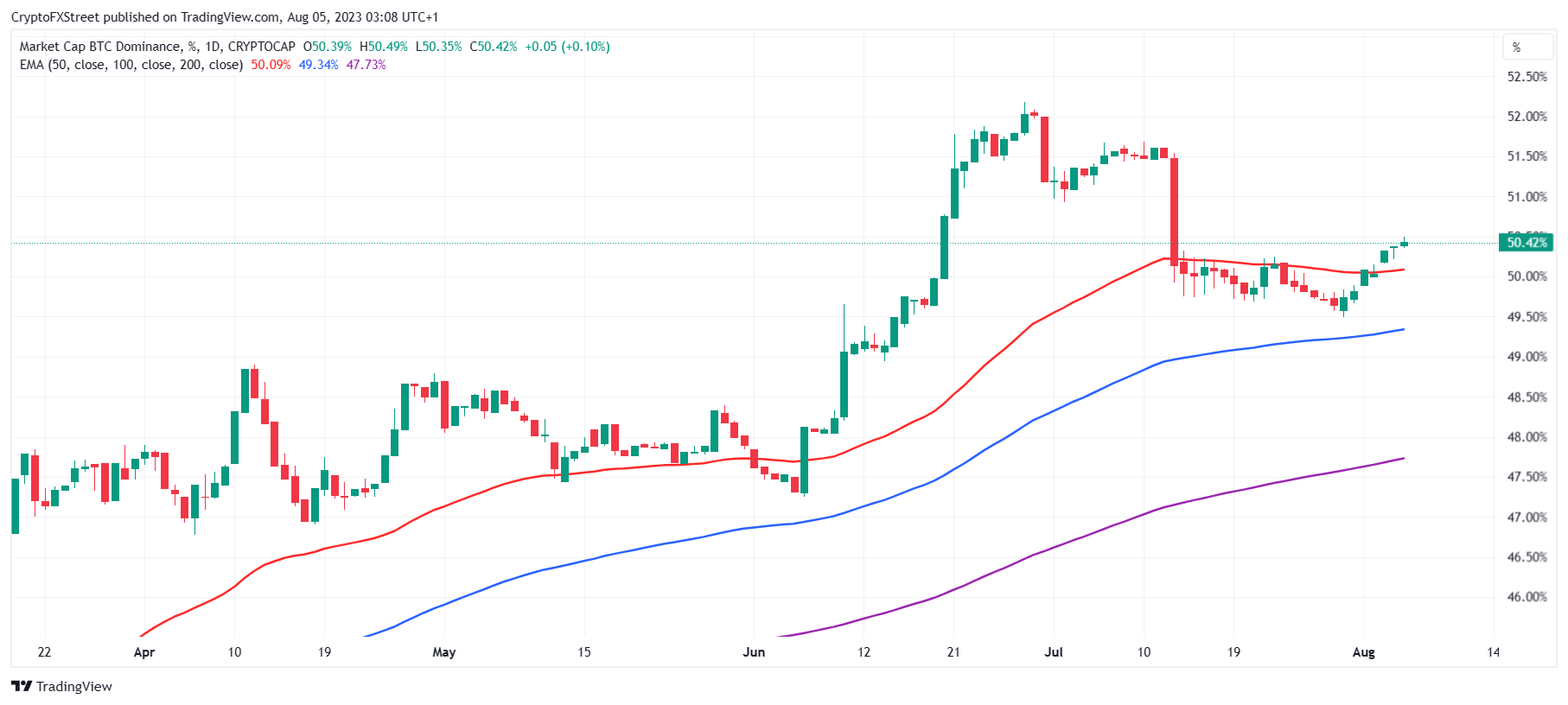 Bitcoin dominance
An alt season basically represents the flow of money or new capital from Bitcoin and Ethereum into altcoins. Consequently, the dominance that Bitcoin holds in the market declines and that of altcoins increases. Pentoshi referencing the same, tweeted,
Every day checking stable coin and TVL

Every day, stable coin go down, TVL go down, *MOST* alts TREND down

When new money? SOON! Think by or around Q1 2024 $BTC is screaming up tbh

Hate to think where we'd be if it wasn't for Saylor, Tether + ETF. Maybe sub 20k lol pic.twitter.com/6co6YCKZ5z

— Pentoshi euroPeng (@Pentosh1) August 5, 2023
The alt season indicator from BlockchainCenter is also suggesting that the potential of a Bitcoin season taking place again is more likely than an alt season.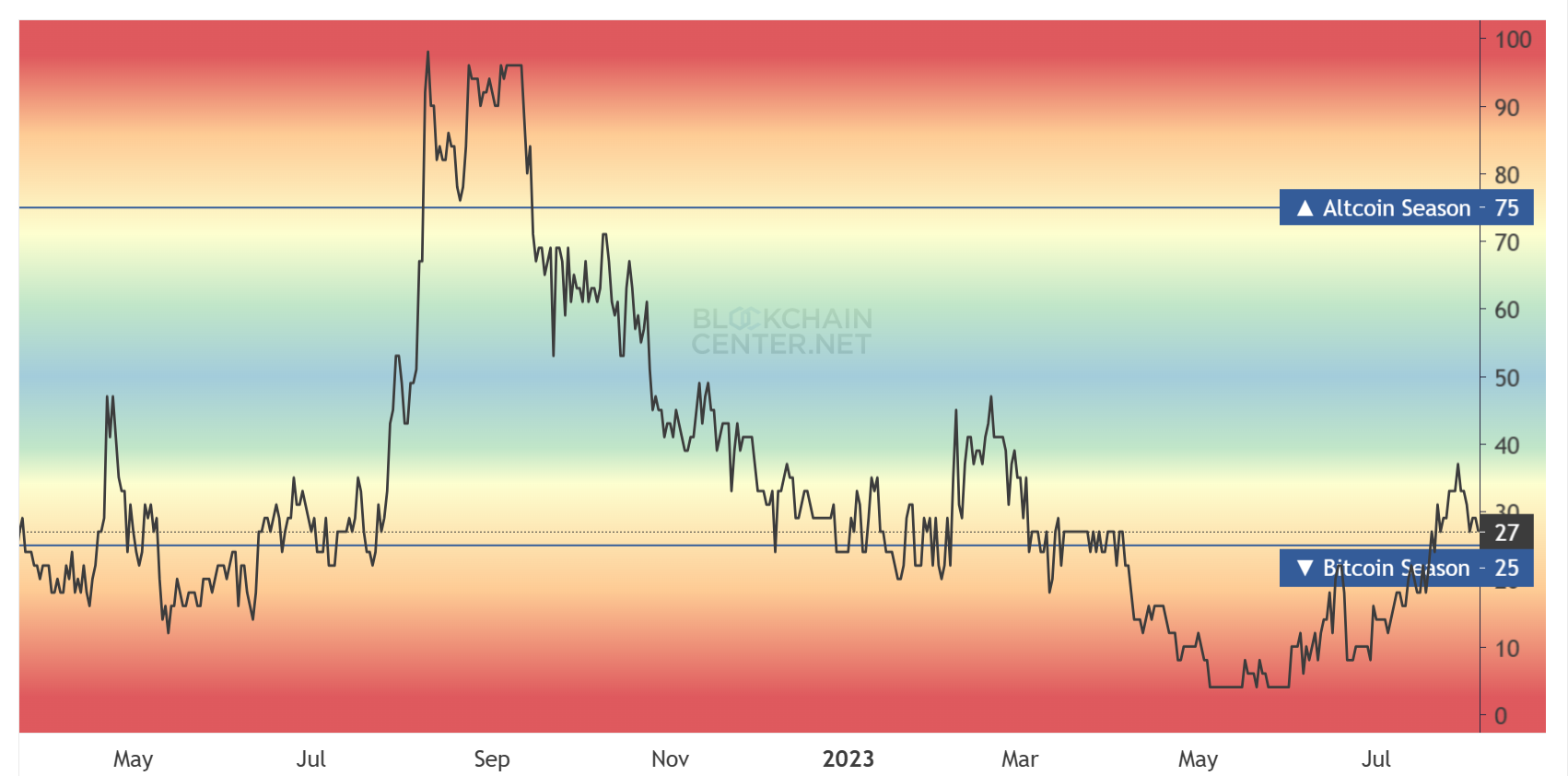 Alt season indicator
Thus if Bitcoin recovery gets pushed to Q1 2024, investors should not expect the alt season to take place before then.
Bitcoin, altcoins, stablecoins FAQs
Bitcoin is the largest cryptocurrency by market capitalization, a virtual currency designed to serve as money. This form of payment cannot be controlled by any one person, group, or entity, which eliminates the need for third-party participation during financial transactions.
Altcoins are any cryptocurrency apart from Bitcoin, but some also regard Ethereum as a non-altcoin because it is from these two cryptocurrencies that forking happens. If this is true, then Litecoin is the first altcoin, forked from the Bitcoin protocol and, therefore, an "improved" version of it.
Stablecoins are cryptocurrencies designed to have a stable price, with their value backed by a reserve of the asset it represents. To achieve this, the value of any one stablecoin is pegged to a commodity or financial instrument, such as the US Dollar (USD), with its supply regulated by an algorithm or demand. The main goal of stablecoins is to provide an on/off-ramp for investors willing to trade and invest in cryptocurrencies. Stablecoins also allow investors to store value since cryptocurrencies, in general, are subject to volatility.
Bitcoin dominance is the ratio of Bitcoin's market capitalization to the total market capitalization of all cryptocurrencies combined. It provides a clear picture of Bitcoin's interest among investors. A high BTC dominance typically happens before and during a bull run, in which investors resort to investing in relatively stable and high market capitalization cryptocurrency like Bitcoin. A drop in BTC dominance usually means that investors are moving their capital and/or profits to altcoins in a quest for higher returns, which usually triggers an explosion of altcoin rallies.