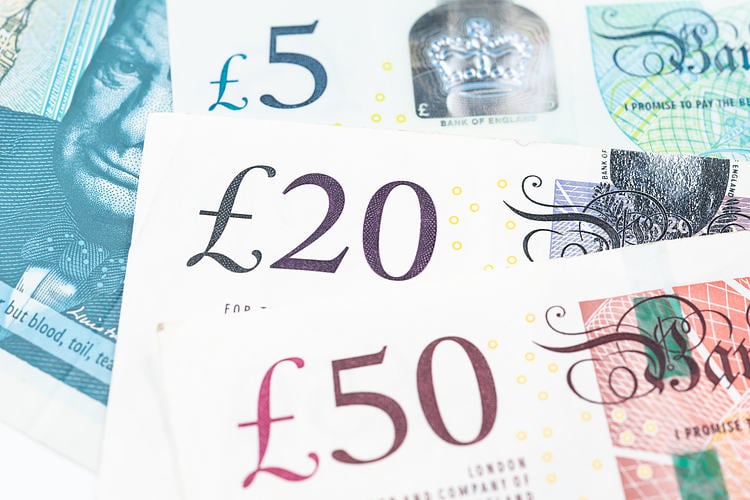 Share:
Pound Sterling has turned back and forth around 1.2740 ahead of key employment data.
Households in the United Kingdom are facing a burden as stubborn inflation bites individuals' pockets.
Market participants are anticipating that interest rates by the Bank of England will peak around 6.5%.
Pound Sterling is demonstrating a lackluster performance as the impact of higher interest rates by the Bank of England (BoE) has put a heavy burden on United Kingdom households. The GBP/USD pair is struggling to find direction as higher borrowing costs have dampened UK's housing sector and economic activities.
Andrew Bailey has accused United Kingdom's industry regulators of overcharging prices for fuel to strengthen aggressive monetary policy. The central bank is looking for options beyond quantitative tools to bring down inflation, which is restricting to leave territory above 8.5%. Going forward, investors will focus on the interest rate guidance from BoE policymakers.
Daily Digest Market Movers: Pound Sterling remains sideways ahead of labor market data
Higher interest rates in the United Kingdom have started impacting the housing market. Excluding two months of the pandemic, British housebuilding fell in June at the sharpest pace in more than 14 years due to higher borrowing costs, as reported by Reuters.
The impact of higher borrowing costs due to aggressive policy-tightening by the Bank of England has widened its scope from the realty sector to economic activities.
June's Services PMI matched expectations of 53.7 but remained lower than the former release of 55.2. While Manufacturing PMI contracted straight for eleven months.
Labor shortages in the UK economy are expected to escalate as a poll from Reuters indicated that almost one in three female workers is expecting to consider early retirement because of health issues.
Investors should note that labor shortages have remained a major trigger behind stubborn UK inflation due to Brexit and early retirement.
BoE Governor Andrew Bailey has accused regulators of overcharging prices for fuel that have propelled inflationary pressures.
Andrew Bailey cited on Thursday that borrowers would face severe heat in the process of achieving price stability.
Market participants are anticipating that interest rates by the Bank of England will peak around 6.5%.
BoE's Monthly Decision Maker Panel (DMP) revealed on Thursday, the UK businesses projected year-ahead Consumer Price Index (CPI) inflation at 5.7% in June vs. 5.9% estimated in May.
Economists at Commerzbank expect that the BoE hesitated for so long means that in the end, an even more restrictive monetary policy will become necessary to anchor inflation expectations and limit second-round effects, which might put strong pressure on the economy.
The US Dollar Index has rebounded after picking strength near 103.00 as upbeat labor market data has propelled chances of more interest rates from the Federal Reserve (Fed).
United States Automatic Data Processing (ADP) agency has reported that the payroll figure doubled in June at 497K vs. expectations of 228K and the former release of 278K.
In addition to the US ADP report, US ISM Services PMI also remained better than expectations. Services PMI landed at 53.9 against the consensus of 51.0 and the prior release of 50.3.
Going forward, US Nonfarm Payrolls (NFP) data will be keenly watched. Analysts at NBF expect job creation to have slowed to 175K in the month. The household survey could show a slightly bigger gain following May's unexpected drop, but this should not lead to a change in the unemployment rate (3.7%).
Technical Analysis: Pound Sterling displays signs of volatility squeeze
Pound Sterling is demonstrating a non-directional performance around 1.2774 after a volatile spike inspired by the release of the US ADP Employment data. The Cable is consolidating inside the previous day's range, which indicates a sheer squeeze in volatility. Investors are awaiting a potential trigger for building fresh positions.
The Pound Sterling is auctioning above short-to-long-term daily Exponential Moving Averages (EMAs), which indicates that the overall trend is extremely bullish. Meanwhile, the Relative Strength Index (RSI) (14) is aiming to shift into the bullish range of 60.00-80.00. An occurrence of the same would activate the upside momentum.
BoE FAQs
The Bank of England (BoE) decides monetary policy for the United Kingdom. Its primary goal is to achieve 'price stability', or a steady inflation rate of 2%. Its tool for achieving this is via the adjustment of base lending rates. The BoE sets the rate at which it lends to commercial banks and banks lend to each other, determining the level of interest rates in the economy overall. This also impacts the value of the Pound Sterling (GBP).
When inflation is above the Bank of England's target it responds by raising interest rates, making it more expensive for people and businesses to access credit. This is positive for the Pound Sterling because higher interest rates make the UK a more attractive place for global investors to park their money. When inflation falls below target, it is a sign economic growth is slowing, and the BoE will consider lowering interest rates to cheapen credit in the hope businesses will borrow to invest in growth-generating projects – a negative for the Pound Sterling.
In extreme situations, the Bank of England can enact a policy called Quantitative Easing (QE). QE is the process by which the BoE substantially increases the flow of credit in a stuck financial system. QE is a last resort policy when lowering interest rates will not achieve the necessary result. The process of QE involves the BoE printing money to buy assets – usually government or AAA-rated corporate bonds – from banks and other financial institutions. QE usually results in a weaker Pound Sterling.
Quantitative tightening (QT) is the reverse of QE, enacted when the economy is strengthening and inflation starts rising. Whilst in QE the Bank of England (BoE) purchases government and corporate bonds from financial institutions to encourage them to lend; in QT, the BoE stops buying more bonds, and stops reinvesting the principal maturing on the bonds it already holds. It is usually positive for the Pound Sterling.