Share:
Ripple dropped XRP from its liquidity hub and explained that the altcoin will be evaluated alongside other tokens.
XRP holders speculate that Ripple's move is likely motivated by the SEC's probable win in the lawsuit against the payment giant.
Lawyer Bill Morgan argues the likelihood of Ripple's legal team expecting the lawsuit to go to trial and get delayed until 2024.
Ripple, the cross-border payment remittance firm no longer supports XRP as an asset in its liquidity hub product. While the payment giant offered an explanation for the same, XRP community members speculate that the move was influenced by the firm's expectation of the SEC's win in the lawsuit.
Also read: Ripple crushes SEC's supplemental authority letter, XRP price wipes out losses
Ripple drops support for XRP in its liquidity hub
Ripple's Liquidity Hub is a turn-key liquidity and global payout platform that the firm has built for the needs of corporates and enterprises. The firm recently dropped XRP from its list of supported assets, raising alarm in the XRP holder community.
In an explanation addressing XRP holders' concerns, the cross-border remittance firm explained that "XRP will be evaluated with other tokens once it has regulatory clarity." The explanation has raised more questions in the XRP Army, there are speculations of Ripple expecting a loss in the SEC's lawsuit against the giant.
Tbh I don't see this as a good sign. I don't want to get my conspiracy brain out there, but I imo you only remove XRP if you know something is coming. I truly hope I'm wrong, but I think people can't defend Ripple for this ANd be mad at Coinbase for delisting… https://t.co/yceVLleXzk

— Jesse Hynes (@jesse_hynes) April 15, 2023
Addressing this Fear, Uncertainty and Doubt (FUD), lawyer Bill Morgan commented on the issue and shared his opinion on Ripple's move.
Lawyer Bill Morgan clarifies FUD on Ripple pulling support for XRP
Lawyer Bill Morgan informed the XRP community that he does not know enough about the liquidity hub as a product, however, he assured holders that the move does not have any relationship with Ripple's legal team expecting a defeat at the hands of the Securities and Exchange Commission (SEC).
Morgan argues that Ripple's legal team is likely expecting a delay in the SEC v. Ripple lawsuit outcome or expect the case to go to trial, pushing it to 2024 or later. This delay implies XRP lives in a gray area, in the absence of regulatory clarity. Therefore, Ripple's move is likely motivated by less intervention from US Securities Laws in the liquidity hub product while awaiting clarity on XRP's status as a security in the lawsuit.
Bottom line it does not imply Ripple have assessed they will lose the case or have some inside information about an adverse outcome. It may reflect that Ripple Attorneys have advised Ripple of high prospects of this going to trial and further delays into 2024, hence the /7

— bill morgan (@Belisarius2020) April 15, 2023
XRP price reaction
JD, a crypto analyst and trader, expects a falling wedge breakout in XRP, setting a $4 target for the altcoin in 2023. A falling wedge is formed by two converging trend lines and analysts expect an upside breakout in the asset.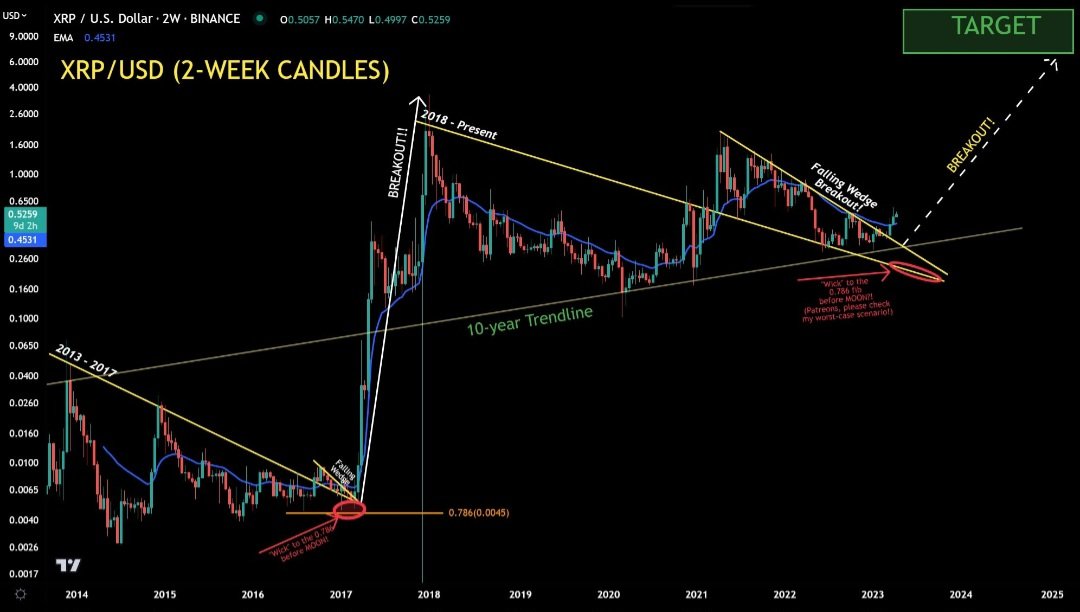 XRP/USD 2-week candles
The analyst marked a 10-year trendline on the XRP chart, indicating that the asset's uptrend is intact and a bullish breakout is likely. XRP price yielded nearly 2% losses for holders in response to the liquidity hub news.