Ripple price opens and is set to close the week above the 200-day SMA.
XRP price sees bulls still raking in one technical level after another.
The profit target for this quarter is still too far away, with headwinds in the near future.
Ripple (XRP) price is set to gain ground above the 200-day Simple Moving Average (SMA) in a repetition pattern as seen last week and the week before, where bulls were able to each time consolidate above a key pivotal or technical level. Until now, bulls have had an easy play, but headwinds are nearby, with central banks kicking off their first central bank meeting for the year. While the profit target for the first quarter is set at $0.49, seeing the headwinds to emerge next week, that might be a bit too farfetched.
Ripple price will see bulls disappointed in the coming weeks
Ripple price repeats the same playbook strategy as it did with the previous four weeks of profits. Each time bulls can gain control of an important area above a key technical level or key area. Although this is a very solid and well-controlled strategy, the issue is that the next profit target is the target foreseen for Q1 and has no handles between now and $0.49, which makes it too far and impossible to be reached in time.
XRP price is thus at risk of collapsing like a house of cards in an attempt to go for that $0.49. With the U.S. Federal Reserve and its chairman Jerome Powell coming out at the beginning of next week, the bullish mood could be dampened as central bankers are set to pour cold water on that same sentiment. Expect to see the support levels of the 200-day SMA and the 55-day SMA be tested before $0.3616 needs to step in to make sure that the rally does not fade too much.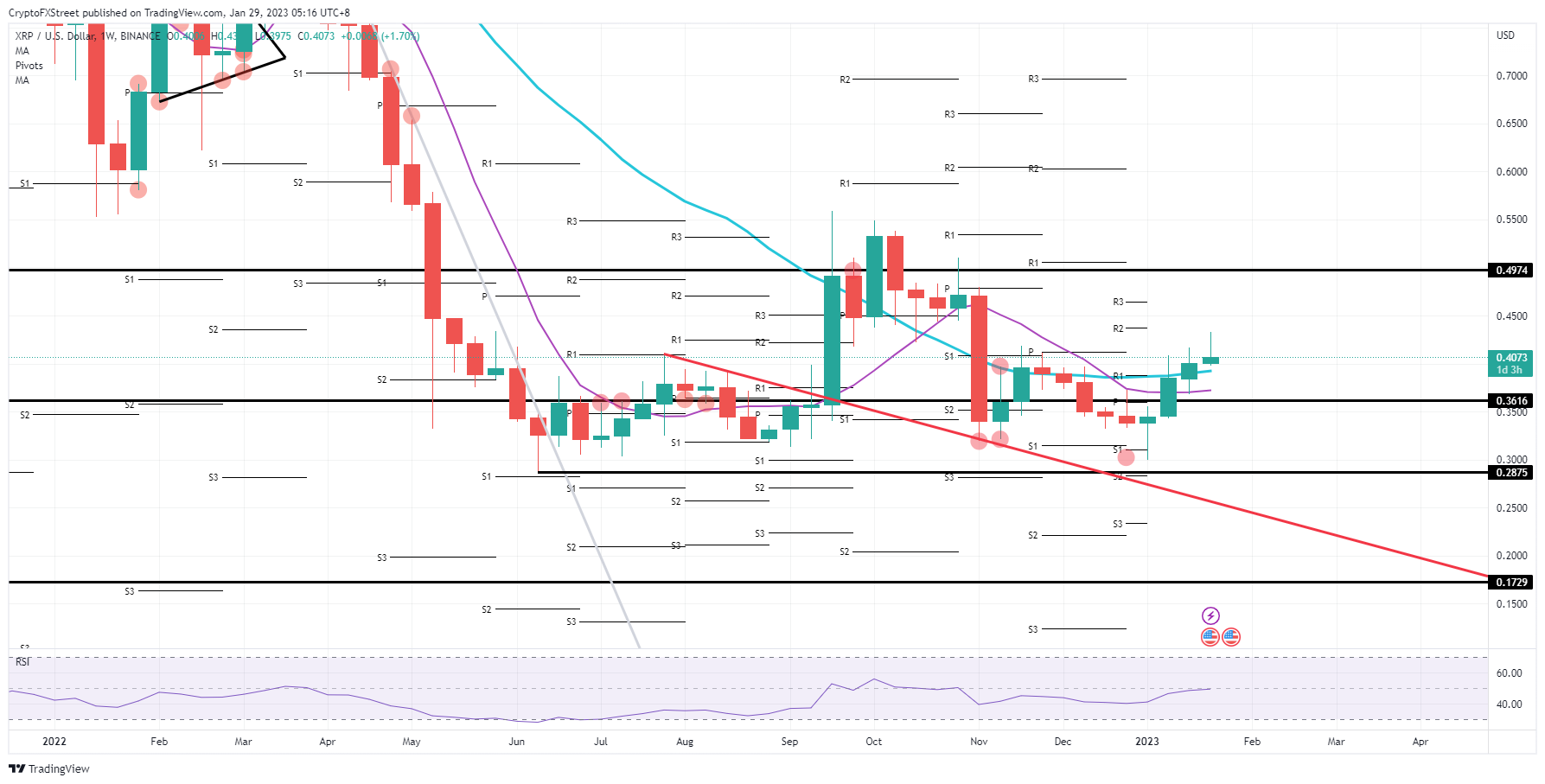 XRP/USD weekly chart
A positive surprise could be that Jerome Powell changes his stance and returns to the dove he has always been. That means that the Federal Reserve does not see inflation staying steady or at risk of rising again. Should Powell even come out saying that inflation is declining rapidly, XRP price would be seen spiking higher and reach that $0.49, jumping over 20% in value.