Share:
Ripple price is breaking out and is making big waves against the Top 2 cryptocurrencies.
XRP is catching up with Ethereum and Bitcoin in a strong performance this week.
If bulls can keep the fade from not growing any bigger, bulls are in for a treat with 20% gains by the end of next week.
Ripple (XRP) price is closing this week with very profitable numbers, even if a fade is ongoing. The fade occurred after bulls received a firm rejection at $0.50 and have been trading lower from that level since. If bulls can keep their hands on this momentum and the Relative Strength Index (RSI) is not overbought, at least some 20% profit is being prepared for next week.
Ripple price needs bulls to stay calm and play this cool
Ripple price is finally making a big upswing again, not seen since September last year, where one week was good for 37% gains. This week's performance will not match that, but at least it is good preparation for what is to come. As long as the fade can be kept above the 200-day Simple Moving Average (SMA), more upside potential is in the cards.
XRP has long been under pressure from that same 200-day SMA, and this week proves to be the key that has turned the sentiment to a bullish tone. With the breakout, the road to $0.50 for a second test and possible break is wide open. From there, bulls can still venture another 10% jump towards $0.55 and hit that same high of September in a double top formation.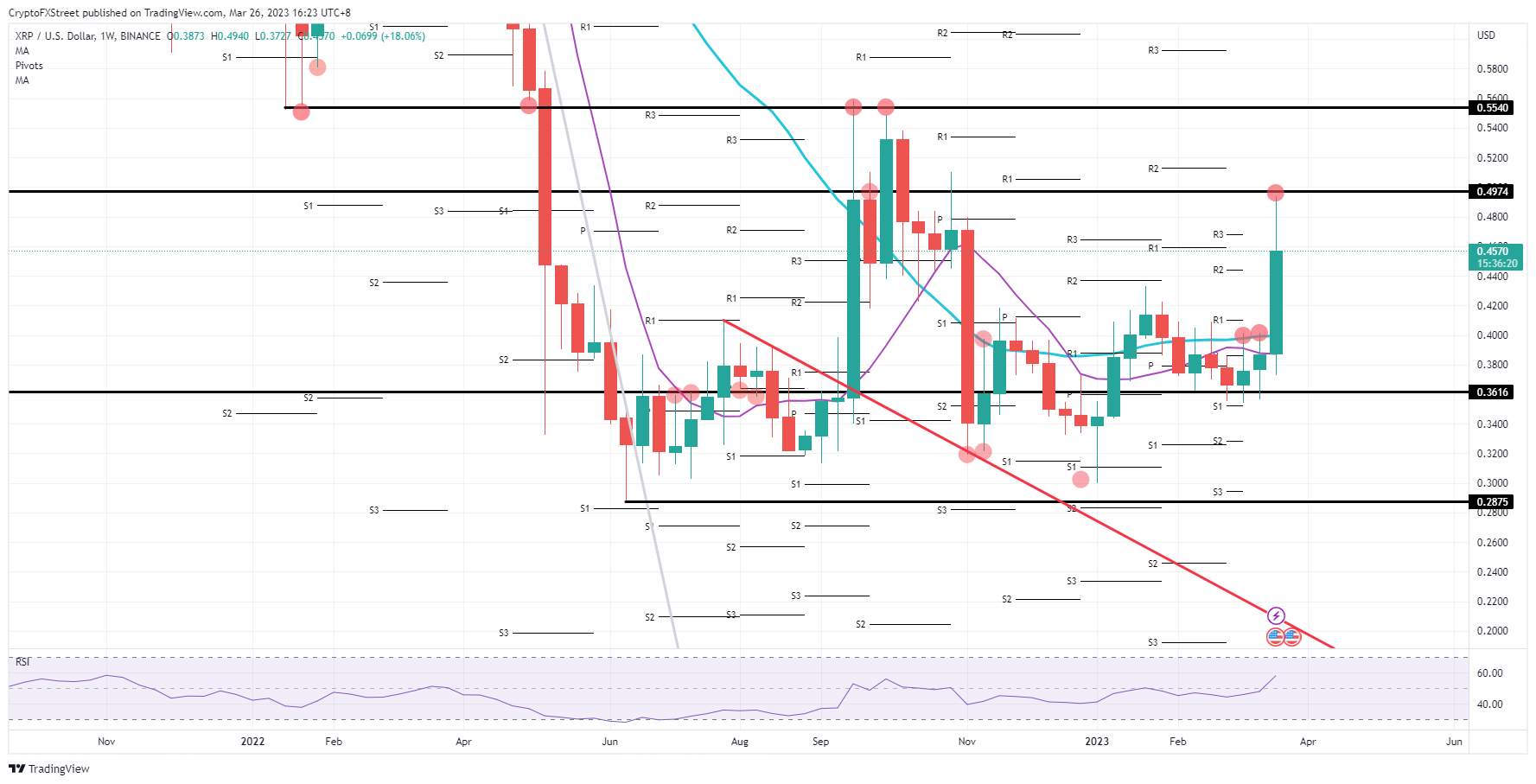 XRP/USD weekly chart
Remember that the RSI is already quite elevated and that bulls could see their efforts quickly matched by some bearish action. The worst case would be that when XRP pops higher, bulls undergo another rejection at $0.50, and at the same time, the RSI breaks into overbought. That would mean that bears get a chance to keep selling pressure on XRP until the RSI is back to neutral or oversold and might be hitting $0.36 on the back of that.