Share:
Oasis network price remains range-bound, confronting resistance due to the midline of a bearish technical formation at $0.0405.
ROSE could fall to the floor price of $0.0337, 15% below current levels as momentum remains rather weak.
Invalidation of the bearish outlook would happen once the altcoin breaks and closes above the $0.0535 resistance level.
ROSE, the powering token behind the Oasis Network ecosystem is a headlining topic on crypto X, fueled by chatter about the Oasis Engineering team doubling down on network growth. Their activities have positioned the network in the front row seats of web3, the purported future of the internet.
Also Read: Oasis Network price could rally 15%, a possible do-over as rising momentum helps ROSE find support
Oasis Network engineers double down on development initiatives
Oasis Network, touted as a versatile and scalable blockchain platform for complex workloads, is a privacy-enabled blockchain where users have control of their data through confidential compute. It boasts high throughput and low gas fees, attributes that enhance real-time transactions. An upcoming feature has the ROSE token trending: "Oasis Network users can transfer from Consensus to Sapphire and vice versa on their mobile phones soon."
As the network gears up for pivotal network upgrades, ROSE bulls are pushing north, but stiff overhead pressure limits Oasis Network price's upside potential.
Oasis Network price breaking above this level could be a greenlight for longs
Oasis Network (ROSE) price remains bearish, with the immediate roadblock presented by the midline of a descending parallel channel. This is a bearish technical formation that will send ROSE south as long as the price remains confined within its boundaries.
With the Relative Strength Index (RSI) still below the 50 midline and the Awesome Oscillator (AO) still in the negative territory, the odds still favor the downside. With this, stiff resistance from the midline of the channel, reinforced by the $0.0435 could send Oasis Network price south, potentially going as low as the $0.0337 support floor.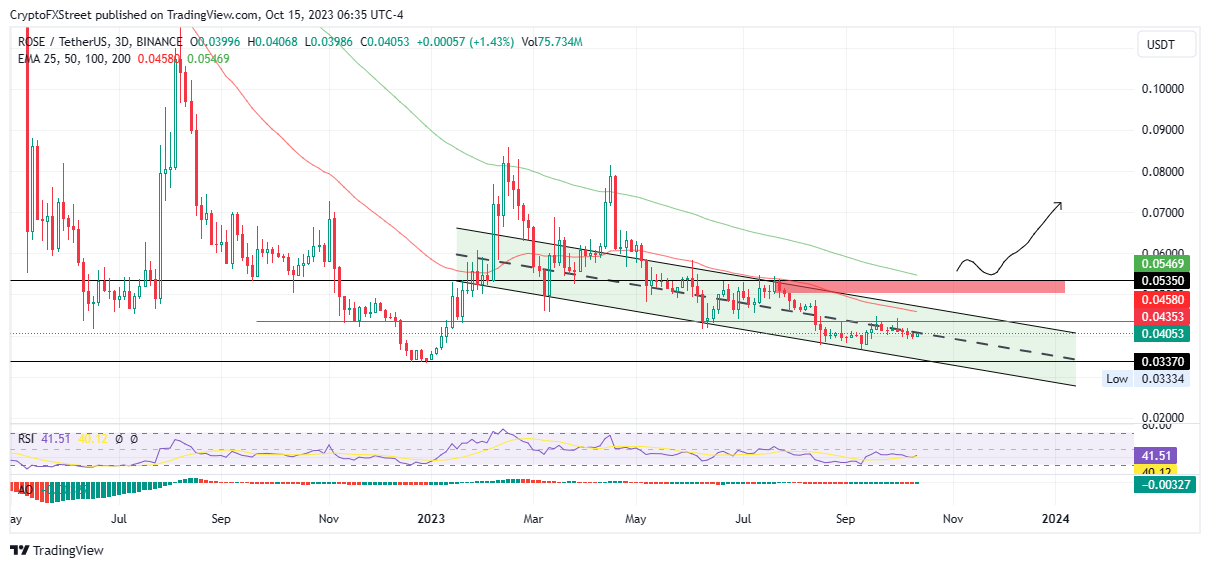 ROSE/USDT 1-day chart
Conversely, if sidelined investors come in, the Oasis Network price could extend north. A strong break above the $0.0435 and the subsequent barricade due to the 50-day Exponential Moving Average (EMA) at $ 0.0458 could see the cryptocurrency vindicated from the bearish technical formation.
In a highly bullish case, Oasis Network could give longs an optimistic entry point after it breaks and closes above the supply barrier extending from $0.0501 to $0.0535 and flips the 100-day EMA at $0.0546 into a support level. A decisive candlestick close above this level would increase the odds for an uptrend, bringing the $0.0800 psychological level in sight.
---
Source