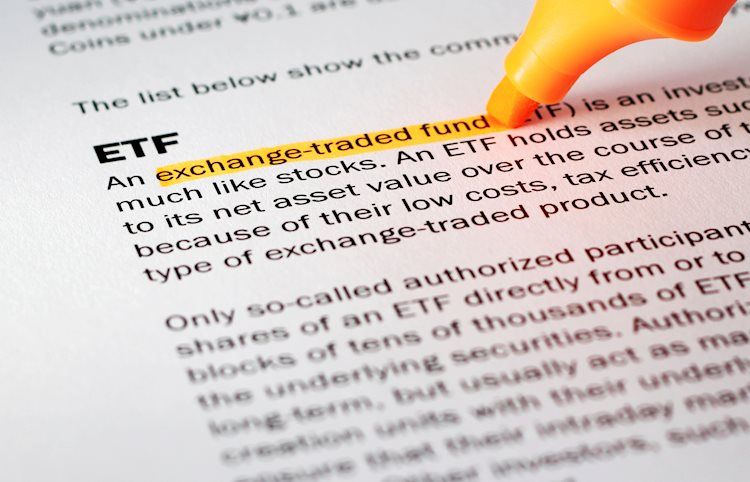 Share:
Roundhill has filed for a Bitcoin Covered Call Strategy ETF, which will hold a Bitcoin futures ETF
Dubbed the Fund, the product will also write call and put options for income
Meanwhile, BlackRock has also dropped a new filing for a Russell 2000 small cap buy write ETF
Roundhill and BlackRock are among the institutional players making headlines on Friday, October 28. They are closing the week with new filings as the market continues to hold out hope for an approval in one or more of the applications already in front of the US Securities and Exchange Commission's (SEC) desk.
Also Read: IBTC back on DTCC list; SEC charges BlackRock with failing to disclose investment
Crypto ETF FAQs
An Exchange-Traded Fund (ETF) is an investment vehicle or an index that tracks the price of an underlying asset. ETFs can not only track a single asset, but a group of assets and sectors. For example, a Bitcoin ETF tracks Bitcoin's price. ETF is a tool used by investors to gain exposure to a certain asset.
Yes. The first Bitcoin futures ETF in the US was approved by the US Securities & Exchange Commission in October 2021. A total of seven Bitcoin futures ETFs have been approved, with more than 20 still waiting for the regulator's permission. The SEC says that the cryptocurrency industry is new and subject to manipulation, which is why it has been delaying crypto-related futures ETFs for the last few years.
Bitcoin spot ETF has been approved outside the US, but the SEC is yet to approve one in the country. After BlackRock filed for a Bitcoin spot ETF on June 15, the interest surrounding crypto ETFs has been renewed. Grayscale – whose application for a Bitcoin spot ETF was initially rejected by the SEC – got a victory in court, forcing the US regulator to review its proposal again. The SEC's loss in this lawsuit has fueled hopes that a Bitcoin spot ETF might be approved by the end of the year.
Roundhill files BTC Covered Call Strategy ETF
Roundhill Investments, an SEC-registered investment advisor focused on offering innovative exchange-traded funds (ETFs), has made yet another submission, this time filing a Bitcoin Covered Call Strategy ETF as the wait continues. Notably, the firm had also filed an Ether futures ETF, alongside VanEck and Volatility Shares. This is a different trade line from the spot BTC ETF. ETF specialist Eric Balchunas from Bloomberg Intelligence explains that the latest filing if approved, would hold a BTC futures ETF and then write call and put options for income.
Roundhill just filed for a Bitcoin Covered Call ETF, which will hold a bitcoin futures ETF and then write call and put options for income pic.twitter.com/0yqsAOXqX5

— Eric Balchunas (@EricBalchunas) October 27, 2023
Experts attributed Roundhill's preference of ETH futures to the Spot BTC ETF alternative as a move to bolster its expertise in the metaverse or a possible first mover advantage, given the stiff competition in the spot ETF camp. The BTC COvered Call Strategy ETF could be another card towards first mover advantage.
For the layperson, a covered call would give you the option to earn income by selling a call option on your BTC holdings. For example, you could sell a covered call against a spot Bitcoin ETF to another investor. In selling the call option, the seller gives the buyer the option to buy his or her [seller's] underlying Bitcoin ETF at a specific price in the future, at a set expiration date.
Notably, the strategy is mildly bullish for near-term upside in Bitcoin price and provides passive income similar to rent. To implement such a strategy, one needs access to a discount stock brokerage account that allows spot Bitcoin ETF ownership. It is worth mentioning that there are two possible sources of profit that you are exposed to when it comes to a Bitcoin ETF covered call. First, it could come from the premium received when the call option is written. Secondly, you could profit from capital appreciation in the Bitcoin ETF position.
BlackRock files for a Russell 2000 small cap buy write ETF
Meanwhile, BlackRock has filed for a Russell 2000 small capitalization buy write ETF. To put it plainly, this is an ETF committed to tracking the performance of the Russell 2000 Index, offering investors exposure to a diversified portfolio of stocks with small market capitalizations.
A Russell 2000 ETF is different from the S&P 500 index, such that while the latter contains larger, well-established companies, the former follows the performance of around 2,000 US small-cap companies. However, both are market-cap-weighted.
---
Source