Share:
Shiba Inu price is observing a potential hidden bearish divergence forming on the charts.
SHIB investors have accumulated over 475.5 million worth of tokens in the span of a week, awaiting profits.
If the bearish pattern plays out, the meme coin could crash by 9% or even fall to December 2022 lows.
Shiba Inu price has been noting a downtrend for over the last two weeks, which investors were expecting to be the corrections before a rally. However, based on a critical indicator, it seems like the meme coin might be on the path of disappointing its holders.
Shiba Inu price sets a bearish tone
Shiba Inu price, trading at $0.00001068 at the time of writing, failed to breach the downtrend line that it has been stuck under for the better of March. The downtrend line first formed when the meme coin slipped back on the charts after testing the 100-day Exponential Moving Average (EMA) as resistance.
On the other hand, in the same duration, the Relative Strength Index (RSI) has been trending upwards. The indicator rose from the oversold zone under 30.0 and has been moving up towards the neutral line at 50.0, forming an uptrend line.
Combining the price action and RSI's movement highlights the formation of a potential hidden bearish divergence.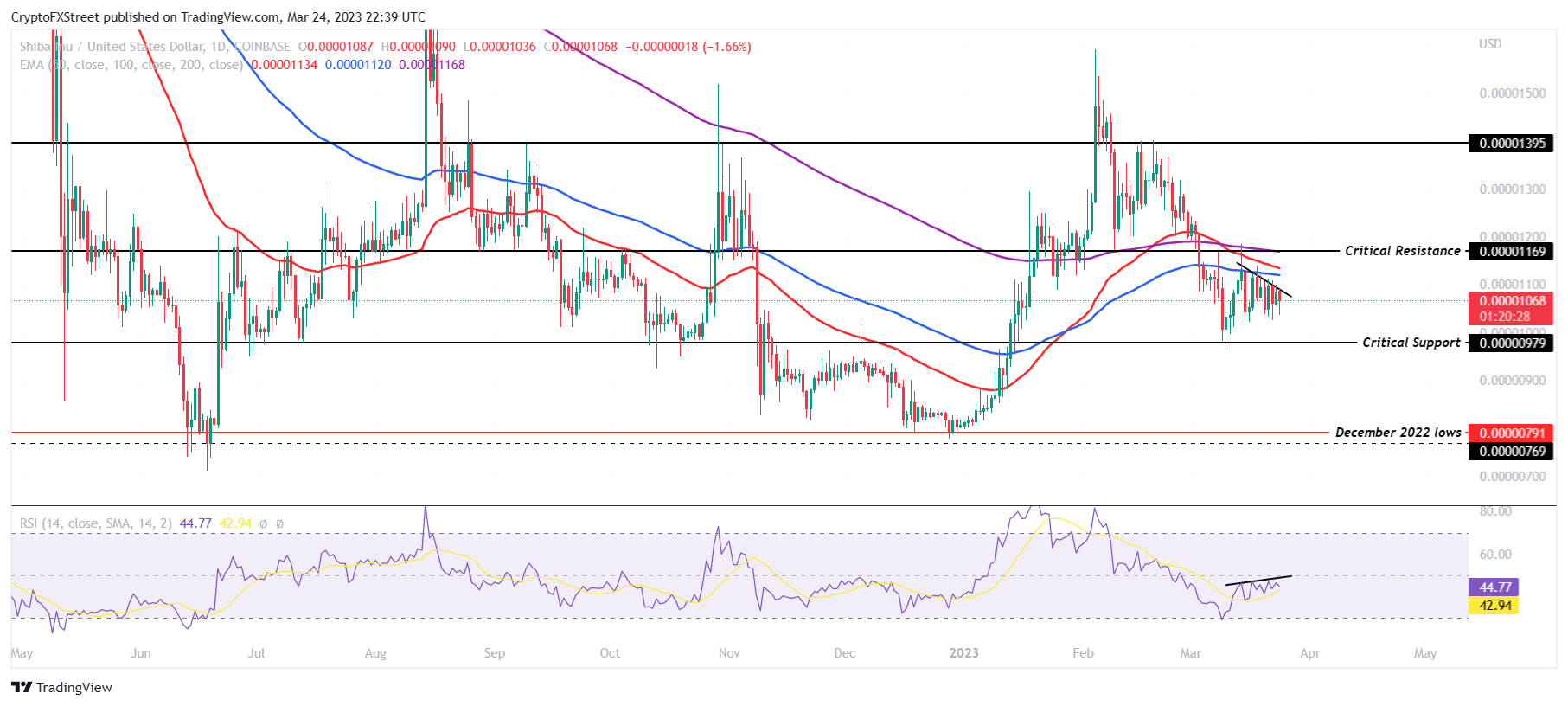 SHIB/USD 1-day chart
If this pattern plays out, the Shiba Inu price could be looking at a decline over the next couple of trading sessions. This would result in the meme coin falling to critical support at $0.00000979, marking a two-month low for the altcoin.
Losing this support would further push SHIB to December 2022 lows which would sign a 25% crash for the cryptocurrency.
Shiba Inu holders in loss
This would prove to be highly loss-bearing for the investors that recently racked up more than 43 trillion SHIB tokens in the span of a week. The supply on exchanges shows a decline of over $475.5 million worth of tokens.
Generally, a decline in the supply suggests that a short-term accumulation trend is underway.

Shiba Inu supply on exchanges
This decline could also point toward SHIB holders pulling their tokens out of exchanges and moving them to a cold wallet. However, the possibility of the same is bleak as such a fall was not noticed even after FTX collapsed four months ago.
Shiba Inu holders' move is surprising, considering the network realized the highest losses observed since June 2021 earlier this week. The overall coins moved on-chain highlighted losses worth nearly 575 million SHIB, which in value translated to less than $62,000, but on-chain represents considerable losses.

Shiba Inu network realized losses
Thus, if the aforementioned bearish divergence plays out and Shiba Inu price falls to December 2022 lows, SHIB investors would be adding further to the network-wide losses.