Share:
Shiba Inu price is torn up between bears and bulls.
SHIB triggered a false break lower and a false break higher with nearly a firm topside rejection.
Expect to see another leg lower once bulls start to vacate the premises, as SHIB is not projecting a stable rally higher anytime soon.
Shiba Inu (SHIB) price is not painting a pretty picture as clearly investors and traders are looking for some guidance in terms of direction. This week alone, traders had to withstand a false break to the downside, and a false break to the upside and see bulls barely holding support near the crucial $0.00001000 pivotal level. More and more bearish elements are coming in from above, and with the 55-day Simple Moving Average (SMA) heading on its way to form a death cross again, a 20% implosion looks to be unfolding in May.
Shiba Inu's price has disappointed investors
Shiba Inu's price is set to head on a ride lower after investors are starting to question whether it pays off to still participate in its price action. This week certainly has triggered some red alerts as SHIB broke below $0.00001000 on a false break, next broke higher above the 200-day SMA with again a false break and is not respecting any support or resistance nearby. Expect disappointed traders and investors to start exiting their positions and wait for some more stable trading conditions.
SHIB might still hold that $0.00001000 while it has been clearly breached earlier this week. This makes the support and importance it used to hold less relevant. Expect to see price action advance into negative territory further and head towards $0.00000820 to flirt with the lows of December and June last year.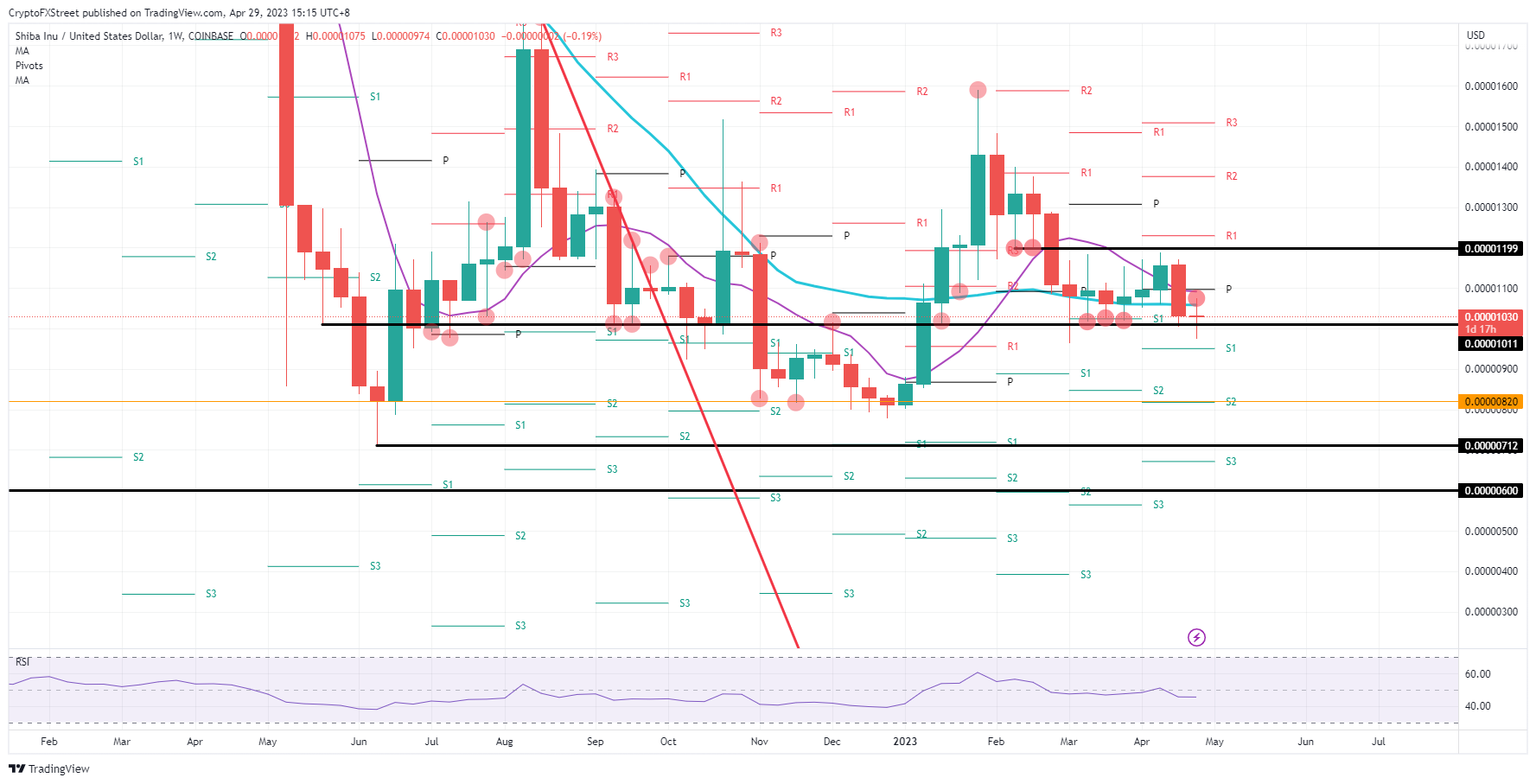 SHIB/USD weekly chart
One nearby element that could be seen creating some momentum for a turnaround is the monthly S1 support near $0.00000950. Together with the bottom from March, it would make an ideal floor and could see price action being underpinned in that area. Confirmation would come from a turnaround once $0.00001000 gets reclaimed and favorably continues its rally toward and above $0.00001100.