Share:
Shiba Inu price rips 10% lower as markets shift under pressure from geopolitics and central banks.
SHIB sees traders gearing up for US inflation numbers coming in on Tuesday.
Here is what you need to know for next Tuesday and what it means for SHIB.
Shiba Inu (SHIB) price is facing a massive wave of challenges that triggered a move of more than 10% to the downside. Several risk premiums need to be factored in again as Russia started another offence in Ukraine, central banks remain hawkish, and inflation is nowhere near 2% for the US, EU or UK. The US inflation number on Tuesday could trigger another 18% decline.
Shiba Inu price set to rappel towards $0.00001011
Shiba Inu price is set to be delivered at the mercy of the markets as the US inflation number is set to come out on Tuesday. Inflation in December came out at 6.5%, and the consensus for January is 6.2%, with the lowest expectation of 5.8%. So a max 0.7% decline is expected and would meet expectations. The biggest risk comes with only a 0.2% upper bound expectation of 6.7%, which means that economists and analysts are too focused on another decline.
SHIB could get slaughtered in inflation stays steady or jump higher. Expect a jump above 6.5% but below 6.7% to see a push towards $0.00001100 as the 200-day Simple Moving Average would come in as support. A dreadful inflation rise above 6.7% would see a nosedive move towards $0.00001000 with a full 24% selloff for next week.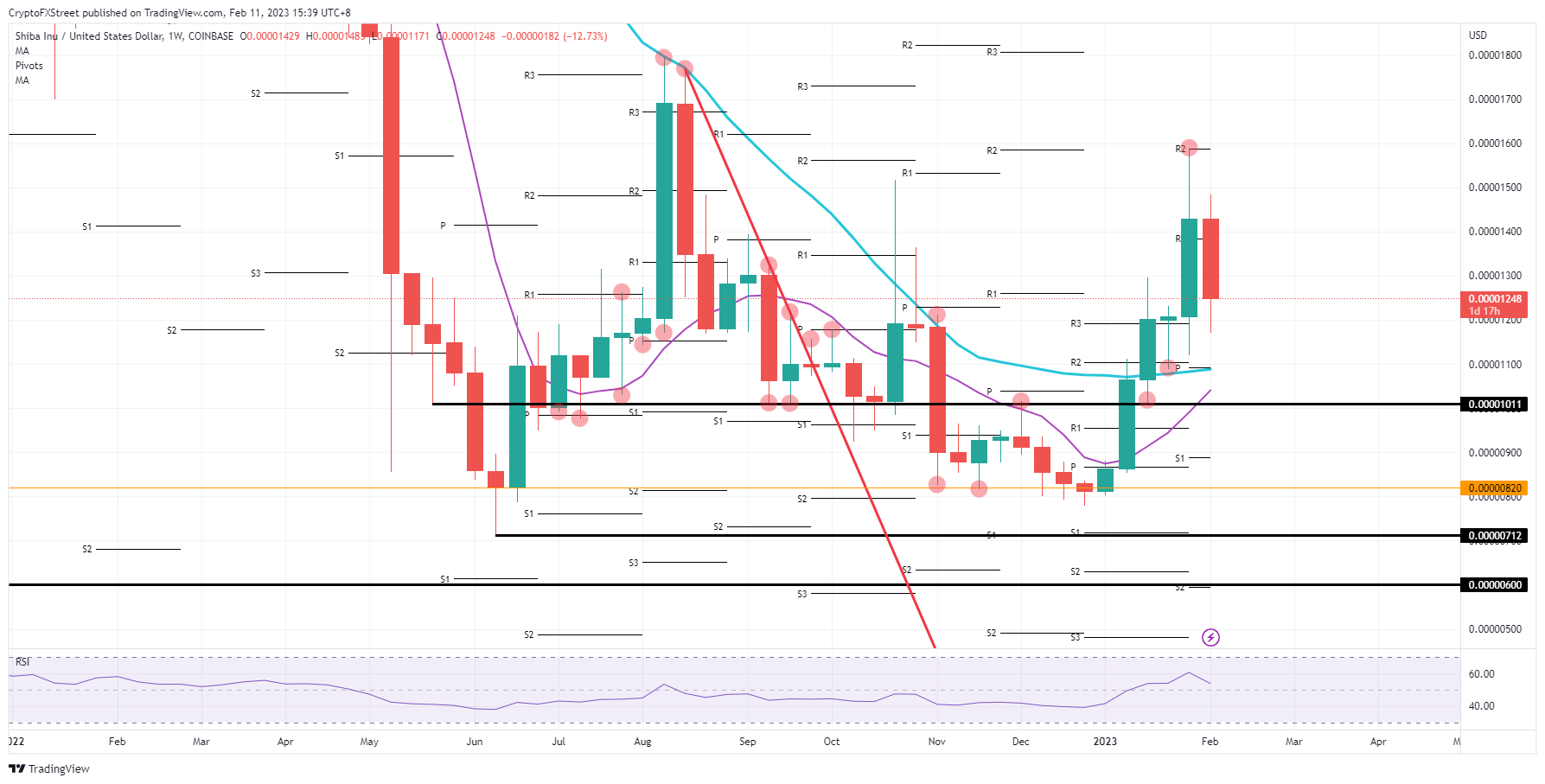 SHIB/USD weekly chart
To trigger an upside surprise, inflation must drop to 6.1% or lower. That would be a big surprise decline and would bring back the goldilocks scenario where central bankers are pushing against so much these past few days and past week. Shiba Inu price would spiral higher quickly as equities would quickly make new highs during the week and see SHIB breaking above $0.00001600.