Share:
Shiba Inu's Shibarium beta network Puppynet hit a key milestone as total transaction count tripled, crossing 3 million.
The average block time on Puppynet is five seconds or less and the total number of wallet addresses on Shibarium beta network exceeds 4 million.
Experts consider Shibarium's rising popularity and utility a bullish sign for Shiba Inu's native token SHIB price.
Shiba Inu scaling solution Shibarium's beta network Puppynet hit a key milestone in terms of average block time, and the number of wallet address interacting on the network. Shibarium's increasing utility could act as a catalyst for Shiba Inu's price.
Also read: Ethereum withdrawals outpace deposits, alarming ETH holders of the price impact
Shibarium Puppynet crosses important milestones
The Shiba Inu community considered the scaling solution Shibarium's launch a key catalyst for the SHIB ecosystem. Therefore, Shibarium's beta network Puppynet hitting key milestones in terms of the average block time, wallet addresses and users is considered a likely bullish catalyst for SHIB.
Based on data from puppyscan.shib.io, the average block time on Shibarium's beta network is five seconds. The total number of transactions on the beta network and volume of interacting wallet addresses have both surpassed key levels, at 3,180,742 and 4,083,554.
Shibarium's Puppynet hits key milestones
Hitting significant utility milestones, Puppynet has increased Shibarium's utility and popularity in the Shiba Inu community, since its launch on March 11.
Interestingly, another factor acting as a likely catalyst for SHIB is the massive spike in Shiba Inu burn rate over the past week. In the past 24 hours, upwards of 30 million SHIB tokens were burnt. The volume of SHIB tokens burnt has climbed consistently, reducing the volume of Shiba Inu tokens in circulation, in turn reducing the selling pressure on the Dogecoin-killer token.
What to expect from Shiba Inu price
The bullish catalysts in the Shiba Inu ecosystem could help the meme coin wipe out its recent losses and begin its recovery. As seen in the SHIB/USDT four-hour price chart below, Shiba Inu price is in a short-term uptrend that started in mid-March 2023.
Shiba Inu price is in an ascending parallel channel. An ascending channel is a bullish chart pattern and as long as the SHIB price remains within the channel. SHIB price upward trend is expected to continue and Shiba Inu could witness an upward breakout in its recovery.
The targets for a bullish breakout are 23.6%, 38.2%, 50% and 61.8% Fibonacci Extension of the ascending channel and the levels at $0.00001233, $0.00001252, $0.00001267 and $0.00001282, as seen in the chart below.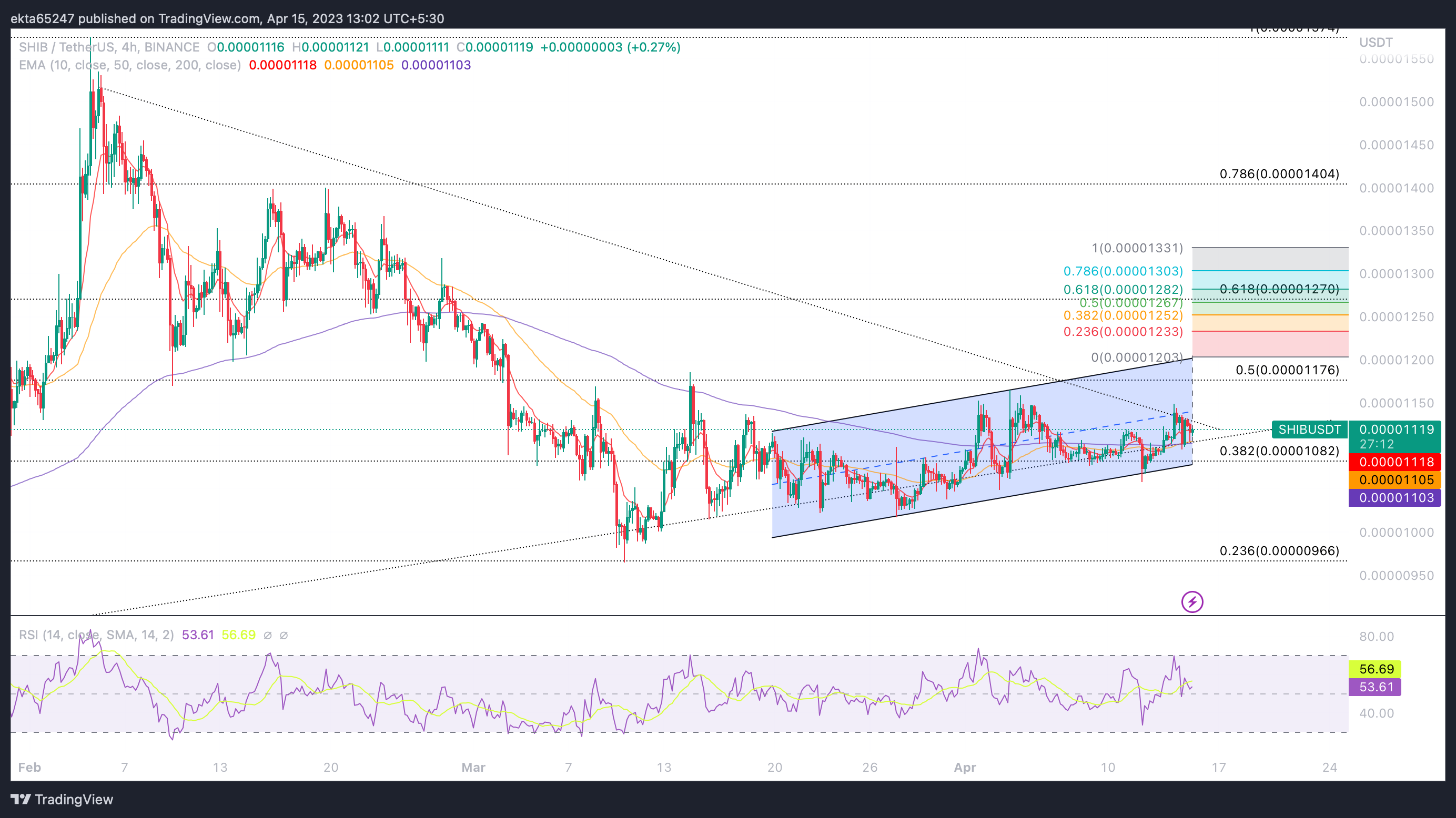 SHIB/USDT 4H price chart
Shiba Inu price is currently above all three key Exponential Moving Averages of 10, 50 and 200-day. If SHIB price nosedives below the lower trendline of the channel at $0.00001118, it could invalidate the bullish thesis and the next support for SHIB is at $0.00000966, the 23.6% Fibonacci Retracement level.