Share:
Solana price performance since the start of 2023 is 195%, beating Bitcoin's 82% and Chainlink's 70.52%.
This performance could carry forward to the next year, keeping SOL relevant and rallying higher.
Technicals suggest SOL could more than double if a few conditions are met.
Solana (SOL) price suffered a major setback after the FTX exchange filed for bankruptcy. But SOL's comeback is nothing short of a miracle, considering its year-to-date returns of 195% overshadow that of Bitcoin and Ethereum.
Although the majority of crypto investors believe that Solana is a delicate asset due to the FTX proceedings, there are a few reasons which suggest otherwise.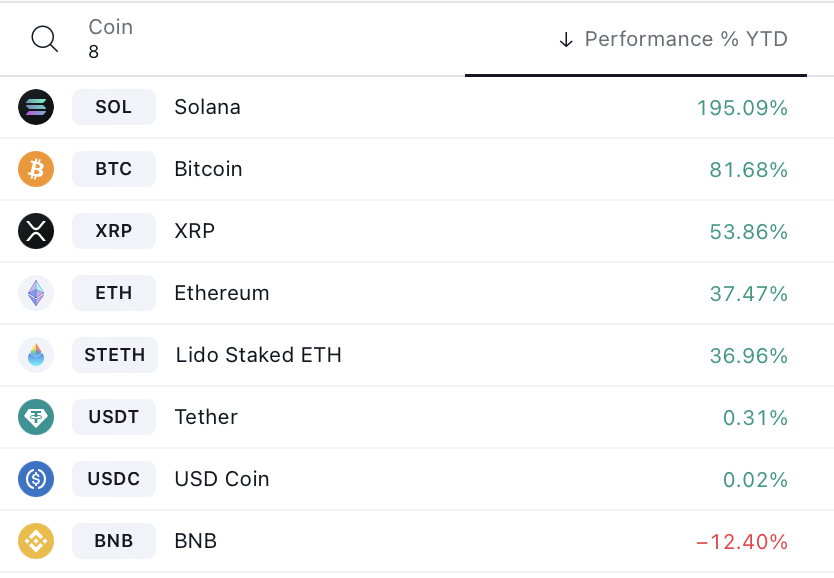 Crypto YTD Performance
Also read: Solana price turns bullish after confirming trend reversal, 20% gains incoming for SOL?
Solana could outperform notable altcoins in 2024
The first reason why investors should keep an eye on Solana price is how the altcoin has outperformed major cryptos. SOL shot up from $9.97 to nearly $30 in the span of the last ten months. On October 21 alone, the Ethereum competitor yielded a 25% return, while investors were busy gawking at Chainlink's 21% rally.
So, where is this momentum coming from?
Contrarian thinking: Many investors are staying away from Solana due to the drama surrounding FTX and the ongoing bankruptcy lawsuit. But when a major chunk of investors believe that, then the chances of an altcoin rallying would be high. This phenomenon is precisely why local tops are formed at peak hype or retail frenzy. It is also why cycle bottoms are produced during times when investors capitulate. So, with that in mind, Solana price will continue to rally until investors believe that SOL is a touch-y coin due to the FTX proceedings.
Panic selling SOL: One of the major reasons why many investors feared a Solana price crash was due to the millions in holdings under the FTX Estate. While these SOL tokens are likely to be sold off, it will not happen overnight but only after the FTX lawsuit has been concluded.
SOL staking and fundamentals: While many feared that FTX Estate would sell the bankrupt exchange's holdings, it did the opposite – it staked $122 million worth of SOL and $5 million worth of ETH. This move adds to the Solana altcoin's fundamentals and prevents the sell-off, at least for some time. Hence, this development could be one of the reasons for the ongoing rally.
SOL to ETH Ratio: Despite Solana price being in a worse state than Ethereum after the FTX crash, the SOL to ETH ratio has risen to 0.06, a level last seen almost a year ago. This strength seen in Solana price shows another shift in paradigm in investors losing interest in Ethereum.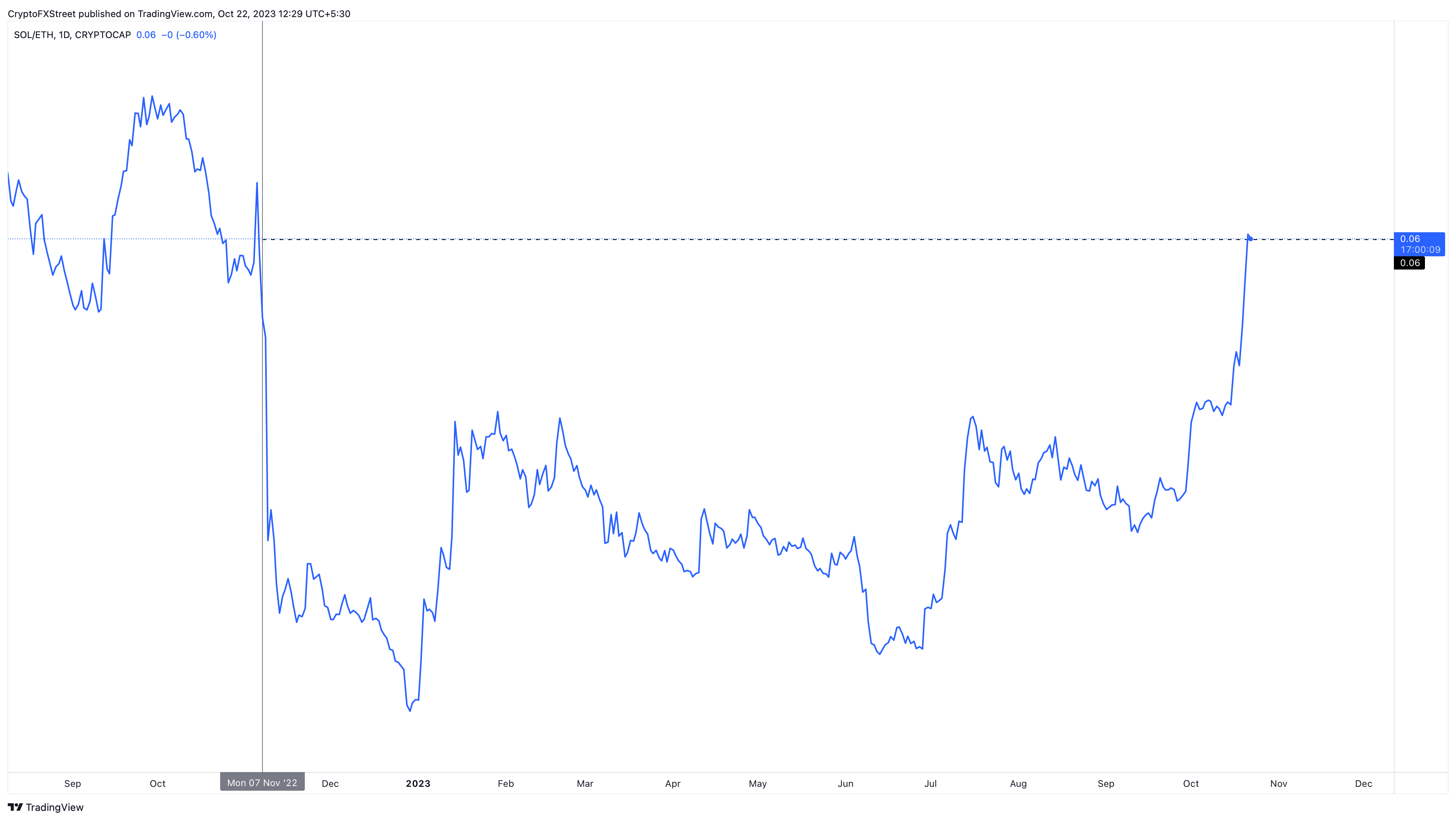 SOL/ETH 1-day chart
Institutional investors choose SOL: Lastly, CoinShares head of research James Butterfill noted in an October 9 report that Solana has seen massive inflows for 2022 and that it continues to "assert itself as the altcoin of choice."
All in all, Solana price has been neglected by a majority of retail investors, and as long as this holds true, SOL is likely going to outperform Bitcoin, Ethereum, Ripple and other major altcoins.
Also read: Solana vs. Ethereum: Renewed debate erupts over efficiency, development and scalability
Solana price could more than double under right conditions
Solana (SOL) price has overcome the $25.86 hurdle after nearly a year of struggle. The swift move above the said hurdle showcases bulls' strength. For the ongoing rally to continue, investors need to prepare for a minor pullback to $25.86 or $24.43. A bounce from this level is key to kickstarting a rally to $69.79.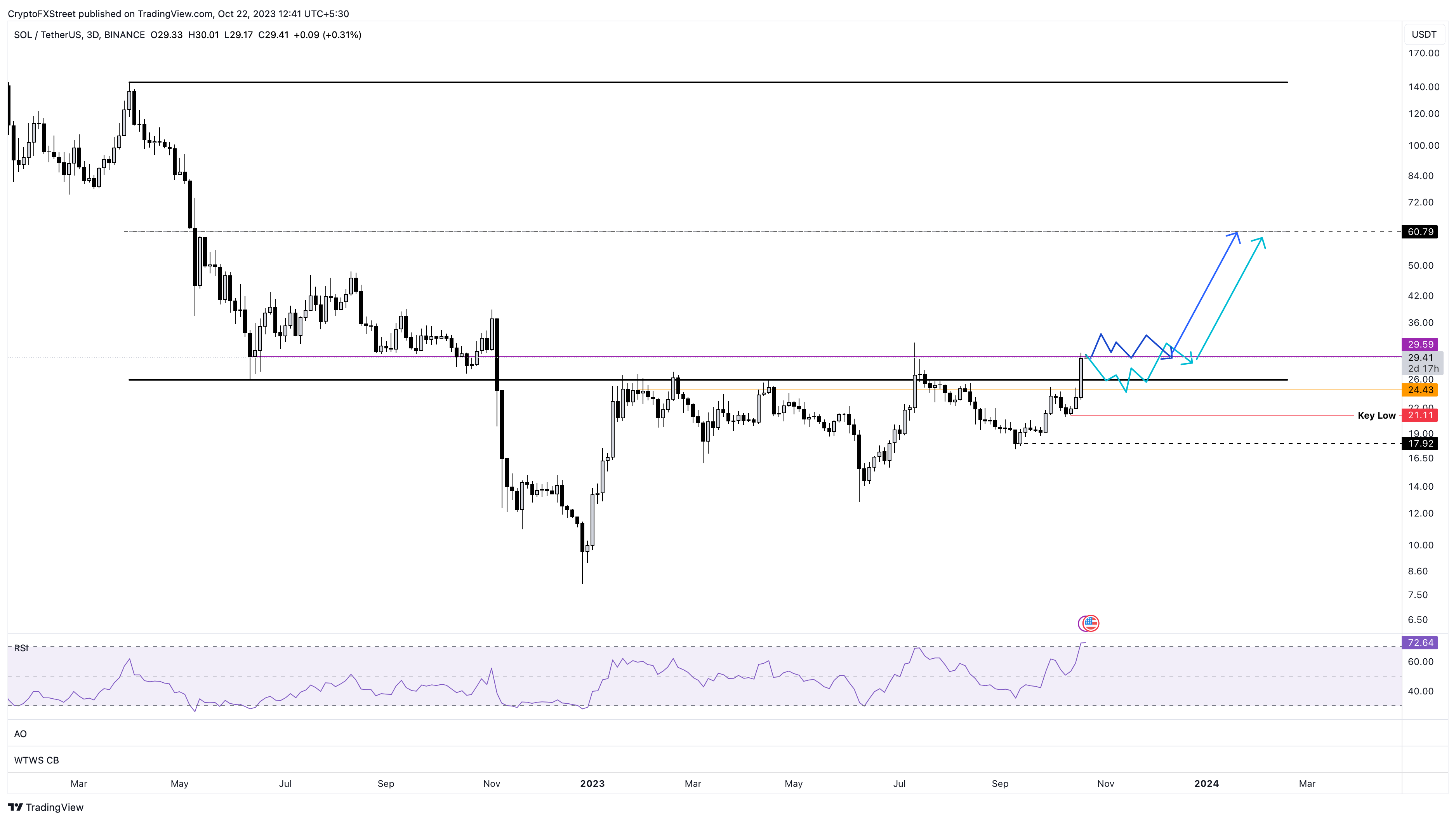 SOL/USDT 1-day chart
On the other hand, if Solana price breaches the key low of $21.11, it would create a lower low and invalidate the bullish thesis. In such a case, SOL could revisit $17.92.
---
Source