Share:
Solana network witnessed a spike in decentralized exchange volume, over the past week.
The Ethereum-killer network lags behind its competitors in terms of daily activity, however DEXes have noted a spike.
SOL price yielded nearly 5% gains for holders since Friday, kick starting the altcoin's recovery.
Solana network lagged behind its competitors in terms of on-chain activity while trade volume on decentralized exchanges fuels a bullish thesis for SOL. The altcoin started its price recovery yielding nearly 5% gains overnight.
Also read: Bitcoin and Ethereum rolling correlation declined below 80% first time in 18 months, what this means
Rising DEX volumes act as catalysts for Solana
Ethereum-killer Solana notably lags behind its competitor Ethereum, Arbitrum and Polygon, in terms of daily on-chain activity. However, there has been a consistent rise in the volume of decentralized exchanges on the SOL blockchain.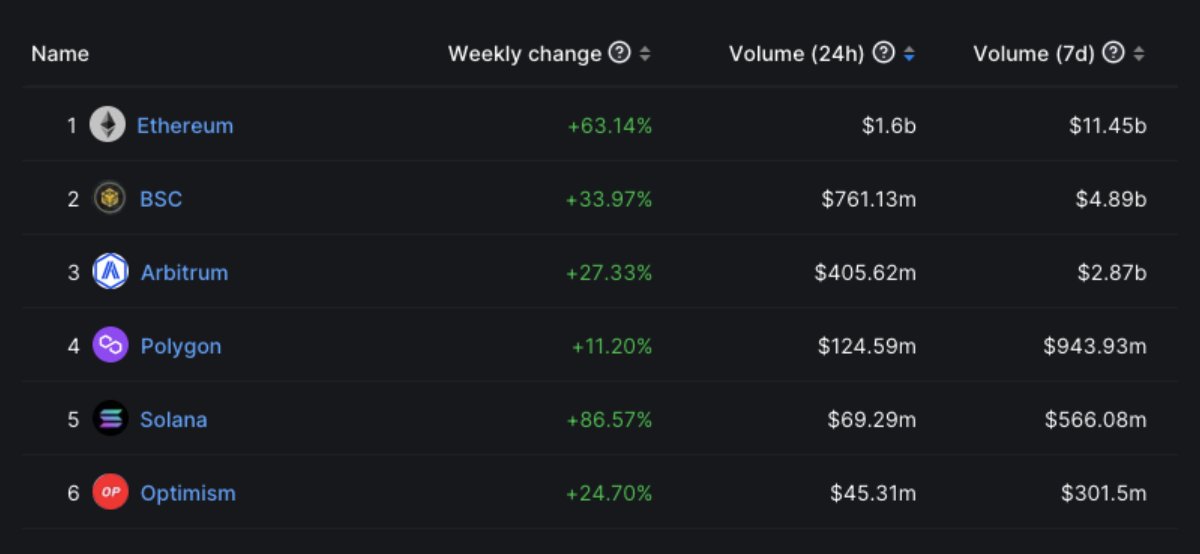 DEX volume
Acting as a bullish catalyst, spike in DEX trade volume fuels a thesis for SOL price recovery. Solana could now compete with other protocols in the DeFi sector.
The spike in volumes of decentralized exchanges is likely attributed to the growth of Automated Market Maker (AMM) Raydium and its on-chain order book. Raydium witnessed an 85% spike in the number of unique wallet addresses on its network and volume of transactions climbed nearly 150% over the past week.
Interestingly, Solana price recovered from its recent pullback and yielded 5% gains to holders overnight.
Where is Solana price headed next
Solana is currently in an uptrend that started in the beginning of 2023. The Ethereum-killer altcoin is tackling resistance at 10-day Exponential Moving Average at $21.21, while 50 and 200-day EMAs act as immediate resistances.
In its recovery SOL price could tackle resistances at $27.97 and $30.72.
SOL/USD 1D price chart
If Solana price nosedives below the 38.2% Fibonacci level at $19.86, it could plummet lower to support at 23.6% at $15.37.