Share:
Solana price paints a bullish picture after this week's performance.
SOL rallies 25% as bulls are overshadowing bears in the price action.
Expect to see a test and possible break higher in May above $27.
Solana (SOL) price is bound to head higher as its liftoff this week was a huge success as three rocket engines fuel the move higher. Those rocket engines come in the form of three technical levels that have seen substantial buying and are fueling the current uprising with more to come. Expect to see at least a test near $27 in May and add 25% of value to the current SOL price action.
Solana price shows great technical respect for levels
Solana price has seen this week three key levels that are massively important to have this rally ending successfully near $27 as profit level. The first and second support comes from the monthly pivot together with the 200-day Simple Moving Average (SMA) near $20.50. Both underpinned the price action so firmly that bulls had a massive amount of orders around that level to get filled and go all-in for that long position in SOL.
SOL offered a window of opportunity even for bulls that were late to the party with great respect for the 55-day SMA near $21.50. All added up, bulls had three firm reasons why price action in SOL would only go one way, which is up. Expect from here a firm rally towards $27 for next week and revalue Solana 25% higher.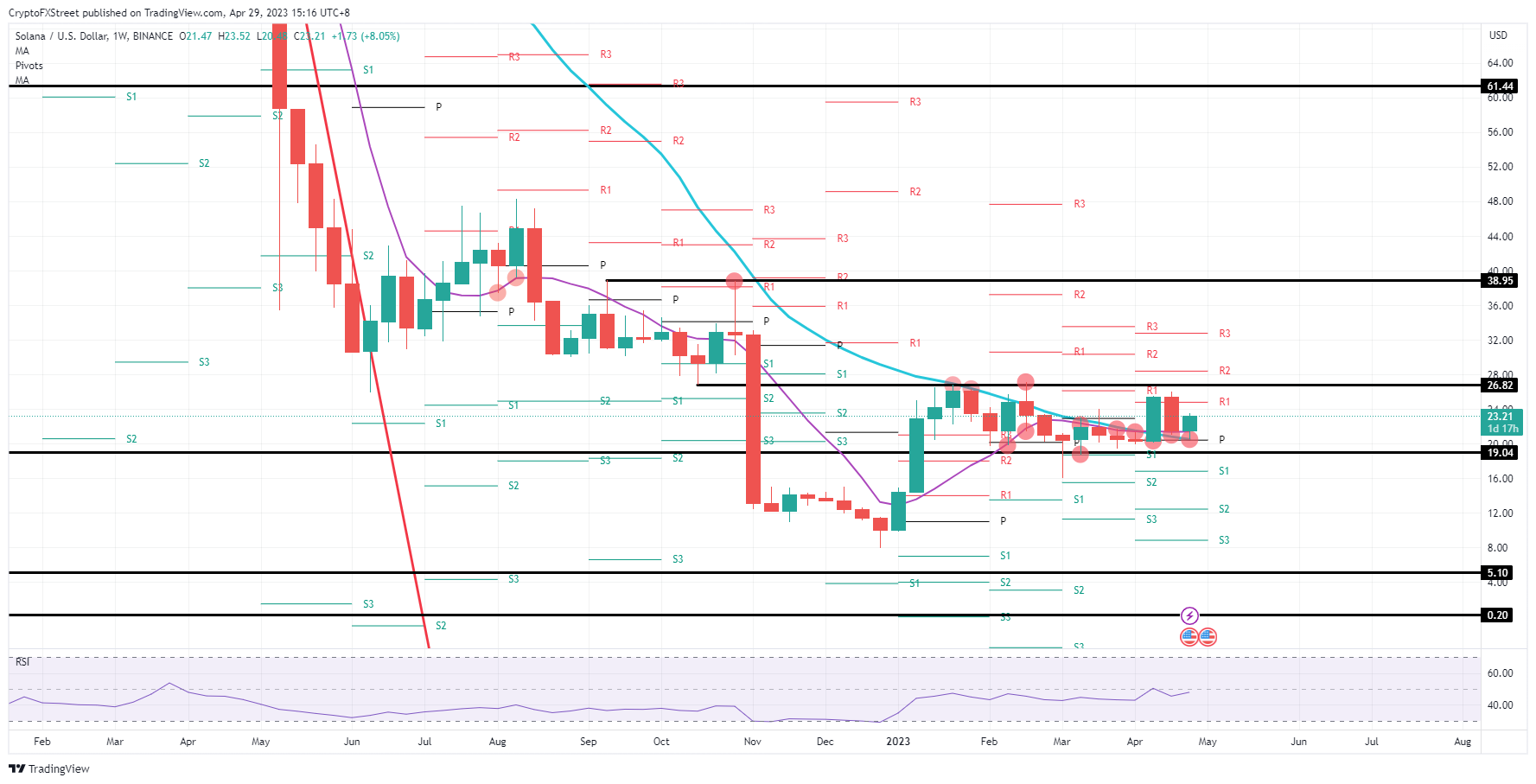 SOL/USD weekly chart
Solana price could start to crack as bulls have clearly defined and aligned where they have entered. This makes those levels a target for bears to price action underneath. Certainly, when that monthly pivot and the 55-day SMA start to crack with prices printing below $20.50, that means a lot of traders from bulls are starting to turn into red numbers. Once the mass hysteria starts, SOL will get swamped with sell orders and could even see a breach below $19 and a leg lower to $16.