Terra Classic price is set to tank over 10% for the week as bulls break teeth on the price cap.
LUNC turns to the downside in search of support.
With the market turmoil forecasted for next week, a test and break below the 55-day Simple Moving Average looks granted.
Terra Classic (LUNC) price action has been trading higher before the start of 2023 as an outlier where other cryptocurrencies were still tanking in the crypto winter. LUNC has received firm rejections on the topside, and the fade could result in more losses on the back of very packed data. Expect Wednesday and Thursday to be the hardest trading days next week as Terra Classic price action will be testing the important support and could break lower to the downside towards $0.000127363.
Terra Classic price action set to tank back to 2022
Terra Classic price sees traders already gearing up for a very heavy and eventful week. After a winning streak of four weeks, sentiment started to turn slightly last week with nearly a flat close. That same week, bulls received a firm rejection on the top side, which happened again this week, which triggered massive profit-taking as bulls fled the scene to avoid getting caught in the price action for next week.
LUNC is set to face violent swings on Wednesday with the U.S. Federal Reserve and Super Thursday with the BoE and the ECB coming hours away from one another. Should those three central banks still communicate the same message that inflation is still not weakening enough and more needs to be done, LUNC could be seen tanking to the low of December last year, near $0.000127363. Certainly, when that 55-day Simple Moving Average would give way as support, it would be followed by a nosedive move as the bull trend gets broken.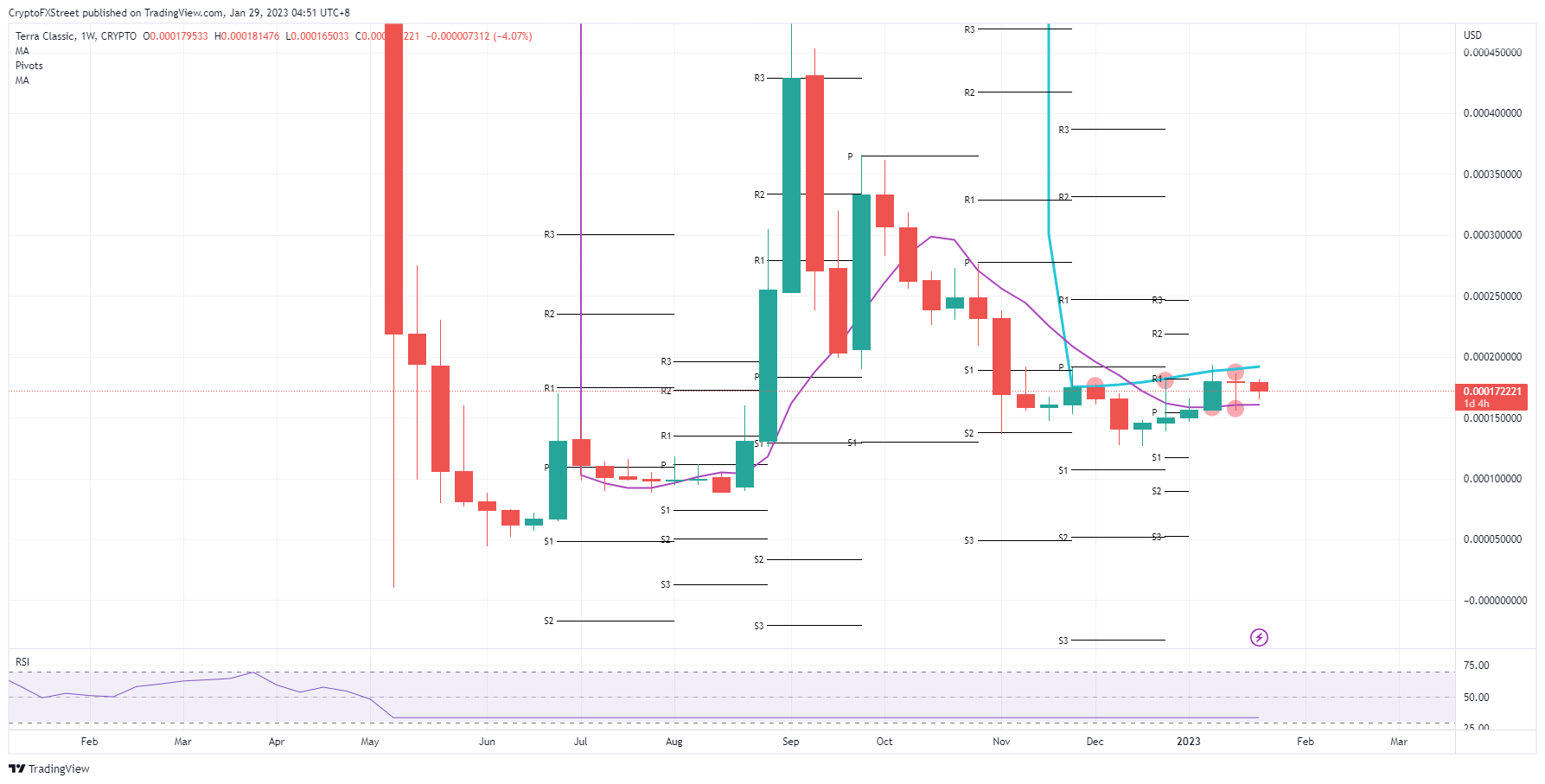 LUNC/USD weekly chart
U.S. Fed fund futures are pointing to a slowdown from the Federal Reserve and Jerome Powell. Should Powell play along with that forecast as markets price in only 25 basis point hikes, markets would turn in favor of risk assets as clearly the pivotal level for the Fed is near, and risk assets get a free ride to jump higher, with $0.000364496. That means a massive jump higher as the inflation chain would get broken.