Share:
Terra Luna Classic price is set to close out the week with near 10% losses.
LUNC faced headwinds from almost every corner of the markets, with central banks and geopolitics on top.
Expect another 22% decline at risk if LUNC closes the week below $0.0000162700.
Terra Luna Classic (LUNC) price is set to print red prices for the week and the month of February as a whole. This week's decline has been soo big that bulls have thrown in the towel, and bears get a free ride lower while markets are helping them a hand. With harsh warnings from central banks, oil prices rising, a wave of new demand is set to kick in with the Chinese reopening, and another round of violence in Ukraine by Russia is keeping markets and traders on edge as trading conditions worsen by the day.
Terra Luna Classic traders need to keep an eye on the bond market
Terra Luna Classic seems to be in a close relationship with the bond market this week. This week, the fixed-income asset class has had very poor performance as several sovereign bond yields are soaring again. No surprise as new tensions between Russia and Ukraine are spilling over into Polish and Czech rates, forcing the hand of central banks to hike soon. Remember, these central banks said they were done hiking last year, and inflation should come down now.
That last statement could not be more obsolete as LUNC is tanking lower on the back of comments from central bankers that inflation is not abating quickly enough. Exit the goldilocks trade, brace for a rough landing and expect possibly inflation to jump in the next number. Terra Luna Classic will not match the selling pressure and will get squashed as a bug against the floor near $0.0000127426, which is still 22% lower than the 55-day Simple Moving Average.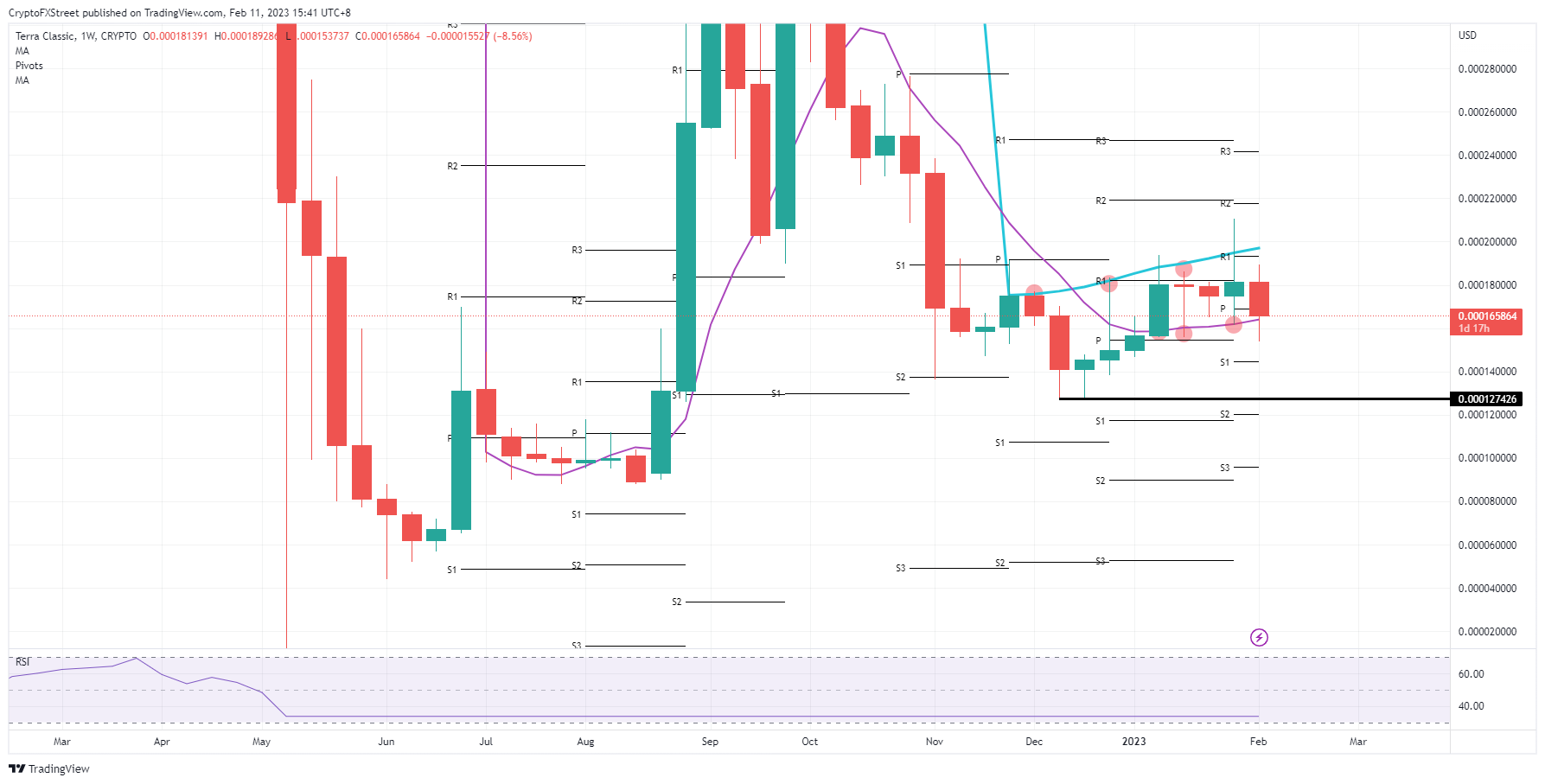 LUNC/USD weekly chart
Any positive news would be welcomed and could get magnified by bulls as a reason to push price action higher in LUNC. That could come with a breakthrough in talks, for example, between Russia and Ukraine, a truce. Or from a data point, with US inflation on Tuesday being the biggest event, a sharp decline in inflation would bring back the goldilocks scenario from the dead and see LUNC printing around $0.0000200000.