Share:
Terra LUNA Classic price tanks and closes the week at a loss.
LUNC sees hopes for a longer-term evaporate just at the time USDC was able to repeg itself.
WIth the breakdown in correlations, stablecoins could be getting hurt again with a 35% drop.
Terra LUNA Classic (LUNC) price is sliding lower with more pain to come if market projections are correct regarding altcoins. After finally recovering from its implosion in 2022, it looked like the start of 2023 would be the start of the full recovery. Instead, price action has tanked since February and more pain is set to kick in if the US economy enters a recession.
Terra LUNA Classic traders need to keep an eye on the US economy and its recession risk
Terra LUNA Classic price was set to jump higher together with Reserve Rights price as USDC confirmed that it had resecured its peg. Stacking would pick up again and several networks were ready to see massive investor inflow. Unfortunately, the peg is set to break down again as analysts are calling for a US recession which normally means a firm stronger US Dollar and a breakdown of the peg for stablecoins.
LUNC and other altcoins and their platforms will see similar moves and will follow one another lower if the recession risk in the coming months proves to be rightly so. LUNC will slip firmly below $0.00010000 and will look for support near $0.00008800. That means that another 35% decline is at hand with a stronger US Dollar.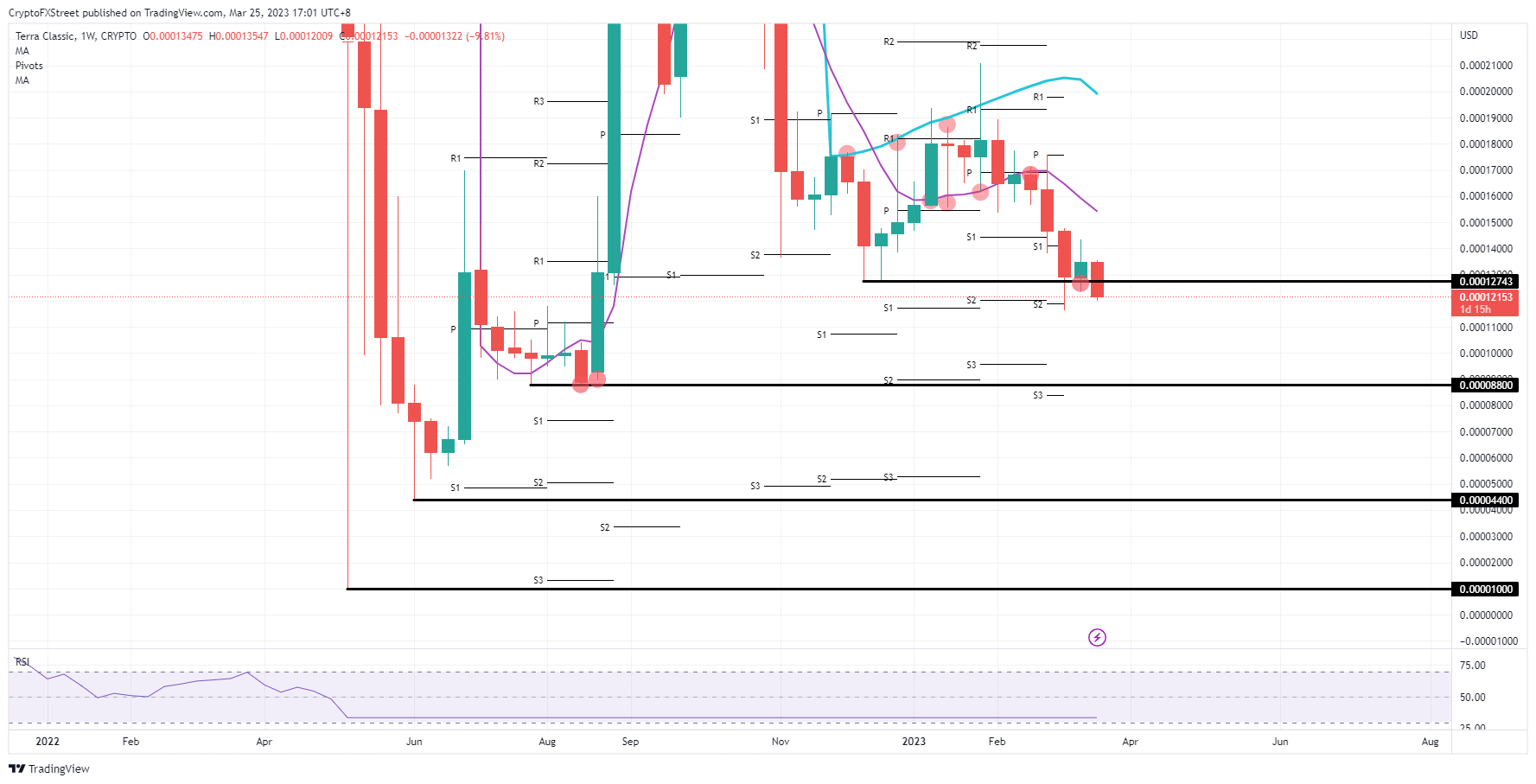 LUNC/USD weekly chart
There is still a big possibility that a recession is or can be avoided in the US. LUNC could easily jump back up with other stablecoins and head higher again towards $0.0020000. That would mean a 50% inclination from $0.0014000 and would see the US dollar substantially lower or weaker for that matter.