Tezos price is digesting the firm rejection it received during its rally.
XTZ is being pushed higher as the time window toward the US Fed meeting of February closes rapidly.
Expect a near 17% gain though the rally is set to stall soon.
Tezos (XTZ) price is seeing bulls hurrying up to cash in those last big profits as this rally is starting to flash warning signs. While global markets are getting unchained from what the US dollar is Doing, equity markets are rallying, with the S&P 500 breaking a crucial trend line that was the guide for the downtrend. With equities freed up now for more upside potential, cryptocurrencies are along for the ride, as the dislocation question between the markets and the central bank will soon get its answers from the US Federal Reserve as the first big central bank to make its appearance this year.
Tezos price sees time flying by as rally on its last legs
Tezos price has made a staggering technical bounce since Wednesday, January, 18, with over a 20% gain after hitting the R1 resistance floor at $0.9385. That pure technical break also came with the Relative Strength Index (RSI) dipping out of the overbought region. After receiving a firm rejection against $1.1936, bulls seem to outpace the bears still despite some issues ahead.
XTZ thus still has some upside potential, but bulls are burning through their fuel quite rapidly, which makes it very difficult to stay ahead of the bears. Unfortunately, once they manage to break above $1.1936, some rough terrain will make them sweat, trigger some profit-taking and fade to the downside. The first level that will cause headaches is near $1.30, where the 200-day Simple Moving Average and the monthly R3 pivot are very close.
It adds to the idea of seeing a small halt and drop at that level as overall an R3 resistance level is often seen as the furthest a price action can go for that time and is often used as a handle for bears to start shorting the price action. The RSI also confirms that idea as it is trading into overbought territory after the brief dip for a cool-down in price action. Expect at a maximum a rally toward $1.40, which will be too demanding of this rally. Once hit, XTZ would see a dive back to $1.30 or $1.19.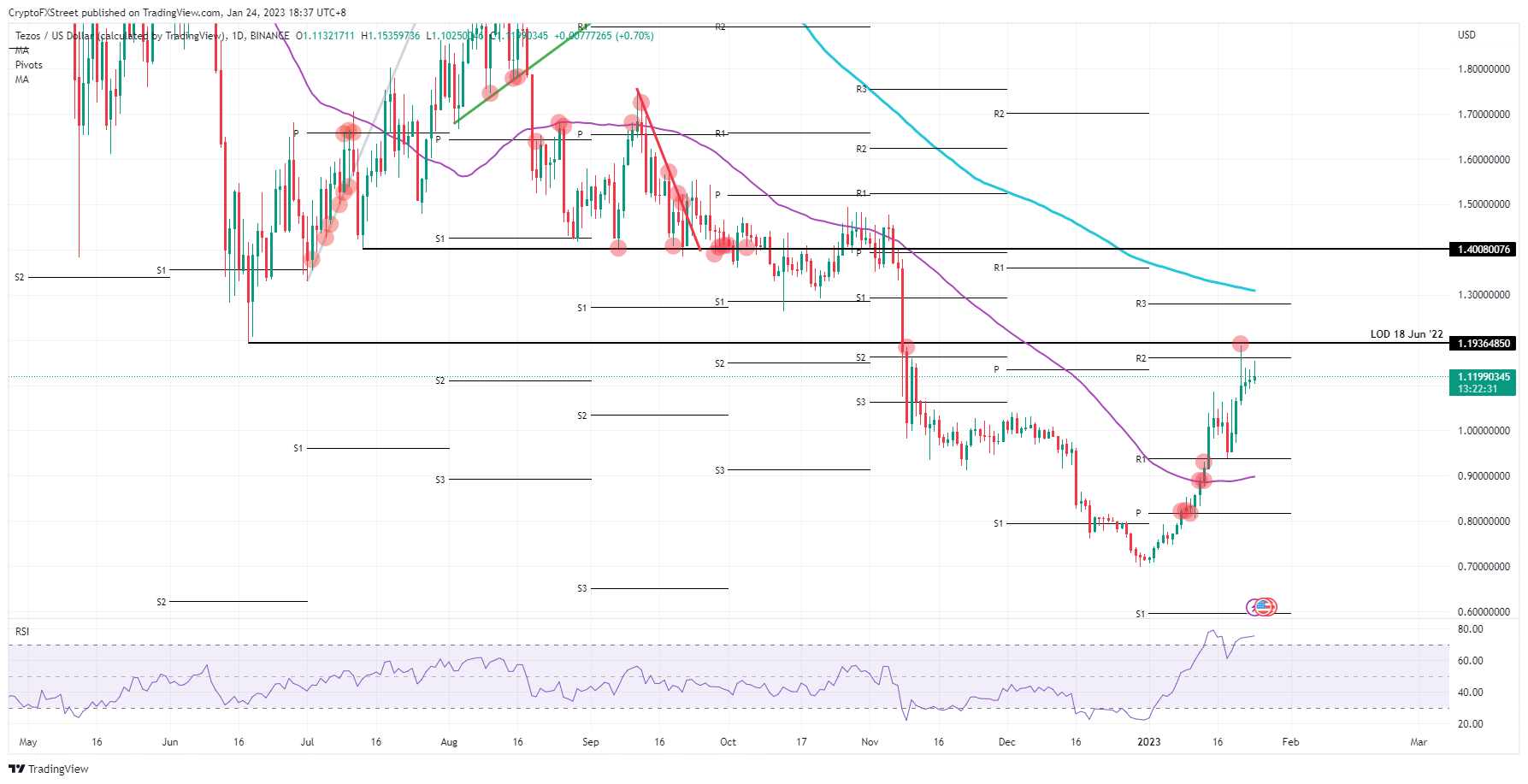 XTZ/USD daily chart
Already quite a few elements mentioned above could trigger that cool-down in the rally much earlier. With the RSI again overbought and seeing the rejection the price action received on Saturday, bears could already be entering the fray. That would mean that soon the sentiment will turn, and price action could drop below $1 to test the support from the monthly R1.