Share:
Uniswap price is among the highest losers this week as the altcoin has declined by nearly 17% in the last five days.
UNI holders' loss-to-profit ratio is among the highest in the crypto market, with over 77% of holders losing money on their investments.
The lack of conviction among investors is visible in the active addresses' ratio, which is 0.18% of all addresses, lower than that of Shiba Inu.
Uniswap price has been painting red on the charts over the previous six days, like the rest of the cryptocurrencies. But the reason behind the altcoin facing a higher decline is due to its investors turning to sell instead of HODLing through the bearishness. This is also one of the reasons why UNI is far from marking a new 2023 high.
Uniswap price in the weeds
Uniswap price, unlike other digital assets, is closer to the year-to-date lows than the highs. While the entire crypto market experienced bullishness over the last couple of weeks, UNI remained consolidated below $7.0. Now following the 17% crash over the past week, the altcoin has dipped to trade at $5.2, close to the December lows of $4.9.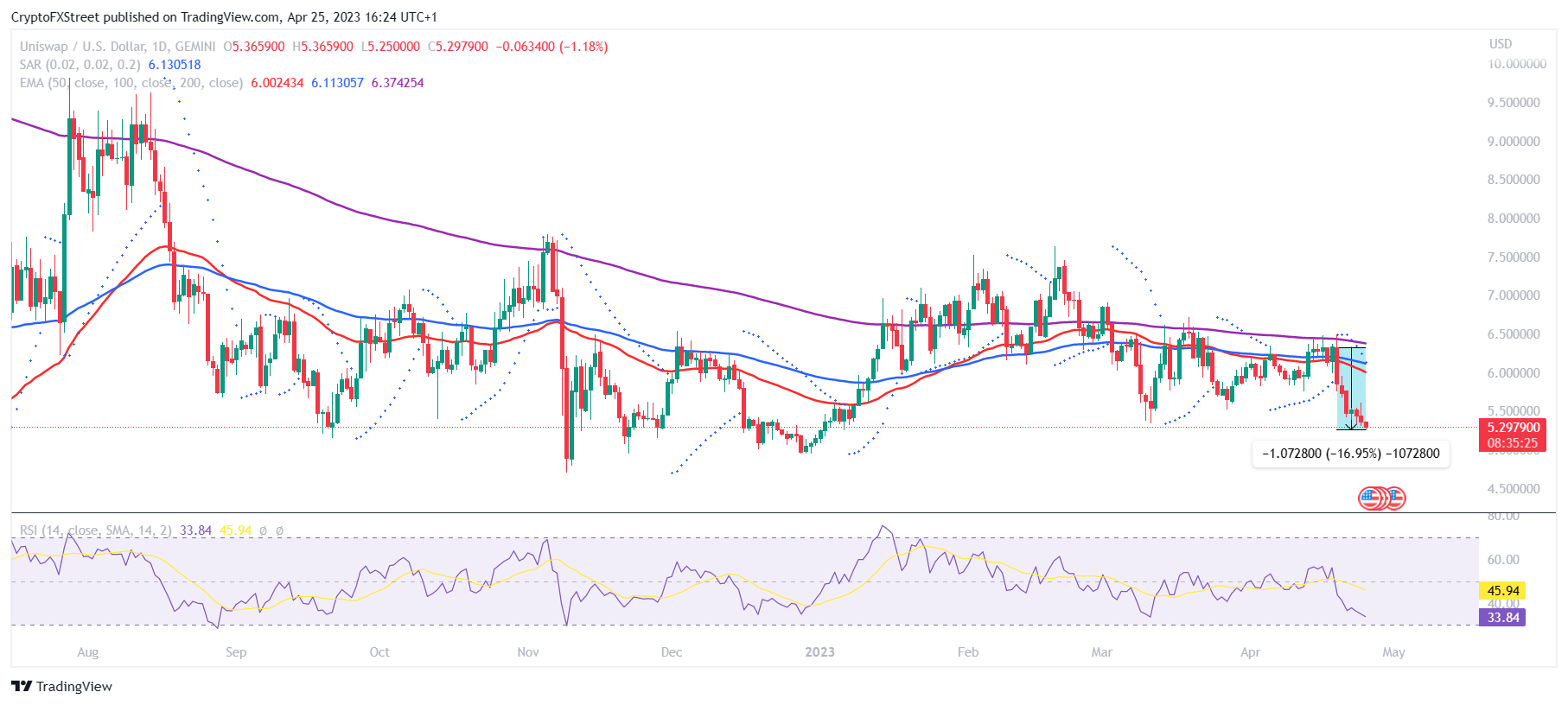 UNI/USD 1-day chart
The reason behind Uniswap price observing such a decline is due to a notable lack of investor conviction. While even Shiba Inu investors refrained from selling their stash, UNI holders dumped close to 600,000 UNI in the last couple of days of volatility, as noted on the supply on exchanges.
A lot of this came from whales holding between 100,000 to 1 million UNI as their balance fell by 1.4 million UNI from 87.9 million to 86.5 million UNI.

Uniswap whale accumulation
But beyond the selling, it's the lack of participation that is a matter of concern. Despite having a total number of users holding a balance in the range of 350,000, the number of investors active on the network is, on average, less than 700. Spikes in the users' conducting transactions have been noted arbitrarily, thus bringing the active address ratio to 0.18%.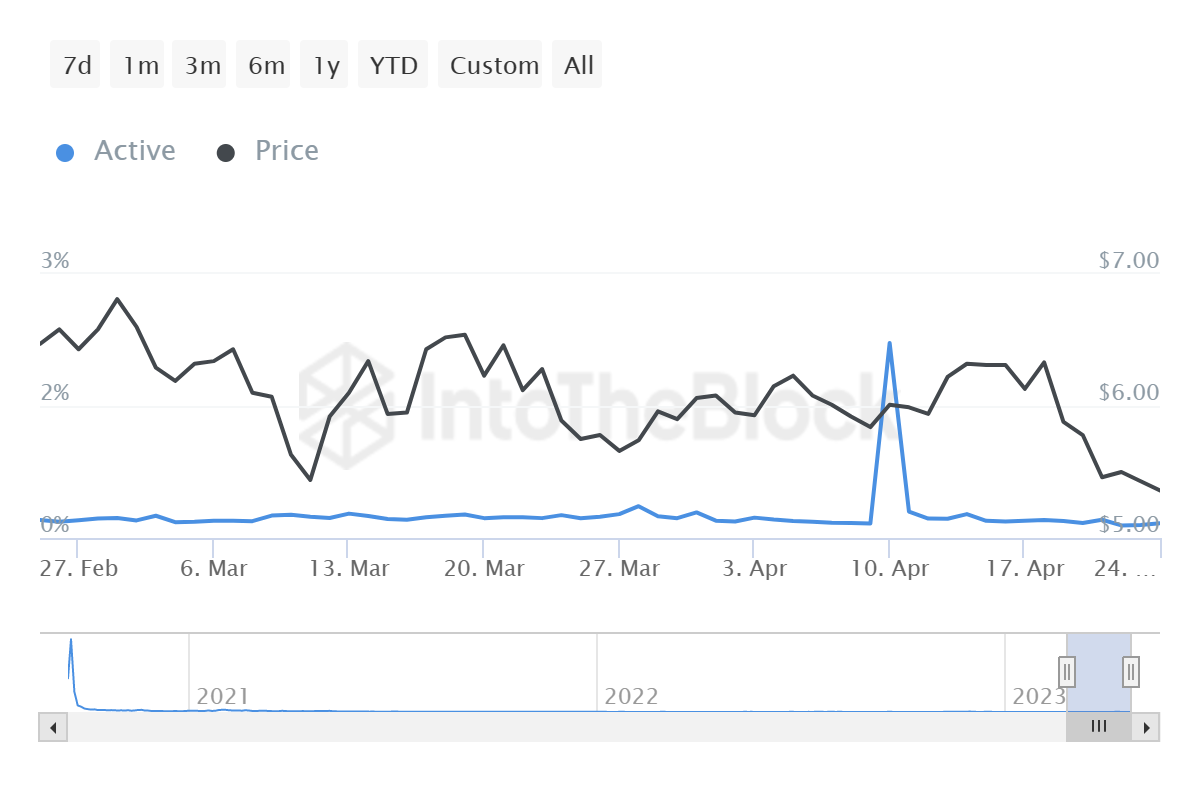 Uniswap active address ratio
To put this into perspective, Shiba Inu has an active address ratio of 0.30%. These holders are considered to be some of the most opportunistic investors in the market and only come alive when the altcoin is either rallying or crashing.
Since this lack of conviction amongst UNI investors leads to a lower bullish momentum, Uniswap price does not find enough strength to chart gains. Consequently, this altcoin's investors currently face the lowest profit-to-loss ratio, with less than 19% of the investors currently making money on their investment.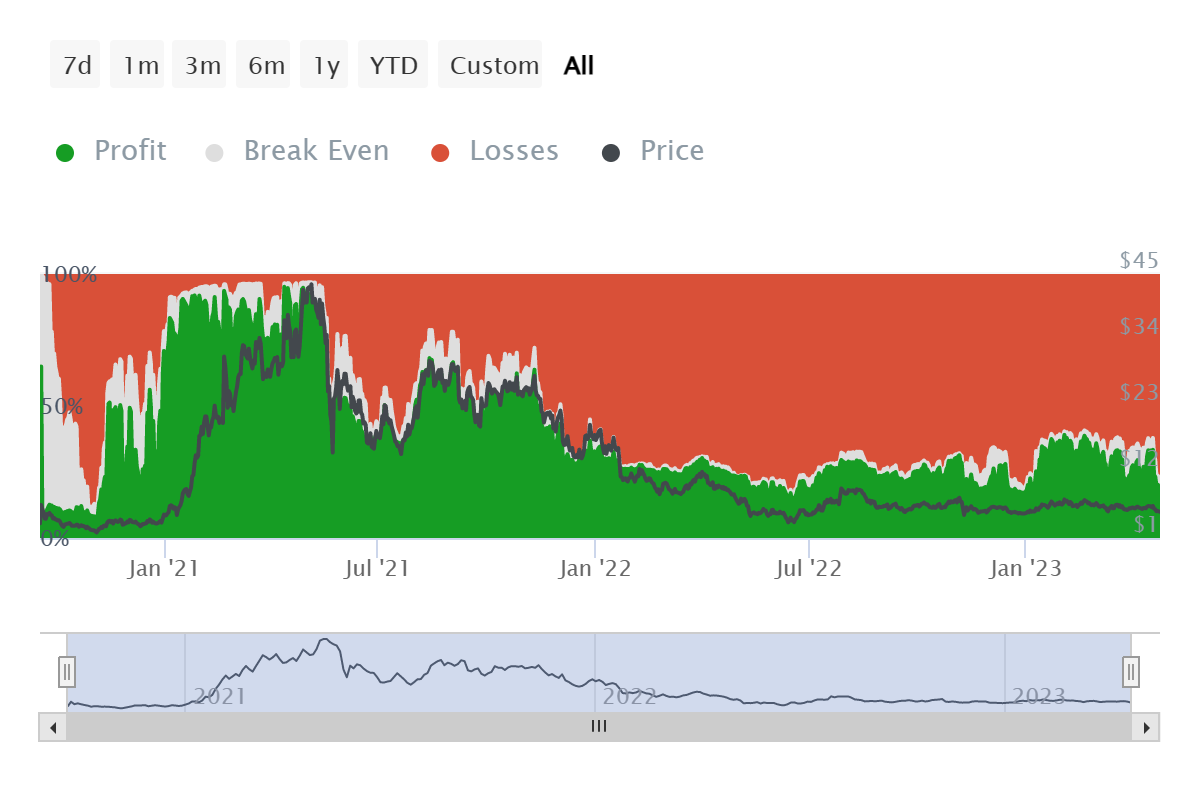 Uniswap investors in loss
The success of any project or altcoin is highly dependent on its users, and for Uniswap price to note a solid recovery going forward, these investors would need to step up.