Share:
Bitcoin price plummeted alongside a decline in S&P 500 after the US Dollar hit its highest value since the opening week of 2023.
The People's Bank of China injected $73 billion liquidity in its banking system over the past week.
When Bitcoin breaks its correlation with equities, BTC could wipe out its losses from the past week.
Bitcoin price remains correlated with US equities, with the recent decline on Friday in response to a strengthening US Dollar. China's liquidity injection, Bitcoin's correlation with US equities and macroeconomic factors like key inflation indicators are the three factors influencing BTC price.
Also read: Bitcoin holders brace for impact as BTC correlation with stocks increases ahead of US CPI release
These factors could fuel a Bitcoin price recovery
Bitcoin price nosedived to $23,000 as the largest cryptocurrency by market capitalization was rattled by a series of factors over the past week. The US Dollar hit its highest value since the opening week of 2023, resulting in a decline in Bitcoin and US equities.
According to analysts at crypto intelligence tracker Santiment, when BTC breaks out of its correlation with US equities, bulls could push the asset towards its recovery.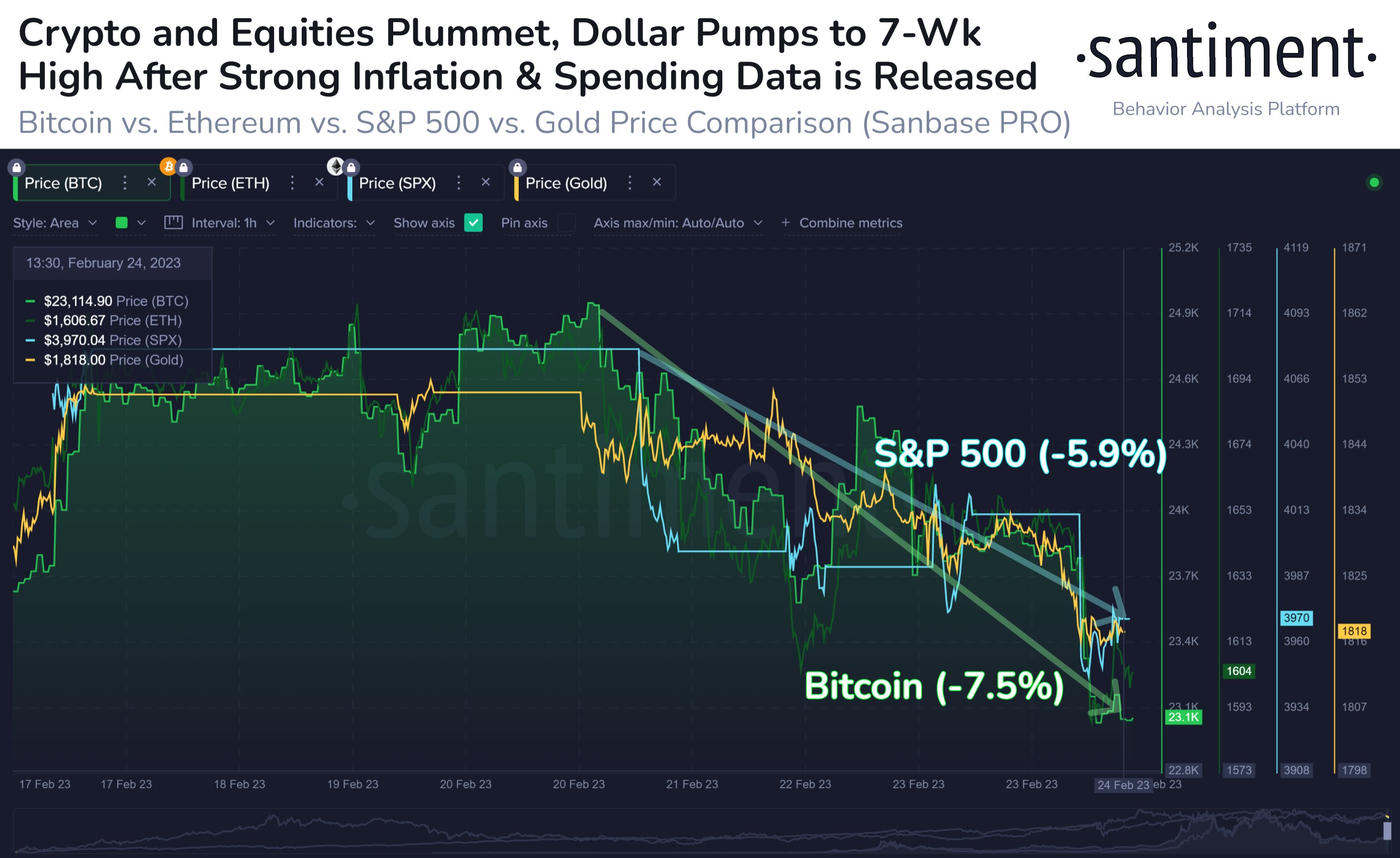 Bitcoin and equities declined as US Dollar pumped to seven-week high
The crypto China narrative is relevant on crypto Twitter, it is gathering steam with People Bank of China's liquidity injection in its economy. Over the past week, the PBoC injected $73 billion into its banking system. The Central bank took similar actions on an equally high scale during the COVID-19 crisis in early 2020.
The PBoC's actions are directed at stimulating the domestic economy that has been ongoing since the beginning of 2023. The Chinese Central bank's actions are correlated with the Bitcoin price bottom and this makes it crucial to the resumption of the cryptocurrency bull run.