Share:
Altcoins in top 100 are struggling to recover, on-chain analysts have identified three cryptocurrencies that offer traders an opportunity.
AUCTION, LINA and SRM are the three cryptocurrencies that are currently undervalued, according to Santiment's model.
Blue-chip DeFi tokens are preparing for a V-shaped recovery, these altcoins are likely to offer gains to holders in the short term.
Bitcoin price recovered from its temporary decline below the $26,000 level that followed Federal Reserve Chair Jerome Powell's hawkish commentary in the Jackson Hole Economic Policy Symposium. Altcoins in the top 100 assets by market capitalization, are reeling from the aftermath of the price drop and attempting a recovery over the weekend.
Blockchain Center's Altcoin Season Index notes that it is Bitcoin season. This means, Bitcoin price outperformed altcoins in top 50, in the past 90 days.
While most altcoins have suffered price drops throughout the month, Santiment's analysts have identified three cryptocurrencies that are likely to recover soon.
Also read: PEPE coin team issues statement on bad actors in founding team, 10 trillion PEPE tokens left
AUCTION, LINA and SRM are undervalued, present buying opportunity
On-chain analysts at Santiment used a model to evaluate the MVRV (Market Value to Realized Value) ratio for altcoins, and identified three tokens in the opportunity zone. On-chain intelligence tracker, Santiment, defines the opportunity zone as "buy points" for investors.
Bounce (AUCTION), Linear (LINA) and Serum (SRM) are the three assets that pose an opportunity for traders, according to Santiment's model, seen in the chart below. The model uses the 30-day, 90-day and six month divergence to spot which altcoins are underbought, overbought and in their opportunity (to buy) and danger (to sell) zones.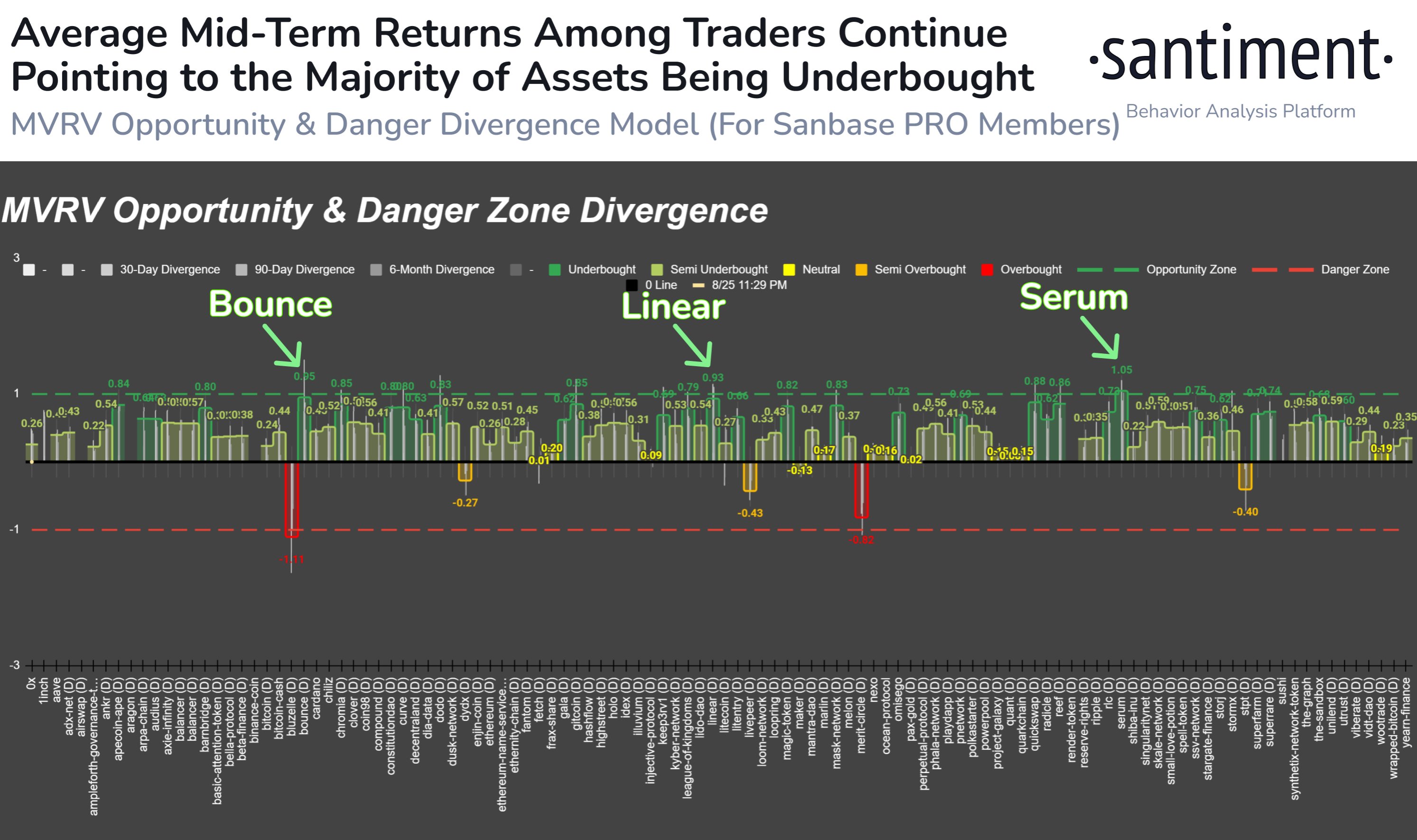 Santiment chart to identify assets in opportunity and danger zones
According to the model, these three assets are likely to see a recovery in their prices in the short-term. Similarly, there are assets in the danger zone and heading to the danger zone that are overbought and are likely to see further sell-off. A few blue-chip DeFi tokens on the other hand, are currently profitable for traders. Find out more about them here.
Bitcoin, altcoins, stablecoins FAQs
Bitcoin is the largest cryptocurrency by market capitalization, a virtual currency designed to serve as money. This form of payment cannot be controlled by any one person, group, or entity, which eliminates the need for third-party participation during financial transactions.
Altcoins are any cryptocurrency apart from Bitcoin, but some also regard Ethereum as a non-altcoin because it is from these two cryptocurrencies that forking happens. If this is true, then Litecoin is the first altcoin, forked from the Bitcoin protocol and, therefore, an "improved" version of it.
Stablecoins are cryptocurrencies designed to have a stable price, with their value backed by a reserve of the asset it represents. To achieve this, the value of any one stablecoin is pegged to a commodity or financial instrument, such as the US Dollar (USD), with its supply regulated by an algorithm or demand. The main goal of stablecoins is to provide an on/off-ramp for investors willing to trade and invest in cryptocurrencies. Stablecoins also allow investors to store value since cryptocurrencies, in general, are subject to volatility.
Bitcoin dominance is the ratio of Bitcoin's market capitalization to the total market capitalization of all cryptocurrencies combined. It provides a clear picture of Bitcoin's interest among investors. A high BTC dominance typically happens before and during a bull run, in which investors resort to investing in relatively stable and high market capitalization cryptocurrency like Bitcoin. A drop in BTC dominance usually means that investors are moving their capital and/or profits to altcoins in a quest for higher returns, which usually triggers an explosion of altcoin rallies.
---
Like this article? Help us with some feedback by answering this survey:
---
---
Source