Share:
TRON surpasses 190 million user accounts, demonstrating growth in its user base.
TRX's dwindling supply and stable price suggest upside potential.
TRON's strong TVL, which is on an uptrend, indicates an optimistic medium to long term outlook for TRX.
TRON (TRX), the blockchain platform founded by Justin Sun in 2018, has surpassed 190 million total accounts. The chain has observed a steadily increasing daily user base, reaching its annual peak in June 2023 with 3.8 million active users. Despite a post-June peak decline, the blockchain's fundamentals and increasing Total Value Locked (TVL) indicate a positive picture for the blockchain.
TRON registers over 190 million accounts
"We've hit 190 MILLION total accounts," TRON DAO said on Monday in its official X account.
Apart from the number of total accounts, TRON's increased usage can be gauged by some other metrics like average daily transaction count, daily users, revenue and total value locked. Tron Scan data also shows that the platform has seen an average of 5.17 million daily transactions in the past month, an 8% increase that can be a sign of sustained growth for the chain.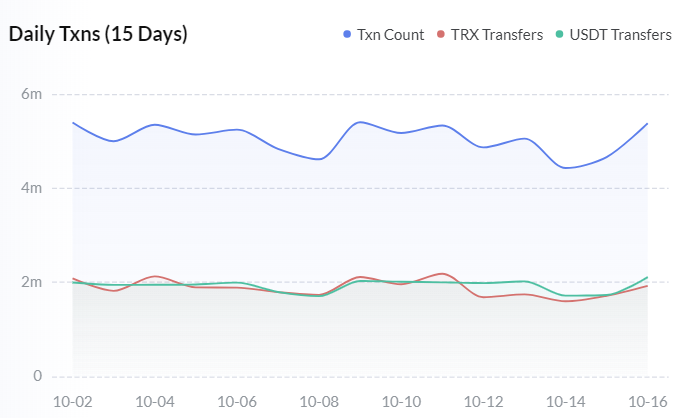 TRON daily transactions

Daily transaction highlights

✅On average, the daily transactions on #TRON are 5.17M in the last 30 days.

The number of transactions increased by 8.3% in the last 30 days. pic.twitter.com/43Q5r0CHyx

— TRONSCAN (@TRONSCAN_ORG) October 17, 2023
TRON has become the single-largest chain for USDT (Tether) settlement as its recent standout achievement, according to data from DefiLlama. Meanwhile, the Total Value Locked (TVL) for TRON stands at $6.715 billion, showing a positive trajectory so far this year and reaching levels not seen until late 2021.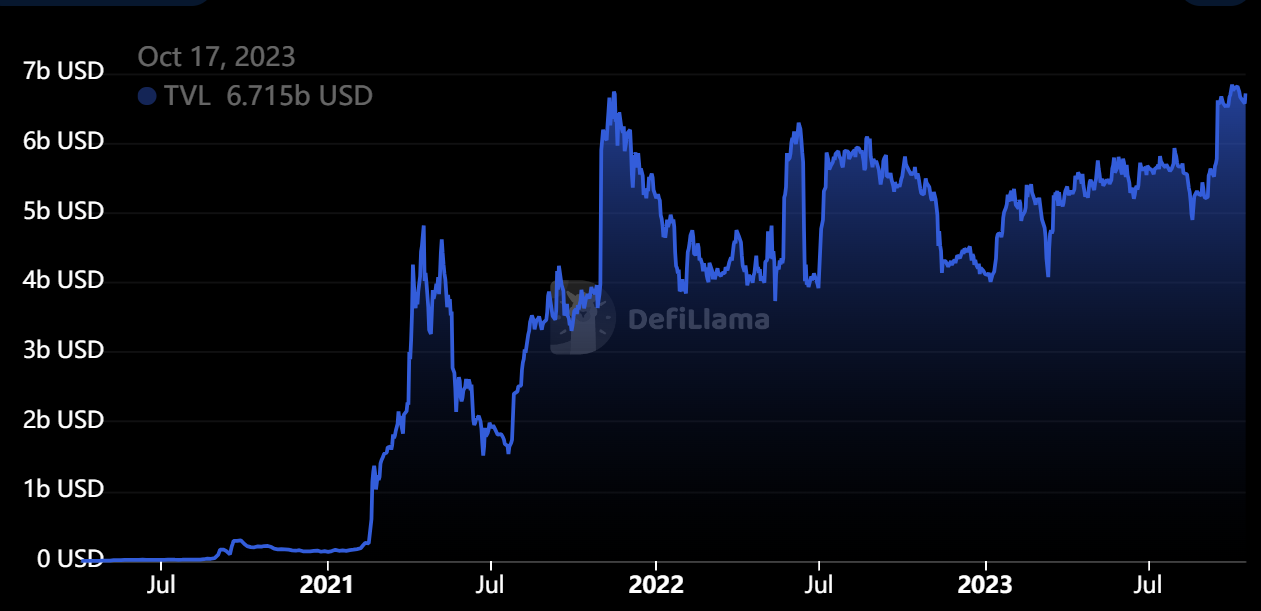 TRON TVL
TRX price remain stable, TVL rises
At the time of writing, TRON trades around $0.0885. It has been stable in the daily and weekly time frames, with modest increases. However, based on CoinGecko figures, TRON still remains over 60% far from its all-time high price of $0.2317 seen in January 2018.
TRON's market capitalization for its circulating supply is currently $7.87 billion, showing a 3.54% increase as per Token Terminal data. The annualized revenue is a significant $1.10 billion, indicating a robust growth rate of 10.83%, topping over other blockchains.
The platform is also experiencing a surge in daily active users, with a 19.0% increase to 1.40 million, although the number of core developers has decreased by 17.0% to 10.57, as per Token Terminal.

Token Terminal 30-day leader board
According to Tron Scan, TRON supply has declined by an annualized rate of 3.5% in the past two weeks. Lower supply, combined with TRON's expanding user base and its positive trajectory in Total Value Locked (TVL), presents an optimistic outlook in the medium to long term.
---
Source