Share:
Binance Coin's price to close this week is in the red, making it the second week in a row with a loss.
BNB sees consolidation unfolding with a lower high and higher low.
Expect to see a slide between 10% and 20% once support breaks down next week.
Binance Coin (BNB) price sees its longer-term rally starting to roll over as, for a third week in a row, the support element pushing price action needs to step in. This indicates more pressure building on the 55-day Simple Moving Average (SMA), which could soon snap under selling pressure. Expect, when that happens next week, to see the drop halt either near 10% or 20%, depending on the severity of the selloff.
Binance Coin price first consolidation, then the slide
Binance Coin price is set to tank into next week as this week is pointing to a consolidation phase. Buyers and sellers are being pushed toward one another as from both sides, pressure is building. With lower highs and higher lows, a breakout moment is set to unfold, and in this case, it could break the support at the 55-day SMA near $318.
BNB will see this scenario unfold because the trend is starting to shift, and in the past few weeks, two red candles were always followed with a sharp selloff. This means that once the 55-day SMA has been broken, another leg lower would mean that BNB trades near $300 at the 200-day SMA. In case that same 200-day SMA snaps, an accelerated selloff could be seen toward $257 as a pivotal level that was well respected in the fall of 2022.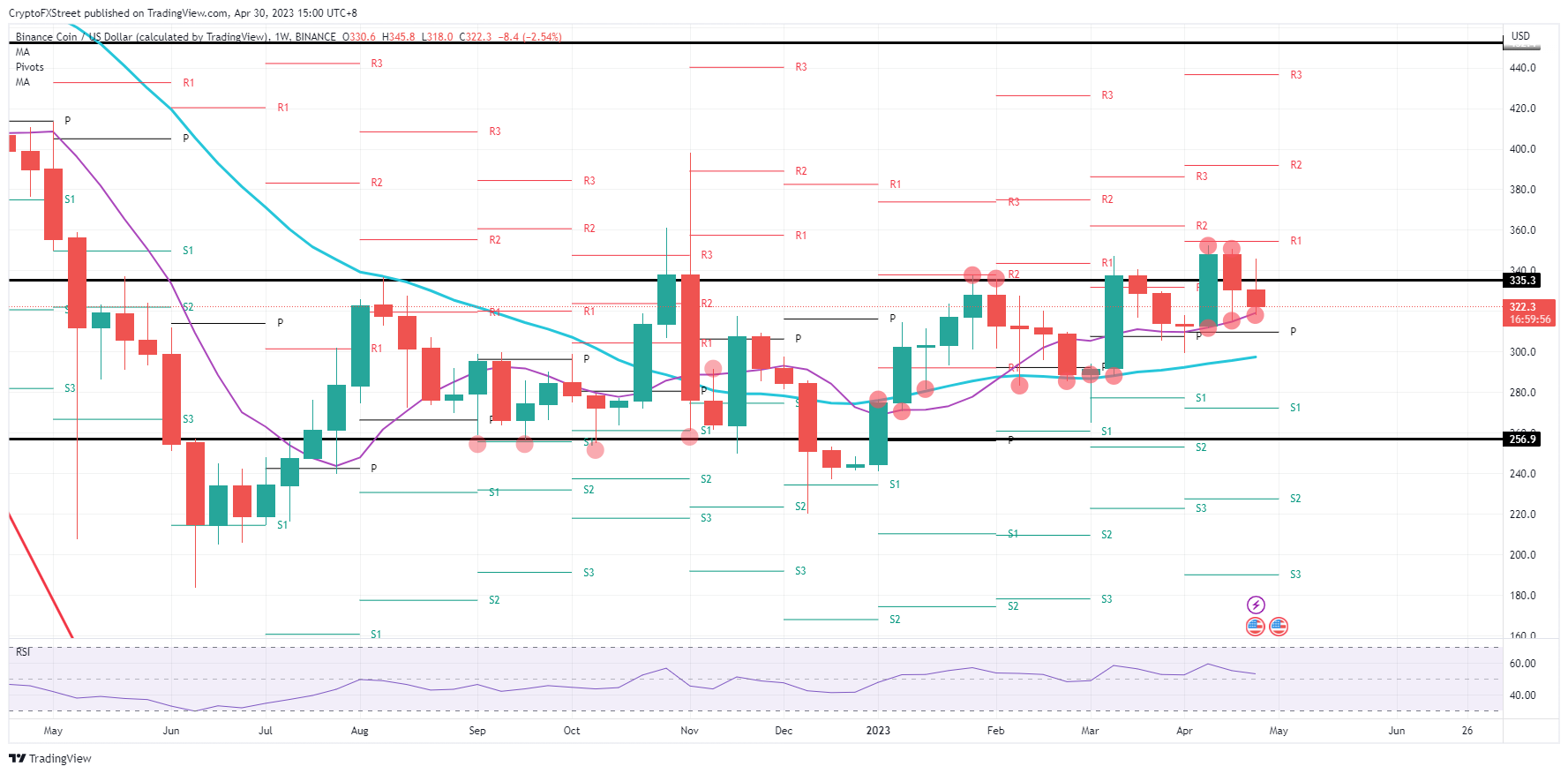 BNB/USD weekly chart
The 55-day SMA could still simply underpin price action and catalyze a bounce higher quickly. In order to do so, at least the high of last week needs to be broken. This means that Binance Coin price will test the peak of early April near $353 and could be set to pop higher.