Share:
FTX former head has been criticized for attempting to contact former or current FTX employees.
US District Judge Lewis Kaplan stated that Sam Bankman Fried was too inventive and would find a way around current conditions.
FTT price in the last two months has declined by over 56%, testing the support at $1.00.
The FTX saga, despite only having been ongoing for four months, seems to be losing steam, but the conditions for its founder Sam Bankman-Fried have not gotten any easier. Apart from being scheduled for trial later this year, the former executive is yet to successfully crack a bail deal with the US court.
FTX founder "inventive", says US Judge
US District Judge Lewis Kaplan recently reiterated his disapproval of the proposed tightened restrictions for Sam Bankman-Fried's bail conditions. The Judge was of the opinion that he stood unsatisfied with the proposal and sought to implement tighter restrictions.
This is because, despite only being on bail, the FTX co-founder has been behaving unconditionally. Bankman-Fried created further problems for himself when he attempted to contact FTX's current Chief Executive Officer (CEO), John Ray, along with another in-house lawyer.
Even the proposal of letting Sam Bankman-Fried have a flip phone with no internet capability and a laptop with limited functions did not sit well with Judge Kaplan. During the court hearing on Friday, the District Judge stated that the disgraced CEO was "inventive" and could manage to find a way around these restrictions to communicate with others.
Judge Kaplan stated,
"He could find a way around it and conceivably not get caught.
As a result, Sam Bankman-Fried's legal team is set to work with the prosecutors to present a new proposal as per Judge Kaplan's notes.
FTT price continues falling
After managing to make some recovery back in January, the FTT price seemed to be getting better. However, the ongoing series of red candles has resulted in a considerable portion of this recovery being invalidated.
In the span of two months, FTT price has declined by more than 56.02%, bringing the trading price from $2.495 to $1.09. The altcoin is close to testing the psychological support level of $1.00. But with the Relative Strength Index (RSI) indicates a potential bounce underway, given its position right above the oversold zone.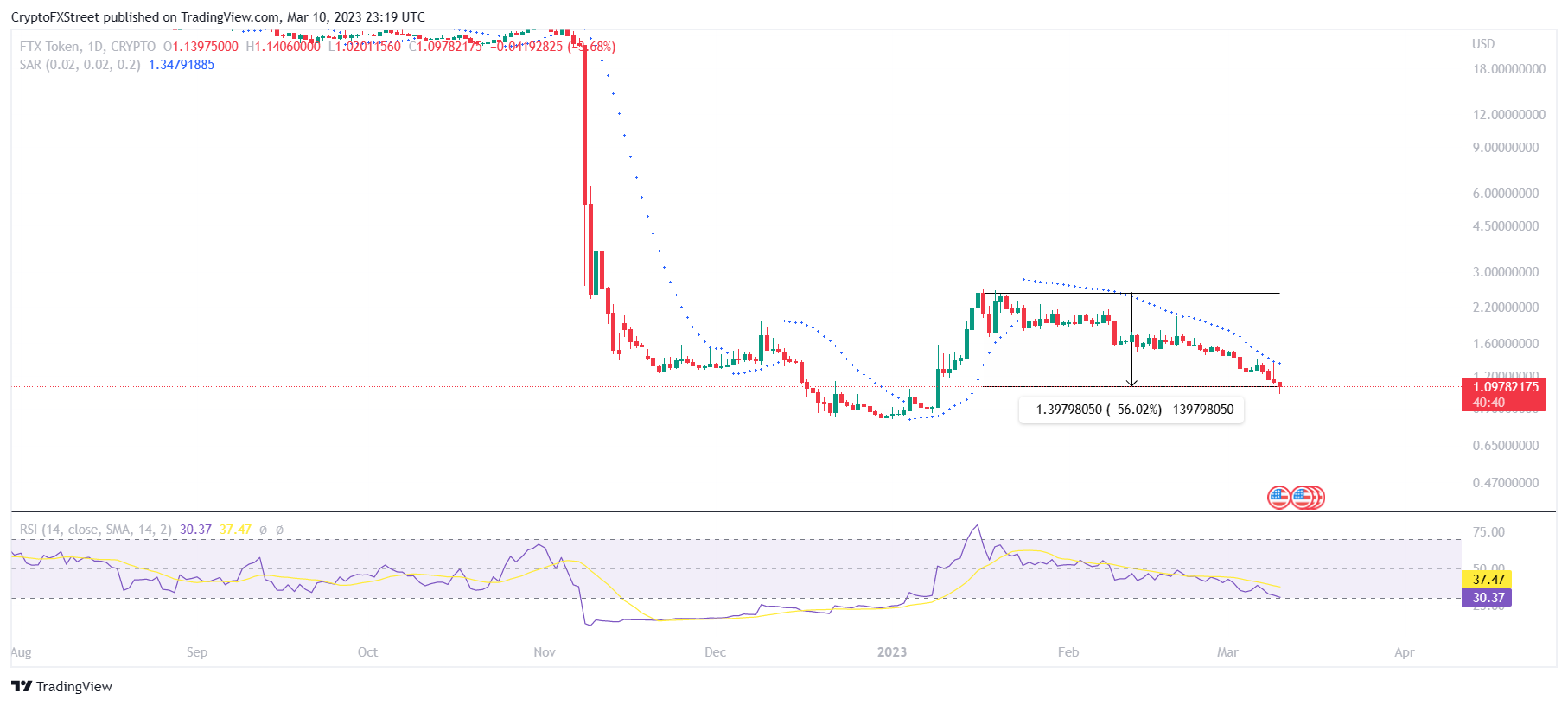 FTT/USD 1-day chart
If FTT price bounces off the $1.00 support level, it would have some room available to reclaim the losses witnessed in the last two months and climb back to year-to-date highs.