Share:
Bitcoin and Ethereum prices failed to move in response to the US March jobs report.
US Nonfarm Payrolls showed a decline in job growth, rising 236,000 v. expectation of 240,000.
Market participants likely priced in the jobs report ahead of time, with Bitcoin's recent run up to $29,000 and Ethereum's 2023 high above $1,900.
Bitcoin and Ethereum prices were unmoved in response to US Nonfarm Payrolls (NFP). The US jobs report turned out to be a non-event from crypto market participants. It is likely that the event was "priced in" by traders as both Bitcoin and Ethereum prices rallied close to psychologically relevant price levels over the past week.
Also read: Breaking: US Nonfarm Payrolls rise by 236,000 in March vs. 240,000 expected
Bitcoin and Ethereum ignore US jobs report for March 2023
The US Bureau of Labor Statistics (BLS) dropped its NonFarm Payrolls report earlier today, noting a 236,000 increase in payrolls against the market expectation of 240,000. February's job report showed an addition of 326,000 in NonFarm Payrolls.
There was a decline in the Unemployment Rate, down to 3.5%, and Average Hourly Earnings nosedived to 4.2%.
In response to the report, Bitcoin and Ethereum remained unmoved. It's important to note that the release of the report ahead of the Easter holiday could be one of the reasons why zero-to-low volatility was noted in crypto prices.
Did Bitcoin and Ethereum traders price in the US jobs report?
It is somewhat likely that the anticipation surrounding the US jobs report, with expectations for a mixed report that have been confirmed, helped drive Bitcoin and Ethereum prices to key levels over the past week. Bitcoin price had climbed to $29,000, close to the psychological barrier at $30,000, and Ethereum hit a new 2023 high, crossing above $1,900.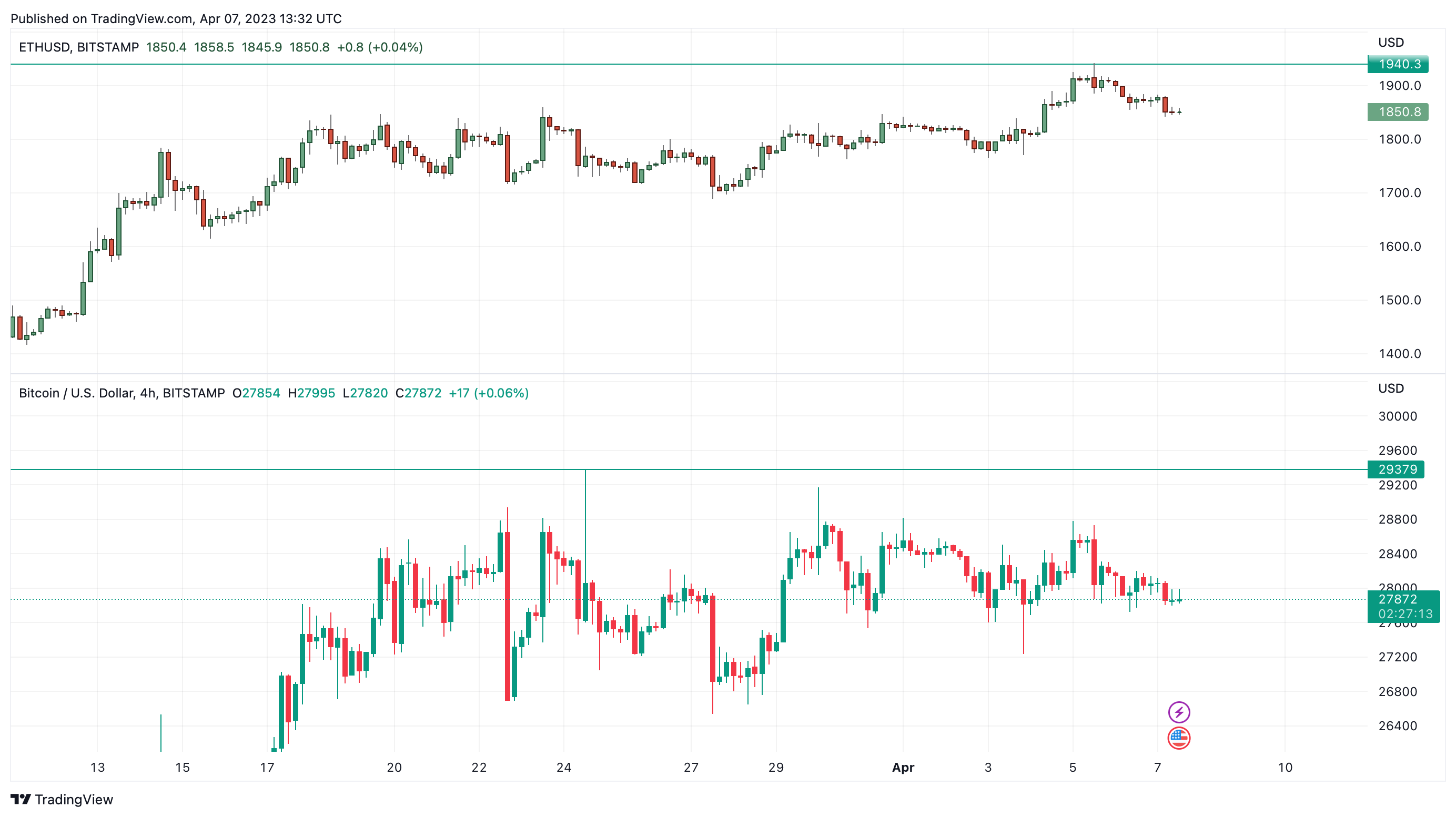 ETH/USD and BTC/USD 4-hour price charts
The recent spike in Bitcoin and Ethereum prices, prior to their pullback supports, raised the likelihood of the event being "priced in" by market participants.