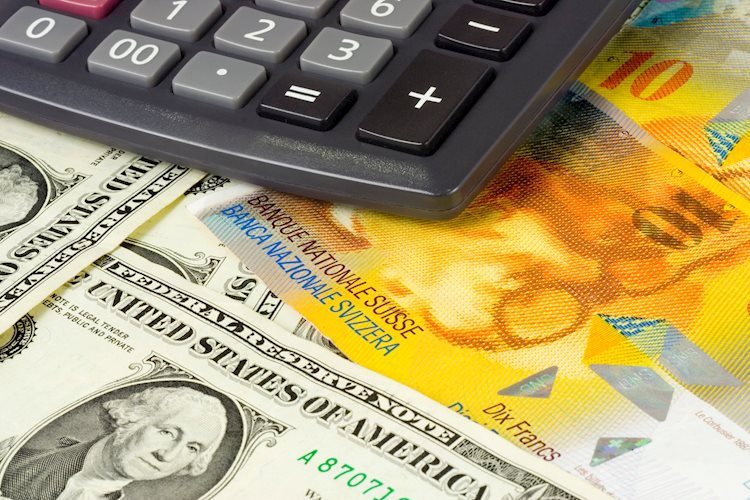 Share:
USD/CHF extends gains on the back of surging US Bond yields
Investors await the releases of US GDP and Core PCE figures, seeking the current state of the US economy.
US Dollar gains ground on stronger US housing data and improved risk aversion.
USD/CHF moves upward for the third successive day, marking weekly highs around 0.8990 during the Asian session on Thursday. The US Dollar (USD) continues to gain value on the back of surging US Bond yields, which provides support to underpinning the USD/CHF pair.
Investors will likely observe the US Q3 Gross Domestic Product (GDP) figures and Core Personal Consumption Expenditures (PCE) on Thursday and Friday, respectively, which may provide a crucial snapshot of economic performance in the United States.
The US Dollar Index (DXY) extends its winning streak for the third consecutive day, hovering around 106.90 at the time of writing. The US Dollar receives support from the stronger US housing data and improved risk aversion.
US Census Bureau reported the New Home Sales for September on Wednesday, which have surpassed expectations significantly. The headline figure stands at 0.759 million, outperforming the consensus forecast of 0.68 million and marking an increase from the previous reading of 0.676 million. This positive deviation indicates a robust performance in the housing sector, potentially influencing market sentiment.
USD/CHF pair might encounter some resistance as expectations dwindle regarding another rate hike by the Federal Reserve (Fed) by the end of 2023. Investors followed recent diverse comments from Fed officials, including Chairman Jerome Powell's assertion that the central bank currently has no intentions to raise interest rates.
The US Dollar (USD) rides high on the recent upswing in US Treasury yields, with aspirations to surpass the 5.0% mark. At present, the 10-year Treasury note is holding steady at 4.98%, contributing to the strengthened position of the USD.
Swiss Franc could be in for a turbulent journey, given the ZEW Survey Expectations on Wednesday. There is a decline in Switzerland's business conditions and labor market, dropping from 27.6 to 37.8 in October.
Middle-East conflict initially supported the Swiss Franc (CHF) as risk sentiment faltered. However, the latest development appears to be steering investors towards the Greenback. Earlier on Thursday, Israeli Prime Minister Benjamin Netanyahu expressed readiness for a ground assault on Gaza. This has triggered a shift towards a risk-off sentiment, boosting strength for the pair.
Investors await fresh updates on further developments as Iran Foreign Minister Hossein Amir-Abdollahian travels to the US to discuss the Israel-Hamas conflict.