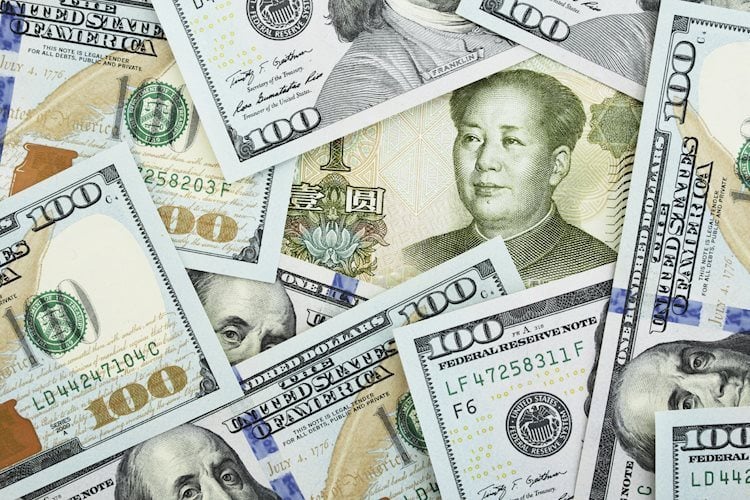 Share:
USD/CNH has not shown any major action on PBoC's steady monetary policy.
An expansionary monetary policy was expected to spurt the economic recovery in China.
Investors have cheered the UBS-Credit Suisse deal and are supporting risk-sensitive assets.
The USD/CNH pair has not shown a significant move despite the monetary policy announcement by the People's Bank of China (PBoC). The PBoC has announced an unchanged interest rate policy despite the demand for higher stimulus to spurt the economic recovery. The central bank has kept the one-year and five-year Loan Prime Rate (LPR) steady at 3.65% and 4.30% respectively.
Contrary to the unchanged interest rate decision, the street was anticipating further expansion in the monetary policy stance.
Economist at UOB Group suggests that the PBoC could reduce the Loan Prime Rate (LPR) at its next meeting on March 20. They further added, "With the need for further support measures toward the real economy and for 5Y loan prime rate (LPR) to fall further to boost demand for homes, we see the possibility for the 1Y LPR to fall to 3.55% and 5Y LPR to 4.20% in Mar, following the National People's Congress (NPC)."
Meanwhile, the US Dollar Index (DXY) is facing barricades in attempting a recovery as the expectations of a less-hawkish monetary policy announcement by the Federal Reserve (Fed) are accelerating. As per the CME Fedwatch tool, more than 77% odds are in favor of a 25 basis point (bps) interest rate hike on Wednesday. An interest rate decision of 25 bps would push interest rates to 4.75-5.00%.
S&P500 futures are reviving firmly as investors have cheered the rescue plan for Credit Suisse. UBS Group has agreed to buy Credit Suisse. Sky News reported that under the takeover UBS will pay 3bn Swiss francs (£2.6bn) to acquire Credit Suisse. And, it has agreed to assume up to 5bn francs (£4.4bn) in losses, and 100bn Swiss francs (£88.5bn) in liquidity assistance will be available to both banks.