Share:
USD/MXN reclaims 18.0000 post US factory data, ahead of Fed's Powell speech.
The US Dollar remained offered, though it was no excuse for the USD/MXN to register gains.
USD/MXN Price Analysis: Downward biased, but it would need a daily close below $18.00 to expose 6-year lows.
The USD/MXN is recovering some ground on Monday after falling to 5-year lows below $18.00, at 17.9409, and climbing above the 18.0000 figure amidst overall US Dollar (USD) weakness. The USD/MXN is exchanging hands at 18.0022 and gains 0.27%.
USD/MXN reclaims $18.00 as the pair consolidates
Wall Street is set to finish Monday's session with gains. The US Federal Reserve Chair Jerome Powell will take the stand in the United States (US) Congress on March 7 and 8. He's expected to deliver a speech reiterating the Fed's commitment to taking inflation and holding higher rates for a certain time. Nevertheless, analysts expect Chair Powell to be vague if asked where the Federal Funds Rate (FFR) would peak.
In the meantime, data revealed during the day showed that US Factory Orders plunged less than estimates of -1.8%; it came at -1.6%. The US Commerce Department report indicated an increase in the shipment and production of goods, which ended a two-month consecutive decline trend.
The US Dollar Index (DXY) a gauge for the buck's value vs. a basket of six currencies, continued its downtrend last week by -0.19%, at 104.325, capping the USD/MXN gains during the day.
On the Mexican front, data from the National Statistics Agency, known as INEGI, showed that automotive production and exports climbed more than expected a year ago. Additionally, Tesla's 10 billion US dollars investment in Mexico keeps the Mexican Peso (MXN) afloat.
USD/MXN Technical Analysis
The USD/MXN daily chart portrays the MXN would continue to strengthen vs. the US Dollar. Nevertheless, it could consolidate as traders assess the USD/MXN current exchange rate. An extension below $17.94 could witness the USD/MXN reaching the July 2017 low of 17.4498. A break below will expose the April 2016 low of 17.0509. Conversely, if the USD/MXN reclaims 18.1208, that would open the door to testing the 20-day EMA at 18.3757.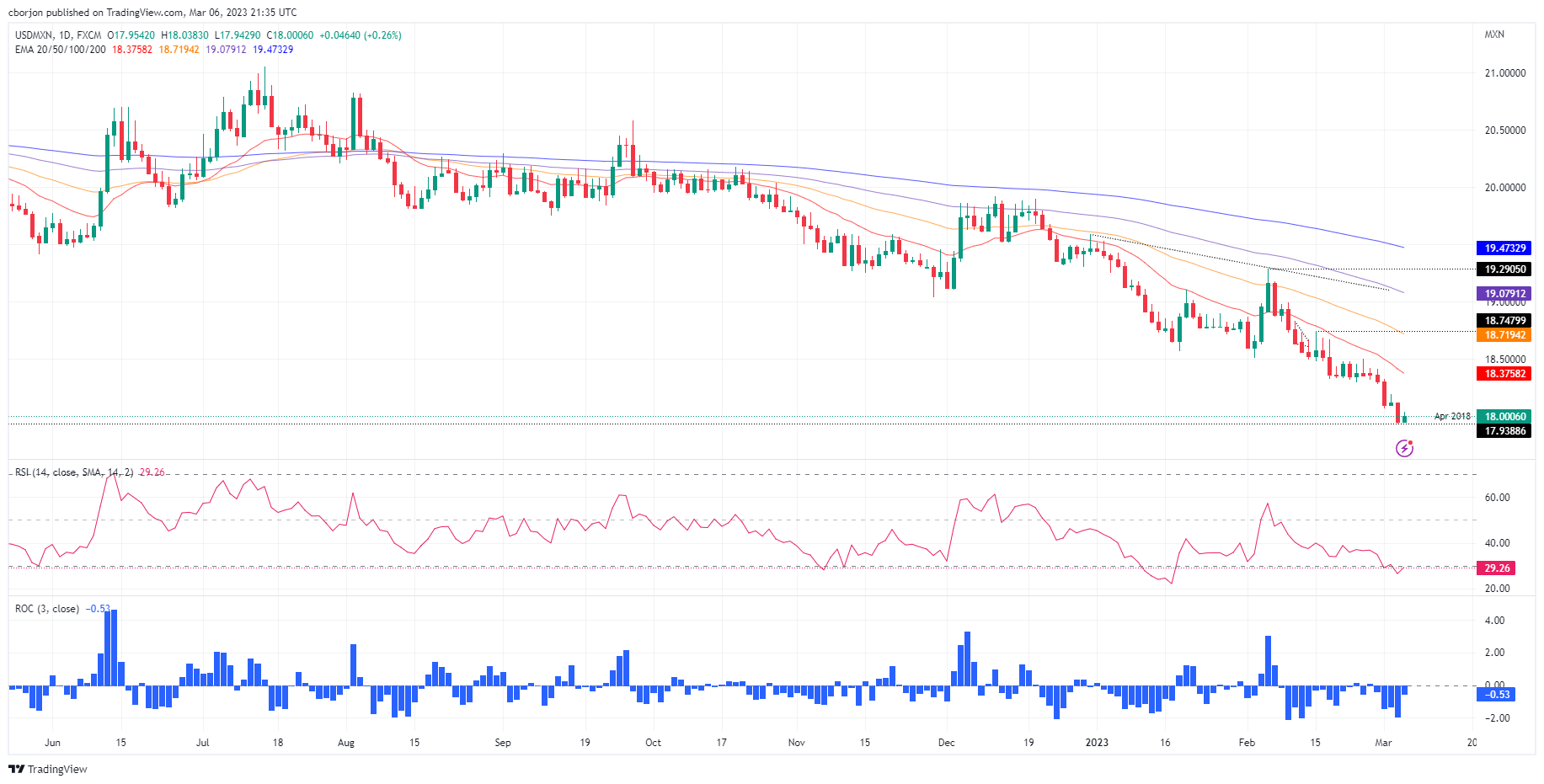 What to watch?