Share:
Bitcoin analysts have identified the formation of a "cup and handle" in BTC's daily price chart, with a minimum target of $35,000.
Experts have identified April as the month when Bitcoin tests resistance at the $30,000 level, and $32,000 the key support from January 2022.
Bitcoin on-chain activity has increased as sharks and retail investors continue to accumulate BTC, and the asset is getting re-distributed.
Bitcoin has emerged as one of the assets with the highest yield for holders in 2023. With BTC dominance on the rise, analysts are bullish on the digital asset's comeback to the $35,000 level.
Experts believe the January 2022 support at $32,000 could get re-tested in April, and set a minimum target of $35,000 for Bitcoin price. A range of on-chain metrics support the bullish thesis for Bitcoin.
Also read: Why Vitalik Buterin is bullish on ZK coins
Bitcoin chart reveals formation of "cup and handle," what to expect
Jackis, a trader and crypto analyst, identified a "cup and handle" formation on Bitcoin's one-day price chart. While the "cup and handle" formation is not a classical chart pattern, Jackis argues that fitting the current BTC structure in it sets a target of $35,000 for Bitcoin price.
The analyst believes a clean break above the $32,500 high would set BTC up for a rally to the $35,000 target.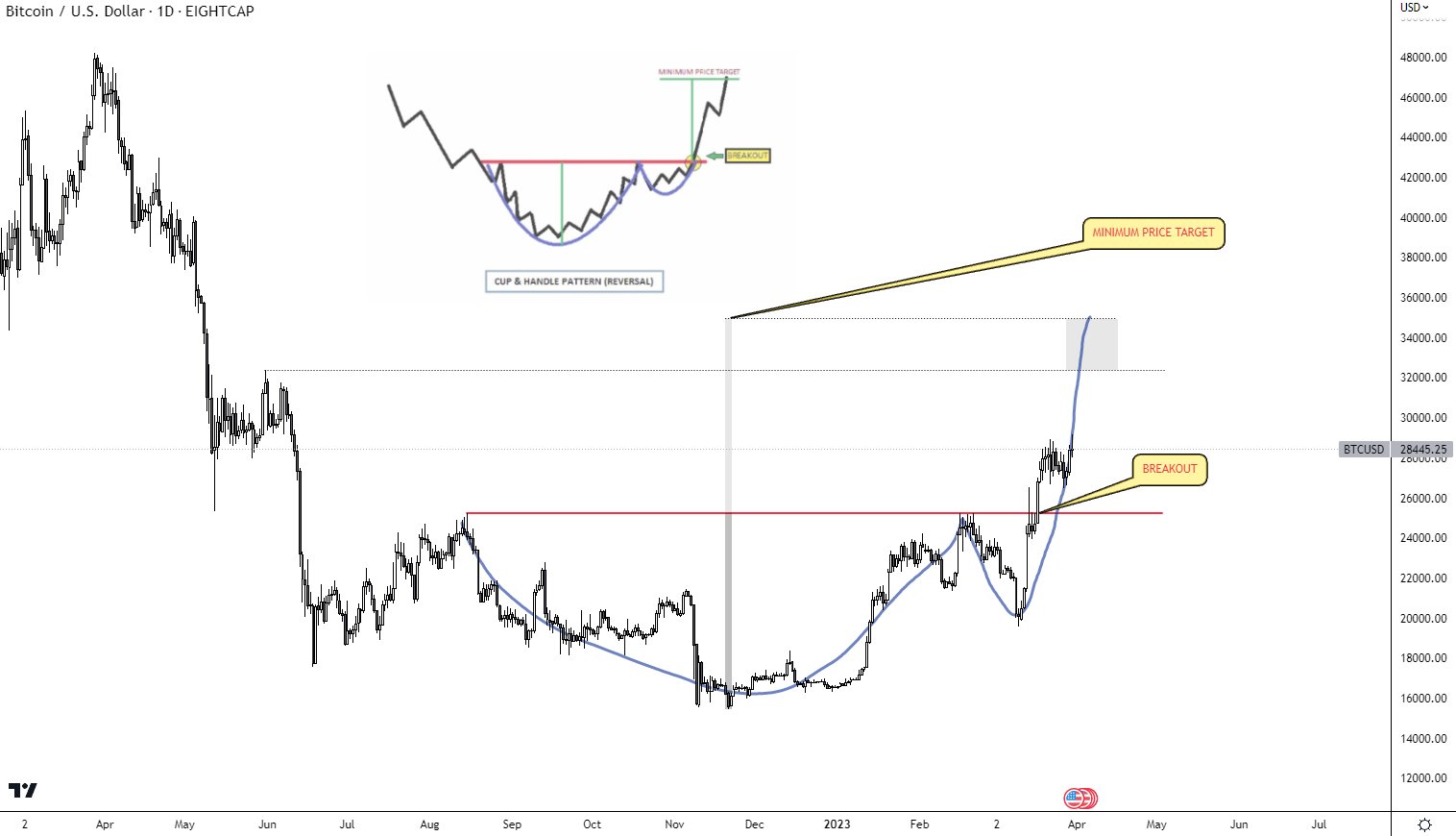 BTC/USD 1D price chart
The cup and handle formation is an indicator that displays the movement of an asset's price in cup form, followed by a downtrend, a handle formation. When the handle formation is complete, it is typically followed by a new all-time high in the asset's price.
Bitcoin supply redistribution to retail investors holding between 0.1 to 10 BTC is considered a bullish signal. Accumulation of the asset by retail investors is a bullish sign. While large wallet investors and whales are engaging in profit taking, there is a redistribution of the asset to retail investors.

BTC accumulation by retail investors
On-chain metrics supporting Bitcoin adoption and growth
The supply of Bitcoin on exchanges has consistently declined since March 30, based on data from the crypto intelligence tracker Santiment. A decrease in BTC supply on exchanges is bullish as it reduces the volume of Bitcoin available for sale, a reduction in selling pressure on the asset.
Interestingly, the timeline coincides with the decline in whale transactions, greater than $100,000 worth of BTC.

BTC supply on exchanges, whale transaction count and Bitcoin price
Will Bitcoin test January 2022 support of $32,000 in April?
Crypto analyst and YouTuber Jason Pizzino believes that the largest asset by market capitalization is following a Wyckoff accumulation pattern. This is a pattern that lasts four phases and the analyst believes we are in the accumulation phase in BTC. This implies the asset is forming the base for a bull market.
Pizzino believes April is the month conducive to BTC testing its January 2022 support at $32,000. In his recent YouTube video, Pizzino was quoted as saying:
…I think April may be the month that we come up to test the $30,000 and the low $30,000 area, so about $32,000, which is previous lows and support of January 2022… That is going to be a key area.
If Pizzino's thesis is validated, Bitcoin could test the January 2022 support and conquer the level in its uptrend to the $35,000 bullish target.