Share:
YGG price is up 15% in the last 24 hours, sustaining the gains amid the continuing countdown to the unlocks event.
On October 27, 12.58 million Yield Guild Games tokens will be unleashed, worth around $3.50 million in a cliff unlock.
Such events inspire volatility, with the altcoin expected to register significant price shifts within two weeks of the event.
Tokens will go to investors, community members, treasury, and founders, with the first two expected to pursue quick profits.
YGG, the token that powers the Yield Guild Games ecosystem is showing interesting movement, recording a steady climb over the last few days. Riding the broader market bullishness and bending to the whims of investor activity, the YGG market may be bracing for volatility.
Also Read: Optimism, YGG, AGIX prices ready for impact with almost $40 million worth in cliff token unlocks this week
YGG price brace for volatility
YGG price is up around 15% in the last 24 hours, adding to the gains the altcoin has been recording over the five days. Nevertheless, the cryptocurrency remains stuck within a longer-term range extending from $0.1906 to $0.2719.
Based on the Relative Strength Index (RSI) indicator, momentum is rising that could see YGG price escape the upper boundary of the range at $0.2719. In a highly bullish case, the gains could extend for Yield Guild Games to tag the $0.4000 psychological level. The Awesome Oscillator (AO) is also in the positive territory, showing bulls are leading the market.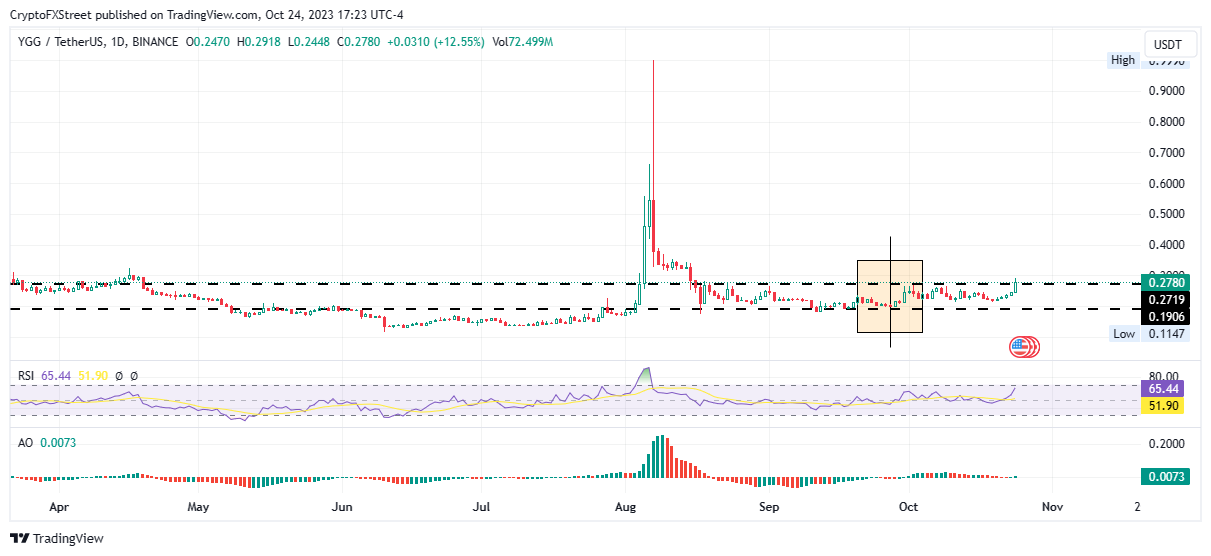 YGG/USDT 1-day chart
On the flip side, a rejection from the $0.2719 resistance level could see YGG price pull back towards the lower boundary at $0.1906. In the dire case, the slump could extend below this support level to possibly tag the low at $0.1147.
YGG token unlocks
Meanwhile, YGG community members are bracing for the cliff token unlocks event scheduled for October 27. The event will see 12.58 million YGG tokens worth approximately $3.50 million to the market.
These tokens will be allocated to the founders, treasury, the community and to investors. Noteworthy, while the founders and treasury may choose to hodl, investors and community members are likely to pursue quick profits.
The ensuing selling pressure could add to the headwinds to push YGG price south. Notwithstanding, the event in itself is expected to stir up some volatility in the Yield Guild Games market.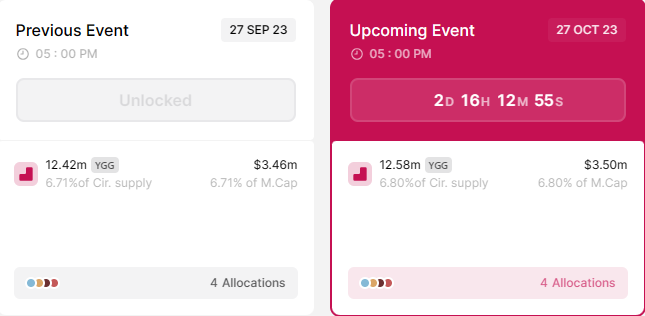 YGG token unlocks
During the last unlocks, the Yield Guild Games market indicated some volatility within two weeks around the event, with selling pressure increasing as investors sought to avoid being caught as part of exit liquidity. Buying pressure was also noted, as investors sought to leverage the dip to increase their holdings.
---
Source