Cardano price jumped over 40% for the year in just three weeks.
ADA price hits a curb as traders brace for the monetary policy to kick off for 2023.
Expect to see central banks dampen the mood and halt this rally.
Cardano (ADA) price has had a fairly easy trajectory thus far as only now the financial year gets fully under pressure and underway. The reason for that is that the biggest central banks are ready to start their financial year as traders had it fairly easy to ignore the comments from central bank members simply and disregarded their comments as being a simple repetition of what was broadcasted throughout 2022. Vital will be the message and how central bankers see the near future, where markets are either proven to be on the money or dead wrong with no middle ground possible.
Cardano price sees traders doubtful on what to do next
Cardano price is having a glitch in its rally after markets were advancing in positive territory as January was a fairly light month with not many surprises and some further dollar weakness as the window of opportunity for a goldilocks scenario in the US economy is starting to rapidly close< ALthough several economic indicators are pointing to a slowdown, Fed members kept issuing warnings that more hikes are needed and cuts for this year is not in the cards. This goes against the market consensus that the Fed is soon done hiking, will wait for the summer and start cutting rapidly in the fall.
ADA traders have been eagerly pricing in that last scenario, and a simple repetition of the Fed could dampen that mood. Even worse, a few shocks could soon be presented to the markets as more severe recession signs are emerging in the UK from the Bank of Engeland, and Japan could soon let go of its yield curve control with a massive shock wave rolling through the markets on the back of that. Expect ADA not to perform well on those elements and take a nosedive move toward $0.296 at first before being run into the ground towards $0.194, depending on the event's severity.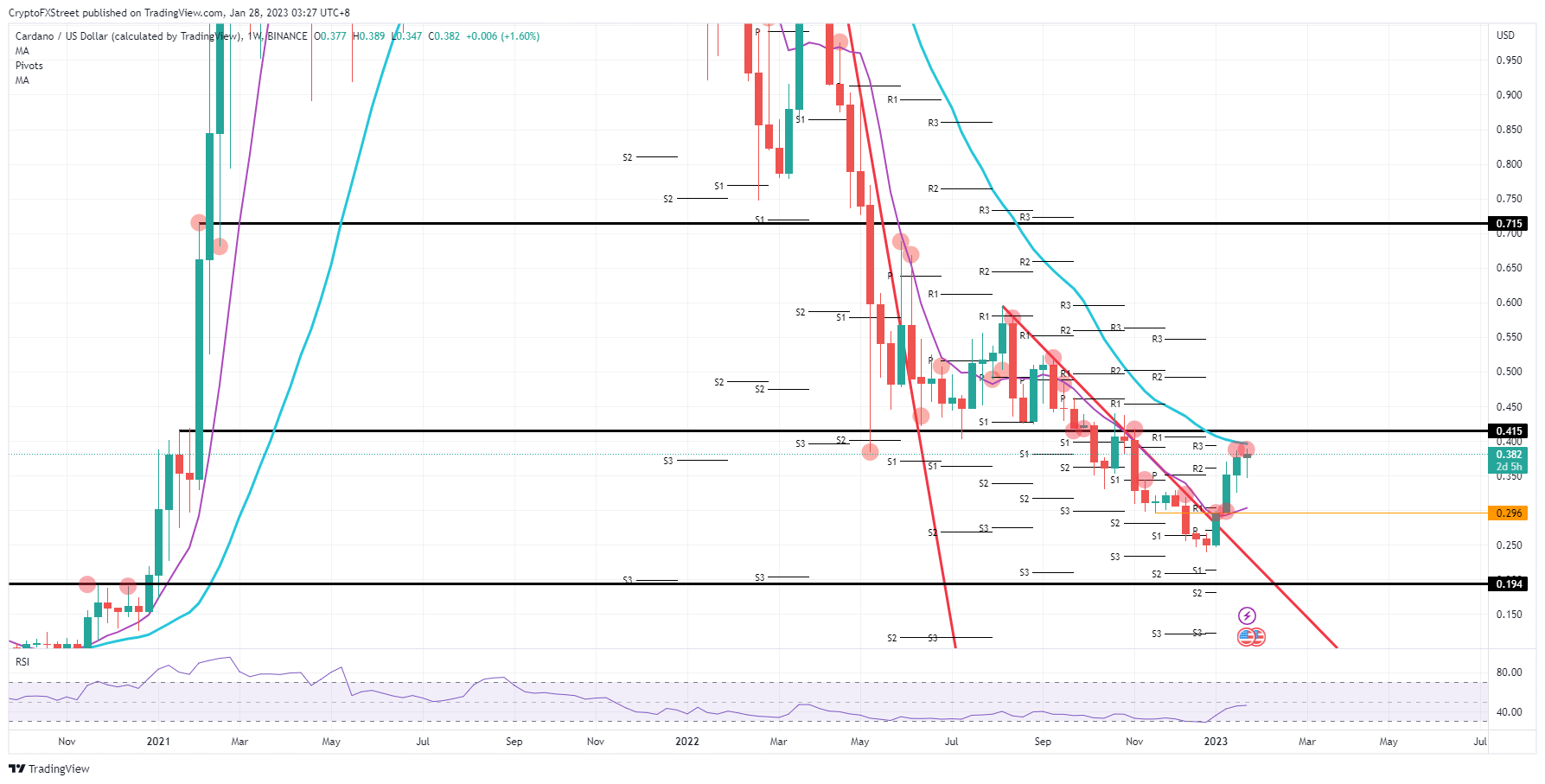 ADA/USD weekly chart
The rally could take another leg higher, but only that could be seen if this double cap gets broken down. That means that price action needs to jump above $0.415. That would deliver a strong bullish signal to the markets and could see some follow-through with markets favoring risk across the board as the next profit level gets moved upwards towards $0.715 with 70% gains in the books.