Share:
Chainlink price is up 20%, rising from the September 12 low of $5.808 to $6.887, the current price value.
LINK is at crossroads after meeting the supply zone at $7.103. The $7.361 level is the roadblock to beat.
A rejection from the $7.103 level could plunge the altcoin back below the $6.609 support level.
Chainlink (LINK) price is trading with a bullish bias, boasting a successful streak of higher highs and higher lows over the last eight days. The token is now at crossroads as it faces an area defined by aggressive selling.
Also Read: Chainlink could face increased selling pressure as $100 million worth of LINK tokens hit exchanges
Chainlink price, make or break
Chainlink price is facing a make-or-break moment after a rejection from the supply zone at $7.103. Technical indicators say the uptrend could continue with the Awesome Oscillator crossing into the positive zone and the Relative Strength Index (RSI) maintaining an overall upward trajectory.
Increased buying pressure could see Chainlink price venture into the supply zone at $7.103. Confirmation for an uptrend, at least for the short term, would occur upon a break and close above the mean threshold (midline) or this order block at $7.361.
In a highly bullish case, the uptrend could send Chainlink price into a second order block above the $7.637 level, and potentially above the $8.000 psychological level.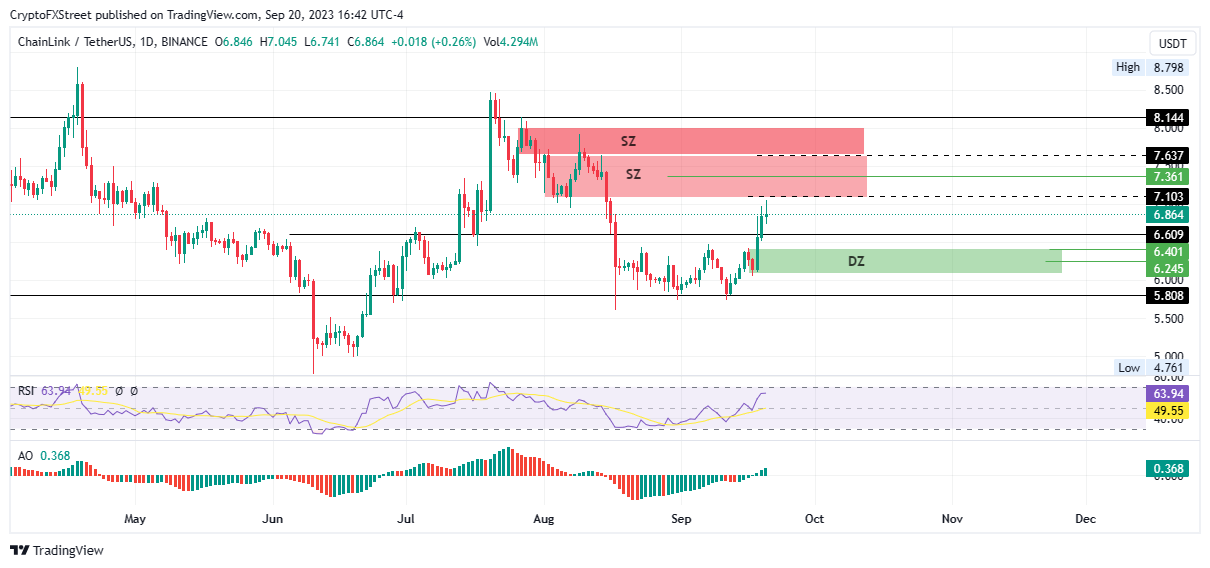 LINK/USDT 1-day chart
On-chain metric: GIOM
Data from blockchain analytics platform IntoTheBlock for the Global In/Out of the Money (GIOM) metric shows that Chainlink price has more robust support downward. With this, any efforts to send LINK down would be countered by buying pressure from 33,520 addresses that bought approximately 282.74 million LINK tokens at an average price of $6.75.

LINK GIOM
Further, the data shows that at the current price, 73.94% of LINK holders are sitting on unrealized profit (in the money), while only 18.36% are sitting on unrealized losses (out of the money). With more in the profit zone, the amount of selling pressure on the token remains low provided the bullish prospects remain, with LINK holders looking to get the most from the current positive outlook.
On the other hand, a rejection from the supply zone at $7.103 could see Chainlink price pull back, breaching the $6.609 support before a dip into the demand zone at $6.401. This would be the likely turnaround point for LINK because of aggressive buying. However, a solid move below its mean threshold at $6.245 would confirm the continuation of the downtrend, likely shattering the $6.000 psychological level to test the $5.808 swing low.
Bitcoin, altcoins, stablecoins FAQs
Bitcoin is the largest cryptocurrency by market capitalization, a virtual currency designed to serve as money. This form of payment cannot be controlled by any one person, group, or entity, which eliminates the need for third-party participation during financial transactions.
Altcoins are any cryptocurrency apart from Bitcoin, but some also regard Ethereum as a non-altcoin because it is from these two cryptocurrencies that forking happens. If this is true, then Litecoin is the first altcoin, forked from the Bitcoin protocol and, therefore, an "improved" version of it.
Stablecoins are cryptocurrencies designed to have a stable price, with their value backed by a reserve of the asset it represents. To achieve this, the value of any one stablecoin is pegged to a commodity or financial instrument, such as the US Dollar (USD), with its supply regulated by an algorithm or demand. The main goal of stablecoins is to provide an on/off-ramp for investors willing to trade and invest in cryptocurrencies. Stablecoins also allow investors to store value since cryptocurrencies, in general, are subject to volatility.
Bitcoin dominance is the ratio of Bitcoin's market capitalization to the total market capitalization of all cryptocurrencies combined. It provides a clear picture of Bitcoin's interest among investors. A high BTC dominance typically happens before and during a bull run, in which investors resort to investing in relatively stable and high market capitalization cryptocurrency like Bitcoin. A drop in BTC dominance usually means that investors are moving their capital and/or profits to altcoins in a quest for higher returns, which usually triggers an explosion of altcoin rallies.
---
Source