Dogecoin price action takes a step back after 20% gains in two weeks.
DOGE gets stuck between vital support and a cap to the upside as the RSI flatlines.
The close on Sunday for the week will be vital, but traders need to be aware of things to come for next week.
Dogecoin (DOGE) price action has had an easy advance thus far for 2023 as some real choppiness kicks in this week. Traders are assessing the situation after several trading days in a row, and markets ignored the warnings central bankers were issuing that the markets had uncorked the champagne too early as inflation is nowhere near the goal of any central bank across the globe. It will be vital to read into the messages central banks are leaving, and it will be even more vital to the message that goes along the hike itself.
Dogecoin price delivered at the mercy of central bankers
Dogecoin price action was steaming towards $0.1000, but that level seems unreachable as central bankers are getting ready to come out with firm and harsh warnings. The biggest and key one to watch will be the Fed, which looks to be set to hike 25 basis points, as 50 would mean armageddon for the markets. With inflation coming down, Producer Price Indexes depreciating and overall sentiment further declining with layoffs across the tech sector, a 25 basis point hike is a certainty.
DOGE traders will initially think this is a good element, and a 25 basis point hike that matches estimates of the markets could spark too much-misplaced enthusiasm. The Fed could deliver a statement and a policy speech by its chair Jerome Powell an hour after the rate hike that is even more hawkish than when the Fed was hiking 50 basis points. The big risk is that the market mood dampened after severe warnings from Powell, which would sink Dogecoin price toward $0.0757 near the 200-day Simple Moving Average (SMA). Should markets choose to dump risk assets, even a repricing could unfold with DOGE tanking towards $0.0566 in search of support.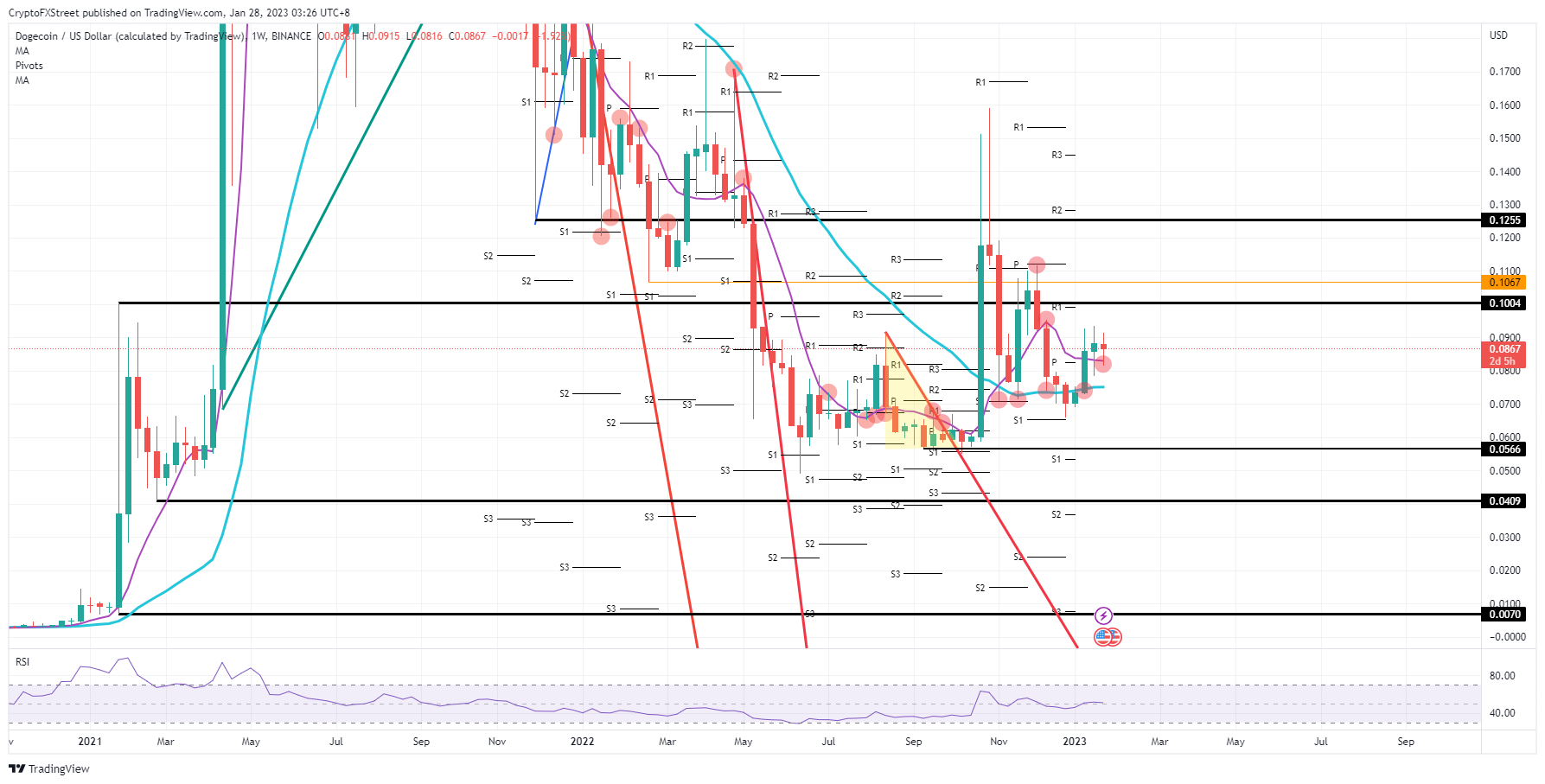 DOGE/USD weekly chart
Although the chances are slim, a dovish Fed would mean that they see certain metrics and elements further declining in favour of lower inflation to come. The Fed could possibly refrain from hiking further or deliver the message of a "one and done" rate hike. Risk assets would get a tailwind and see DOGE quickly sprinting towards $0.1004 with $0.1255 as a profit-taking level nearby.