Ethereum price has staged a massive recovery in just three weeks times.
ETH has reclaimed two important moving averages in favor of the bulls.
With the rejection against a double top and the Fed and BoE set to issue their first rate decision of the year, a big fade gets underway.
Ethereum (ETH) price is currently printing near 30% gains for the year in a mere three weeks. Thus far, the good news as the rally stalls after price action received a rejection on the topside from a double top. The timing does not help bulls either, as the central banks are set to dampen the most positive mood in the markets since the invasion of Russia in Ukraine.
Ethereum price sees traders facing the music
Ethereum price sees its good rally for 2023 end as markets are being caught up by reality. During the first weeks of 2023, markets only had data that matched the markets' mood, with further deterioration of several data points and inflation coming off further from its highs. The outlier in all this is the central bankers that keep issuing warnings out of several fronts that central banks will not stop until the 2% policy target has been reached.
ETH is facing some technical and macro-economical hurdles, with the double tops area that triggered another rejection, and the central bankers set to issue their monetary policy outlook for the coming months. THe rejection at $1,688 was harsh and came from tops not tested since September of last year. If the central banks stick to their guns, the rally will be unwinded and push price action back to $1,404 for support, and on a breach, could see $1,200 being printed on the quote board if the rally gets fully erased.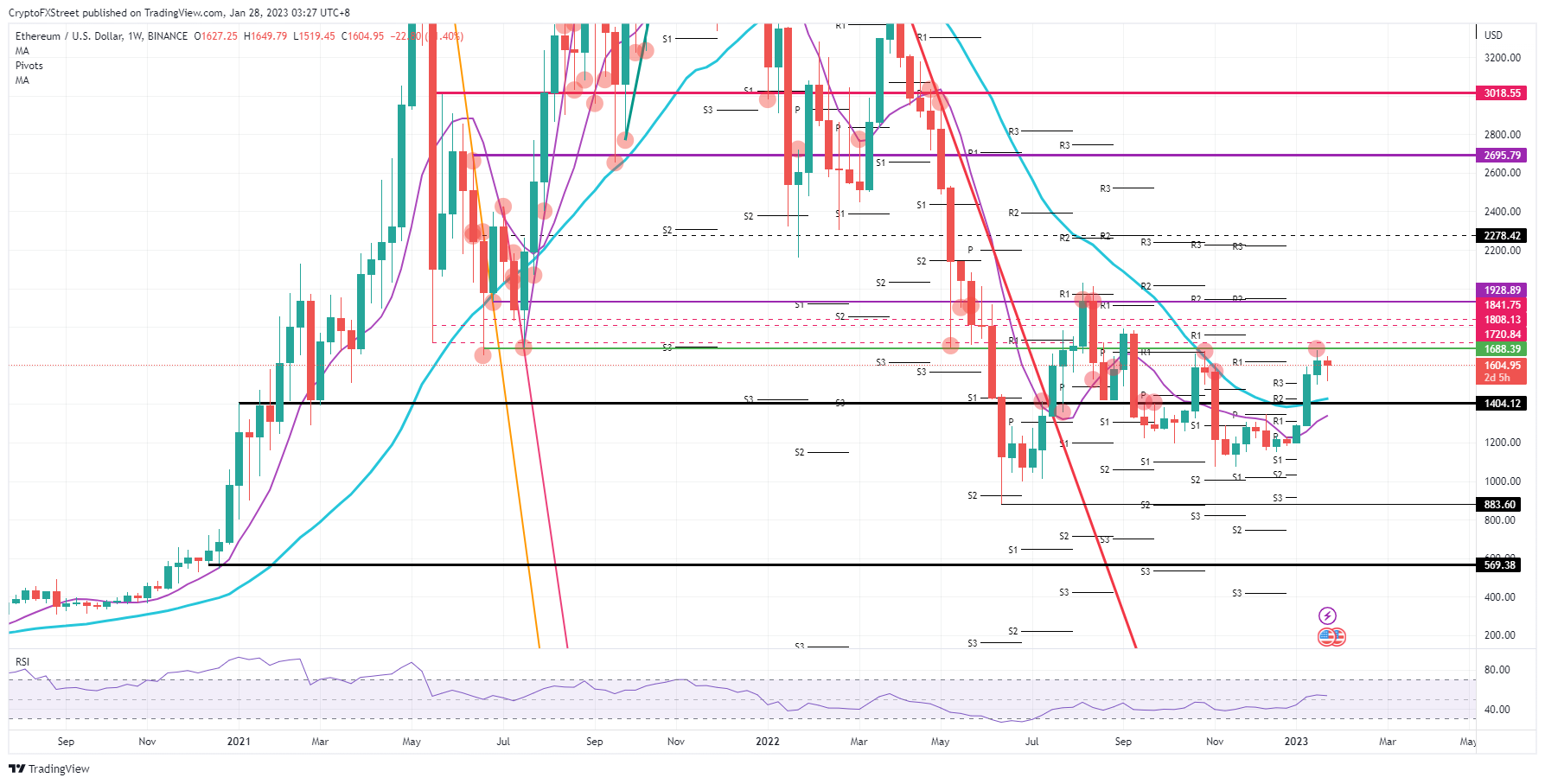 ETH/USD weekly chart
A turnaround in monetary stance is possible should the Fed or another central bank come out with softer words or channels to the markets that some data points are showing to even more signs of inflation declining. That would mean that the market was right, and more appetite for risk assets would emerge. ETH would pierce through $1,688 and rally towards $1,928, halting just before the psychological $2,000 level.