Goldman Sachs has reportedly not filed a claim against FTX but has been included in the creditors' list.
Google, Meta, Twitter, Apple and many more major companies are also among FTX's thousands of creditors.
FTT price rallied by more than 20% during the intra-day trading session before slipping back to 4%.
FTX, right after its bankruptcy filing in November 2022, was said to have over 1 million creditors. On Friday, a document detailing the names of the creditors was released in a 116-page document. The list included some names that were already pretty well known and some others which surprised everyone.
FTX creditors include banks
FTX saga is moving forward toward identifying the impact of the bankruptcy of the cryptocurrency exchange. In a recently revealed 116-page document, thousands of companies have been identified, including some banks as well. Goldman Sachs, JPMorgan Chase and co, Wells Fargo, HSBC Banks, Deutsche Bank AG, MUFG, and many more banks are on the list.
This shows that the now bankrupt exchange had backers from all around the world, although how much these entities invested in FTX remains unknown. The document only lists the companies that invested now, the size of the debt or the exposure to FTX, if any.
FTX lawyers stated that the list is intended to be rather broad for service purposes and that it includes names that may appear in the records and books. Goldman Sachs spokesperson was also noted saying to Bloomberg,
"Goldman Sachs has not filed a claim against the debtors. This type of creditor matrix is prepared by the debtors for the purpose of providing notice to interested parties in a bankruptcy proceeding and is not necessarily evidence of a creditor relationship."
Similarly Deutsche Bank representative also stated that the bank had no credit exposure to the bankrupt exchange. However, beyond banks, the list also included some major mainstream organizations. This included the likes of Google, Meta, Twitter, Apple, Netflix, Amazon, Microsoft and many more.
FTT price almost spiked
FTT price noted a rise in value in the last 24 hours, with intra-day trading hours noting a rather interesting fluctuation. The price of the altcoin rose by almost 21% on January 27, reclaiming $2 before slipping back to down to close at $1.979. The overall increase in value was thus reduced to just 4%.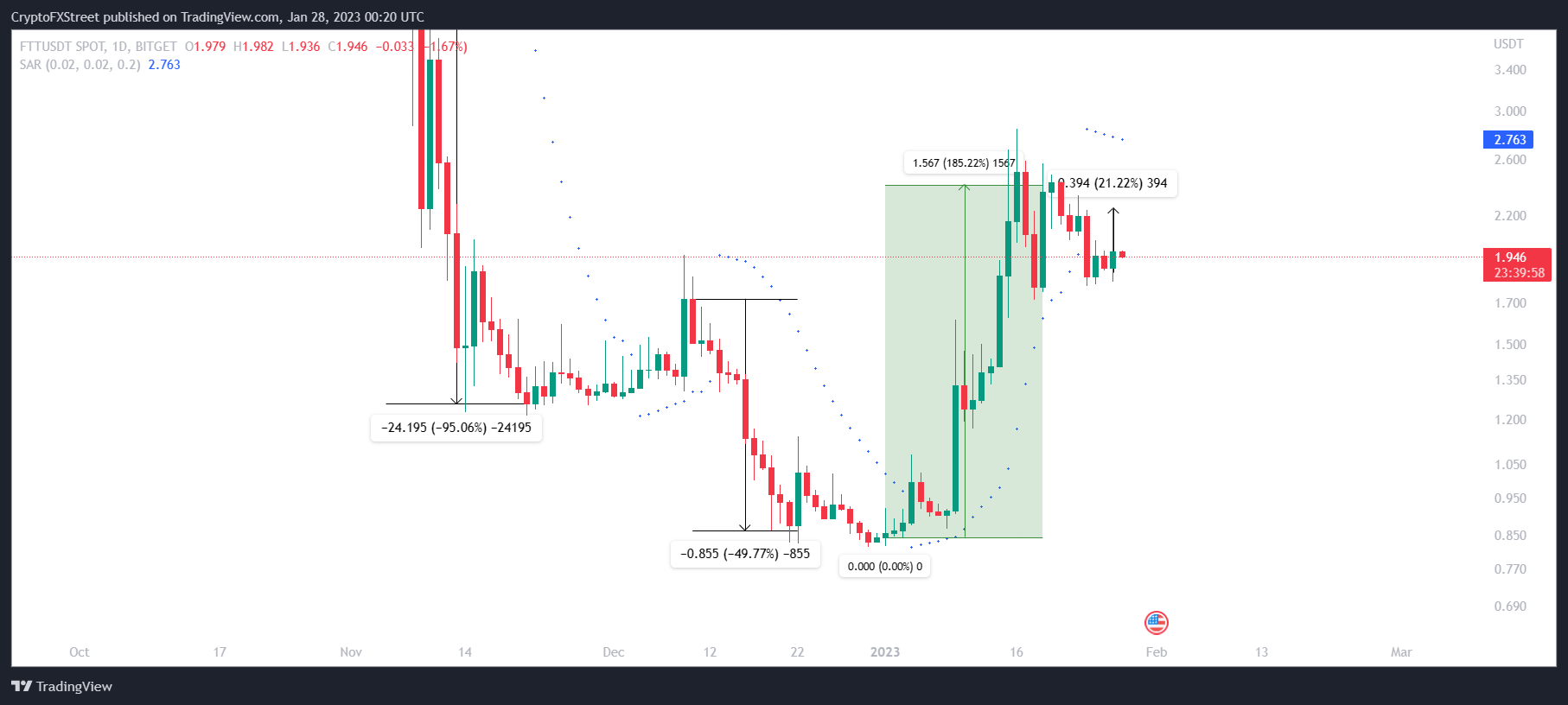 FTT/USDT 1-day chart
Trading at $1.946 at the time of writing, FTT is currently subdued as rallies are not on the cards currently due to the broader market's bullish sentiment coming down over the last few days.