Share:
Hifi finance price is down 40% over the last day, cutting down from the 362% gains made in the last 7 days.
South Korea's largest exchange, Upbit, was the leading spot player, with a trading volume of $717m over the last day.
The slump came after Binance exchange opened the HIFI perpetual contract on September 16.
Hifi Finance (HIFI) price slumped after a remarkable seven-day rally, which was much-awaited by token holders after a long-standing consolidation. The rise and fall came while Bitcoin (BTC) price remains lull, with the broader market craving for impulse. Meanwhile, analysts say now is the right time to buy altcoins.
Also Read: Best period to invest in altcoins is 6-10 months prior to the Bitcoin halving, that's now; analyst says
Hifi Finance price records massive moves
Hifi Finance (HIFI) price recorded a 362% surge against Tether (USDT) stablecoin on the Binance Exchange over the last seven days to close the September 16 trading session at $2.320. This was after it breached the $2.5000 psychological level to record an intra-day high of $2.635.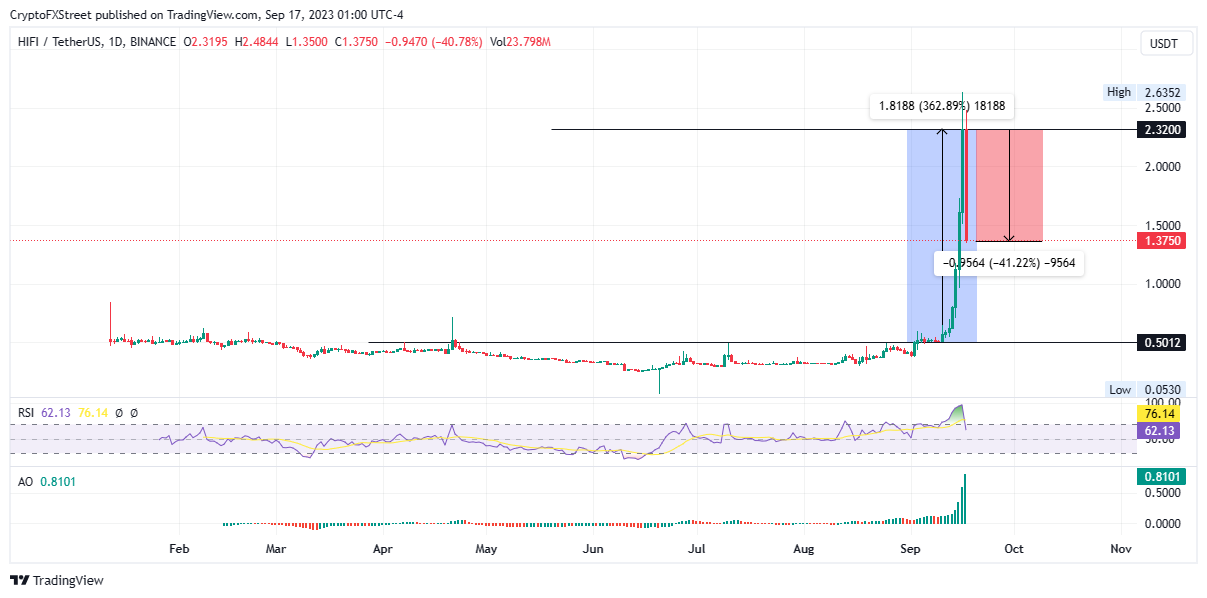 HIFI/USDT 1-day chart
The surge in Hifi Finance was linked to the massive rise in the trading volume for the asset on the Korean exchange Upbit. Upbit Korea accounted for about 65% of the total trade of the asset on Saturday, with Wu Blockchain indicating a 208% surge and acknowledging that the Upbit led the spot trading front, with up to $717 million in trading volume over the past 24 hours. However, the price has dipped around 40% in the last day, a move provoked by Binance opening the HIFI perpetual contract.
HIFI token has risen 208% in the past 7d. Upbit, South Korea's largest exchange, is the main spot player, with a trading volume of $717m in the past 24h. After Binance opened the HIFI perpetual contract on September 16, HIFI fell sharply, falling more than 30% from its high. HIFI…

— Wu Blockchain (@WuBlockchain) September 17, 2023
Interestingly, there was a significant variation between futures and spot prices for HIFI. HIFI futures traded at a -40% premium relative the spot prices. This difference is a rare and puzzling outlook, adding concern to Hifi Finance price dynamics.
A perpetual contract is a derivative, just like a futures contract, save for the fact that it does not have an expiration date. This is an agreement between two parties to sell or buy an asset at a fixed price without an expiry date. With this, traders can easily speculate on the asset's value, using leverage, without having to worry about their futures contracts expiring.
While perpetual contracts amplify profits, it has a downside, in that if the price of the asset drops, it liquidates the equity of traders that had taken long positions while closing their contracts much faster.
Possible reason for HIFI slumping on Binance exchange's move
Perpetual contracts offer more liquidity while at the same time delivering tighter spreads. More importantly, they offer more resistance to market manipulation. Korean traders have been associated with pump-and-dump habits in the past, with CryptoQuant CEO Ki Young Ju acknowledging that Korean traders favor pumping and dumping altcoins specifically.
Young Ju attributed it to the region's "Very strict capital controls, blocking arbitrage opportunities between global exchanges."
Bitcoin, altcoins, stablecoins FAQs
Bitcoin is the largest cryptocurrency by market capitalization, a virtual currency designed to serve as money. This form of payment cannot be controlled by any one person, group, or entity, which eliminates the need for third-party participation during financial transactions.
Altcoins are any cryptocurrency apart from Bitcoin, but some also regard Ethereum as a non-altcoin because it is from these two cryptocurrencies that forking happens. If this is true, then Litecoin is the first altcoin, forked from the Bitcoin protocol and, therefore, an "improved" version of it.
Stablecoins are cryptocurrencies designed to have a stable price, with their value backed by a reserve of the asset it represents. To achieve this, the value of any one stablecoin is pegged to a commodity or financial instrument, such as the US Dollar (USD), with its supply regulated by an algorithm or demand. The main goal of stablecoins is to provide an on/off-ramp for investors willing to trade and invest in cryptocurrencies. Stablecoins also allow investors to store value since cryptocurrencies, in general, are subject to volatility.
Bitcoin dominance is the ratio of Bitcoin's market capitalization to the total market capitalization of all cryptocurrencies combined. It provides a clear picture of Bitcoin's interest among investors. A high BTC dominance typically happens before and during a bull run, in which investors resort to investing in relatively stable and high market capitalization cryptocurrency like Bitcoin. A drop in BTC dominance usually means that investors are moving their capital and/or profits to altcoins in a quest for higher returns, which usually triggers an explosion of altcoin rallies.
---
Source