Robinhood and Azuki's hacked social media channels on Discord posted phishing links.
Azuki's attacker managed to phish about 122 NFTs worth around $778,408, which included 2 Mutant Ape Yacht Club NFTs.
The total crypto market cap reclaimed the $1 trillion mark, recovering the $250 billion loss from two months ago.
The crypto market faced its first major cyber attack of the year in the form of a social media hack impacting Robinhood and NFT project Azuki. While the damage was not as severe as social media channel attacks in the past have seen, it did bring back the question of cyber crime awareness as the hack was in the form of phishing.
Robinhood and Azuki hacked
Robinhood and Azuki became the recipient of a hack wherein the intruder managed to gain control over the Twitter accounts of the trading platform and the NFT project. The hacker began posting phishing links on the accounts not too long after also hacking the Discord of Azuki, where the damage was far more severe.
According to reports, the Azuki attack resulted in the attacker phishing away with about 122 NFTs, estimated to be worth around $778,408. This 484.99 ETH hack was achieved through a specific phishing mode wherein signature pending orders were induced through Seaport. While the assortment of NFTs stolen is yet to be confirmed, the 122 NFTs seemed to include 2 Mutant Ape Yacht Club NFTs as well.
Azuki regained control of its Twitter channels soon after and confirmed the attack by tweeting,
"We immediately reached out to our contacts at Twitter, as well as took steps to alert the community. The malicious tweets and links were taken down swiftly. Our investigation into the Twitter breach is ongoing. We take security seriously, and the Twitter account was secured using a 2FA Authentication app."
On the other hand, no reports of damage taken by Robinhood users have surfaced yet, neither has the trading platform made any statement regarding the same.
Crypto market leaves the billions behind
Two months after facing the FTX collapse-induced crash, the total crypto market capitalization finally recovered its losses as the value of all the cryptocurrencies crossed the $1 trillion mark.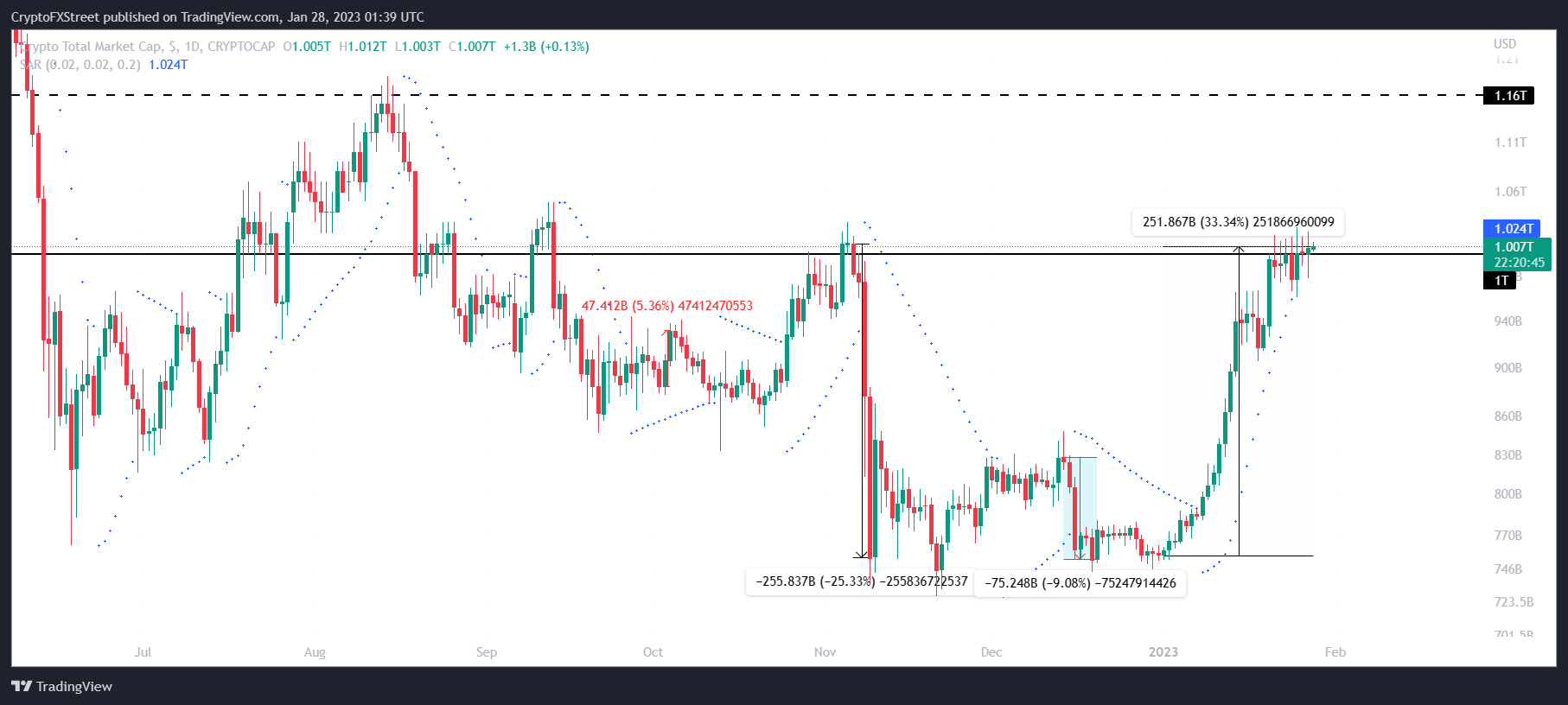 Total crypto market capitalization
Year to date, the crypto market capitalization rose by 33.34%, rising by $251 billion to touch $1.006 trillion. However, Bitcoin and Ethereum prices did not note any significant jump in the last 24 hours, except for the king coin rising above $23,000 and the second-generation cryptocurrency slipping below $1,600.